Tomáš Hertl THW Close-Up:
Date of birth: 11/12/1993
Place of birth: Praha, CZE
Ht:  6'2″ Wt: 200
Shoots: Left
Position: Centre/Winger
NHL Draft Eligibility: 2012 1st year eligible
THW Ranking (May): 20th
Other Rankings (via Defending Big D)
Final CSS European Rank: 5th
Future Considerations: 20th
ISS: 30th
Hockey Prospect: 19th
The Hockey Guys: 21st
Craig's List: 22nd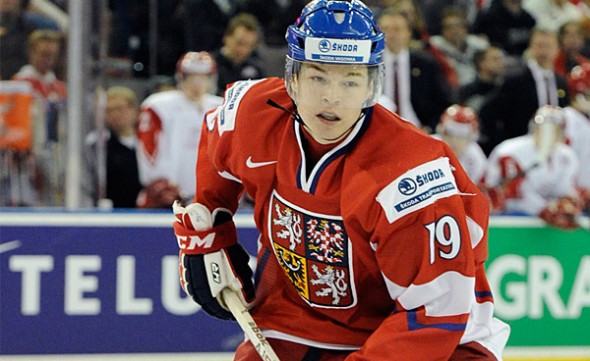 ***
*Click here for Notes Up Front for various topics covered below in the live updated NHL 2012 Entry Draft Guide – The Next Ones home page – your quintessential draft resource.
***
Hertl had an excellent U20s World Juniors for the Czech Republic and actually outplayed his more highly touted countryman Radek Faksa.
His play was very impressive in the Czech Extraliga this past season as a teenager with 25 points in 38 games.  Those 25 points were enough for highest points by a junior player and the most by a junior in 9 years since Jiri Hudler. He was not surprisingly named Rookie of the Year.
Tomáš certainly did not hurt his draft stock in this year's NHL Draft Combine as he finished tied for 1st in VO2 MAX testing and an impressive 2nd in the hand-eye coordination test.
He exhibits excellent puck protection skills, utilizing his strength and puckhandling. He doubles as a crafty goal-scorer and generous playmaker. He is an offensive catalyst with excellent vision and processes the game at a high level.
Hertl is solid and responsible defensively. Even without elite level speed he is able to effectively forecheck because of his ability to anticipate how the play will unfold.
Skating is cited as as a potential drawback to Hertl's game. He has an unorthodox skating style, but is solid, agile and well-balanced on his skates. He'll have to focus on improving his speed.
Where will he end up in June: 
While I have him ranked 20th overall in my current Top 120 rankings (May, 2012), I had him landing in Phoenix at 27th overall in my Memorial Cup Edition Mock Draft. He'll likely land anywhere from 20th to 35th overall.
Scout's Honour:
"Tomas has had a fantastic season thus far. Actually, last year he was the top scorer in the Czech Junior League. This year he's the top scoring junior player in the Czech Extraliga. In fact, he had just as many points as all other junior players combined at one point before sustaining a shoulder injury. At this tournament, in the tough games where the team was losing focus here and there, he continued to do all the little things well. He's strong on the puck down low and certainly his skill level and his size; the way he can withstand contact and still hold onto the puck and make plays is impressive. He sees the ice so well. I'm really excited about his future."
Jiří Fischer, Director of Player Development for the Detroit Red Wings, and was Assistant Coach for the Czech Republic during the 2012 IIHF World Junior Hockey Championships (This is an excerpt of an interview I did with him in Calgary during the WJCs)
***
"It's not hard to see what is immediately impressive with Hertl. He has a big frame and when he isn't being physically punishing, uses it well to benefit his offensive game. What jumps out after is equally as exciting. Hertl has good vision and a soft touch with the puck. These qualities make the Czech more of a playmaker then a finisher who could develop into a power winger should he address his lack of acceleration."
Aaron Vickers, Managing Editor – Future Considerations *FC's 2012 Draft Guide now available
***
"Tomas Hertl has been a very under the radar prospect but brings great skill and a versatile mind to his team. He has the ability to really stand out, even on rosters with higher profile players. He compliments a variety of skill types and can really amplify the availability of space for his teammates.  He has developed steadily over the course of the past few seasons and could still improve his offensive output."
Ross MacLean,  Head Scout – International Scouting Services
Statistics:
Bio/Interview(s)/Link(s):
You are such an exceptional talent, what do you see being your best attributes as a hockey player?

Tomáš: I think my technique, foresight and thinking, keeping the puck and my ability to dish the puck to my teammates.

Is there an NHLer you style your game after?

Tomáš: If I had to pick, I guess I would have to say Evgeni Malkin.
International Tournaments: 
Czech U18 Champion in 2009/10
He was named a U20 WJC Top 3 Player on Team Czech Republic for the 2012 Championships. Hertl's play and stat-line of 3 goals and 2 assists in 6 games was very impressive, tying for the team lead in scoring. He exhibited strong and savvy puck possession skills.
Scouting Combine:
Hertl finished tied for 1st in VO2 MAX testing and an impressive 2nd in the hand-eye coordination test.
ETA = 2 years
Risk-Reward Analysis: Risk = 2/5   Reward = 4/5
NHL Potential: Top 6 forward
Strengths:*See "THW Close-Up" section above.
Puck protection skills
Tough to separate from the puck
Puckhandling
Vision
Creativity
Hockey IQ
Anticipation
Passing
Flaws/Aspects He Needs To Work On:
Continue to train to increase strength and add mass to frame to handle the rigors of the NHL.
Continue to develop his defensive zone acumen.
Speed and skating
Fantasy Hockey Potential: Offensive = 8/10   Defensive = 6.5/10
NHL Player(s) Comparison:
– Jamie Benn
– Former NHLer comparison: Pavol Demitra
Video(s):
Off The Iron (Interesting Notes):
Worth Retweeting:
OILERS VIDEO: NHL COMBINE: Tomas Hertl: Prospect Tomas Hertl speaks after completing fitness … http://t.co/KTGEjPrF #Oilers #OKCBarons

— Oilers Jambalaya (@OilersJambalaya) June 2, 2012
CSS European ranks: 1-Filip Forsberg, C. 2-Teuvo Teravainen, LW. 3-Sebastian Collberg, RW. 4-Hampus Lindholm, D. 5-Tomas Hertl, C #NHLDraft

— Mike Morreale (@mikemorrealeNHL) April 9, 2012
***
THW's The Next Ones prospect profile template design architect: Chris Ralph
***
Christopher Ralph is THW's prospect and draft analyst as well as a managing editor.