The Texas Stars' first Professional Tryout (PTO) contract of the 2013-14 season went to free agent forward Brendan Ranford, a 21 year-old left winger who leaves the Kamloops Blazers of the Western Hockey League (WHL) after five memorable seasons.
Who is he and what does he bring to the Stars?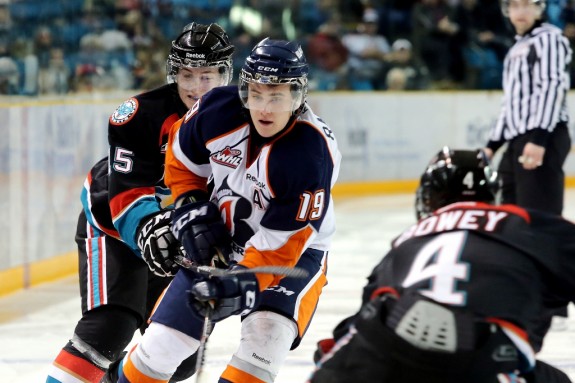 Ranford was drafted by the Philadelphia Flyers in 2010 as the second-to-last player to be drafted, but by the summer of 2012 they still had not signed him and when their deadline passed, he became a free agent.  Though not under a Dallas contract, Ranford will play for the Dallas squad in the Traverse City Prospects Tournament in September and may be at Dallas' training camp later that month. If so, it won't be his first pro camp; in the fall of 2010 he attended training camp with the Flyers and last fall, he attended training camp with the Hamilton Bulldogs.
Being taken at #209 of a 210 player draft would not normally inspire much confidence, but at the time Ranford told Dustin Leed of The Hockey Guys, "I had questions why I went so late but it was a motivator for my season and the rest of my life."
Ranford Pedigree
The 21 year old kid from Edmonton and nephew to former Edmonton Oilers goalie Bill Ranford has put up big numbers at every level he's played, as can be seen in his stats listed below. He leaves quite a legacy behind in Kamloops, BC where he spent the last five seasons with the Kamloops Blazers.
[The Blazers are co-owned by Dallas Stars principal owner Tom Gagliardi, retired NHLers Mark Recchi and Darryl Sydor, and active players Shane Doan and Jarome Iginla,]
His 357 regular season points with the Blazers puts him at #6 on their list of highest all-time scorers. Recchi, Sydor, Doan and Iginla are all on that list, along with former Texas Stars captain Brad Lukowich (#63). Milwaukee Admirals coach Dean Evason is #4, and at #1 all-time is former Penguins forward and current Edmonton broadcaster Rob Brown, who actually might best be known these days for having inspired the name of popular hockey blog Down Goes Brown.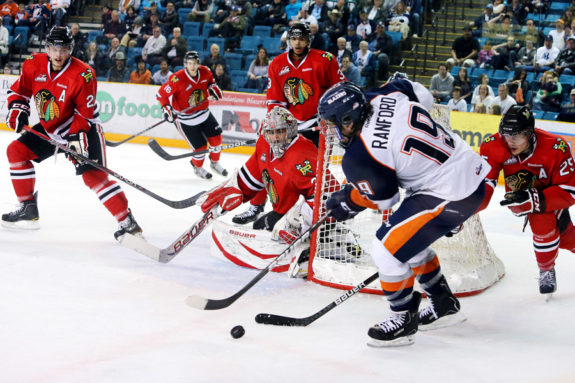 Ranford Scouted
A lot– perhaps too much– is made of Ranford's size. At 5'10" 182 lbs he's considered undersized, and on average in the NHL he is undersized. But he's pretty much the same size as (or in a few cases bigger than) Patrick Kane, Ryan Callahan, Zach Parise, Jordan Eberle, Claude Giroux, Saku Koivu, Sven Baertschi, Brian Gionta, Mike Cammallieri, Jiri Hudler, TJ Oshie, Joe Pavelski, Ray Whitney, Jonathan Drouin, Nail Yakupov, Jason Zucker, Cory Conacher, David Desharnais, Pierre Marc Bouchard, Daniel Briere,  Stephen Weiss, Tomas Tatar, Derek Roy, and Gustav Nyquist. And that's just among NHL forwards.
Granted, in today's pro game you can be 6′ 3″ and an average hockey player, but if you're under 6′ 0″ and 190 lbs you must be exceptional, as the list of names above implies.
All told, scouts have never been overwhelmed by his game, tending to mitigate any quality he has with one that he doesn't. One of the kinder reports comes from Corey Pronman of Hockey Prospectus in 2011 who ranked Ranford at #7 among Flyers prospects, praising him for his puck skills, offensive creativity and on-ice work ethic while noting his need to bulk up and improve his skating.
Ranford Durability
In addition to being one of the Blazers' all-time leading scorers, Ranford played five full seasons in Kamloops without missing a single game to injury (an accomplishment he credits to the Blazers' trainer).
That doesn't mean he played in every game, although he came close. Of 360 regular season games, Ranford dressed for 345, breaking the previous record of 341 held by C.J. Stretch, currently a member of the Oklahoma City Barons. For six of those 15 games he missed, Ranford was suspended by the WHL for crosschecking a linesman. You don't hear that happen too often.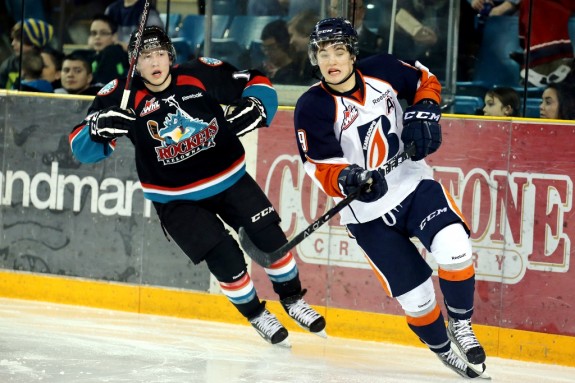 As a scorer Ranford was not only prolific but remarkably consistent. He tallied 40 games with at least three points, including three 5-point games. He also went on three extended scoring streaks: In 2010-11, he had a pair of 11 game scoring streaks. In the first he scored 10-8-18 points, went scoreless in the next two games, then went on another 11 game streak, this time tallying 12-13-25 points. His career long was a 13 game scoring streak in 2011-12, in which he racked up 11-11-22 points.
Ranford Game Six
Herb Brooks once said:
The ignorant people, the self-centered people, the people who don't want to expand their thoughts, they're not going to be the real good athletes. They're not going to be able to keep that particular moment, that game, that season in the proper perspective.
That's what us fans are for. And it's for that reason I'm compelled to end this profile talking about a game few in Kamloops would hesitate to say was the greatest Blazers game they had ever seen.
In the second round of the 2011-2012 WHL playoffs, Ranford's 5th seed Blazers met the 1st seed Portland Winterhawks, a team stacked with talent (and one that included a pair of future, if brief, Texas Stars in Joe Morrow and William Wrenn). Portland won the first three games, and eleven minutes into game 4, they were ahead 4-0. Facing getting swept in their own barn, Ranford's 3-point night led the Blazers back to win the game 5-4. In game 5, Kamloops blew out Portland 7-2.
At this point Portland still led the series 3 games to 2. It was game six, back in Kamloops. Portland had a commanding 5-2 lead with just 14 minutes remaining in the third period.
Blazers play-by-play man Don Keen takes it from here in a radio call I've listened to dozens of times because, well, you'll understand why.