Every NHL rookie (and every player for that matter) is 'living the dream' and 21-year-old rookie Matt Nieto of the San Jose Sharks is no different. Well, maybe just a little different: Nieto is a California kid, from Long Beach, playing for an NHL team in California; in fact he was the first Cali kid ever drafted by San Jose. This season he has already played in 48 games and was a second round pick (47th overall) in the 2011 NHL Draft, so he didn't come from out of nowhere. But how cool must it be to make it to the pros with a team in your home state — able to have family & friends close by to keep him comfortable and focused on continuing to live out that dream.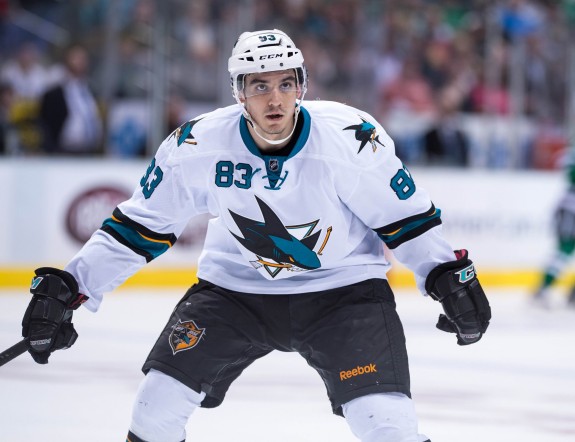 In fact Nieto, who is Mexican-American, traveled a lot more when he went away to college at Boston University where he put up 102 points (44g-58a) in his three years at the esteemed program. Most thought he would continue at the AHL level like most prospects, but Nieto (along with Tomas Hertl) was able to make the Sharks opening night lineup out of training camp with three projected regulars out of the lineup.
After San Jose's 4-2 win in New Jersey The Hockey Writers caught up with Nieto to ask him about what his rookie season is like, who his favorite team was growing up, what it's like to win a gold medal for Team USA and more.
Matt Nieto snaps a shot past Cory Schneider for the GWG in New Jersey:
The Hockey Writers: What was your journey to the NHL like since you got drafted in 2011?
Matt Nieto: I left college last year and I wasn't really expecting to make the team out of training camp. I had a real positive training camp and I was able to crack the lineup straight from there; I had a great start, but it's been kind of a rollercoaster ride. I went down to Worcester for a little bit and it was good for me — I got some confidence back and ever since I've been back I feel great. I just have to keep working hard if I want to stay up here.
THW: You made your NHL debut on opening night and in game No. 3 you get your first NHL goal; what was that like?
MN: It was a great experience and I was happy I was able to get it (the first goal) on home ice. It was just an unbelievable feeling, something that you dream of as a kid and for it to happen…it was just awesome.
Yeah, Matt Nieto's first NHL goal came against a pretty good goalie:
THW: Not a bad goalie (Henrik Lundqvist) to score one on and give you some confidence eh? Did you get the puck?
MN: (laughs) Yeah that made it even better. Absolutely I have it; they (the Sharks) made a nice little trophy for me.

THW: You played three seasons at BU, what do you remember most about that time?
MN: Those were the best three years of my life; college was fun. And I was able to play for coach Jack Parker, a legendary coach, it was a great experience for me and he & the training staff over there did a great job developing me over those three years and getting me ready for this.
Matt Nieto scores a goal against Boston University's big rival Boston College:
THW: During my research I noticed you own not one, but two gold medals (2009, 2010 U18 World Championships); what is that like?
MN: Yeah, my experience with the National Team Program was amazing (smiles broadly) and I was able to win two gold medals there. That was two years of hard work and to get two medals out of that, it was a pretty special experience.
THW: You were born and raised in California and now you are playing for a team that is based in California; how cool is that and is it kind of what you dreamed of as a kid growing up?
MN: Growing up I was dreaming of playing for the Kings (laughs) but you know, I can't complain at all.
A Sharks' equipment guy walks by and says: "Ugh! Seriously, that's gross."
MN: It's really ironic that I ended up here and I couldn't be happier. Being in the same state and having it easy for my parents to come out and watch games, so I'm real fortunate.
THW: What do you remember about your draft day?
MN: I got drafted after my freshman year in college and at the draft you never really know what's going to happen. I was just sitting there and it was hard to be patient, but when my name was called by San Jose I couldn't have been happier. Going to a California team, all the success that they've had (only missing the playoffs five times in 22 seasons). I was very excited (and still am) to be a part of this great organization.
You can find Matt Nieto on Twitter: @matt_nieto
Dan Rice can be reached via Twitter: @DRdiabloTHW or via Email: drdiablo321@yahoo.com