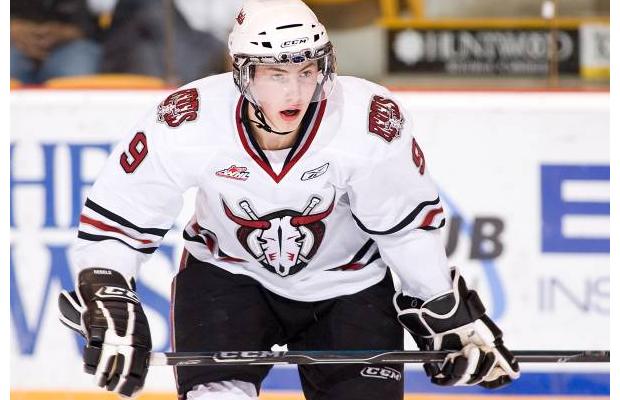 The 2011 NHL Entry Draft was full or surprises, trades, risers, and fallers just like everyone had suspected. With large trades the day before, and some looming over the draft, it was clear that it was going to be an interesting draft weekend.
It's hard to give each team a grade, when so many of these players will not make any sort of impact for a few years. Below is a short team-by-team analysis, of how these teams handled the 2011 NHL Entry Draft.
1. Anaheim Ducks – The Ducks were able to drop back a little in the first round after making a trade with Toronto to gain extra picks. Rickard Rakell was a solid end to the first round for the Ducks, a very solid Swedish winger. He is the type of player that simply does it all with a great attitude and work ethic. Also, by selecting John Gibson, it shows that Hiller's condition may be worse than expected.
2. Buffalo Sabres – Buffalo took Finnish finisher Joel Armia with their first selection. McNeill would have fit in their system better, but there is no denying the incredible potential Armia has to be a sniper in this league. Daniel Catenacci is a solid pick-up, and is arguably the fastest skater in the class. He has raw skills but could be dangerous. Colin Jacobs is also a fantastic pick up.
3. Boston Bruins – Boston can be considered one of the biggest winners of the draft. Dougie Hamilton will be a force for the Bruins blue-line in a couple years. Alexander Khokhlachev has a tremendous upside, and the culture in Boston should help shape him into a fantastic skater. The Bruins also added a lot of grit to an already very physical roster with later round picks.
4. Calgary Flames – The Calgary flames needed to have a strong draft, with one of the most depleted prospect pools in the NHL. Sven Bartschi could be an offensive dynamo, but Markus Granlund may have been selected too high. Hopefully Calgary didn't just fall in love with the name because Markus does not have the upside his Mikael does.
5. Carolina Hurricanes – Carolina swung for the fences with this year's draft. Ryan Murphy may be one of the most dynamic puck movers in the game a few years from now, but his size and strength could cause him to bust. Victor Rask also possesses a tremendous skill set, but comes with a lot of baggage. Keegan Lowe comes from a family tradition of winning.
6. Chicago Blackhawks – The Black Hawks were another big winner on draft day. They were able to rid themselves of an albatross contract in Brian Campbell, and acquired some solid prospects. Mark McNeill was a first round faller but Chicago didn't let the gritty hard-nosed forward fall past them. Philip Danault was selected with the first rounder they were able to get from Washington for Troy Brouwer. Brandon Saad is another player with tremendous upside that the Black Hawks wouldn't let slip any further.
7. Colorado Avalanche – With two top 15 selections, Colorado took the most NHL ready prospect in Gabriel Landeskog, and tough defensive defenseman Duncan Siemens. Colorado showed that they want to compete now and took a surer thing in Landeskog. Joachim Nermark could also look like a steal a few years from now.
8. Columbus Blue Jackets – Columbus made their big splash right before the draft in acquiring Jeff Carter for a hefty price. They were still able to salvage their draft however despite trading away a top ten pick. Boone Jenner is the type of player that coach's love on their team. He hustles hard, and is constantly working in both ends of the ice. Seth Ambroz fell greatly because of off ice issues and concerns with his skating but could be a great player with some maturation.
9. Dallas Stars – Dallas hopes they found the next Tyler Myers at 14 with the selection of Jamie Oleksiak. The huge defenseman will be honing his skills at North Eastern. Brett Ritchie may have many teams regretting passing on him, when he inevitably puts up huge numbers on a stacked Sarnia Sting team that may be this upcoming seasons St Johns Sea Dogs.
10. Detroit Red Wings – The All-American City of Detroit continued its tradition of selecting skilled European players. Tomas Jurco has some of the best hands in the draft class, but will need to work on his overall game. Xavier Ouellet may have been selected a little too high; he doesn't really possess a good "pro" game. Ryan Sproul on the other hand, could look like a great pick down the road.
11. Edmonton Oilers – Edmonton took the sure thing in Ryan Nugent Hopkins, and were smart to load up on Defense in the later parts of the draft. Oskar Klefbom looks to be a real diamond in the rough, and David Musil looks to be a sure bet to be a solid NHL defender. The Oilers also added a few goalies to help with the bleak future in net.
12. Florida Panthers – Florida went all offensive upside in the early parts of the draft. Jonathan Huberdeau and Rocco Grimaldi both possess huge offensive skill sets. Florida also acquired Brian Campbell to help them reach the cap floor. Florida continued to stock their prospect pool with solid talent throughout the draft. They had 10 total picks to take a mixture of safe and high risk picks.
13. Los Angeles Kings – The LA Kings made waves just before the draft by acquiring Mike Richards. Choosing goaltender Christopher Gibson with their first pick was however, a puzzling move. Their later round picks seemed to be moves to put the finishing touches on an already great prospect pool, for a team with one of the brightest futures in the NHL.
14. Minnesota Wild – Despite trading Brent Burns, the Wild had a very strong draft. Jonas Brodin has absolute stud potential, with a rising stock leading up to the draft. Zach Phillips is a smart safe pick at 28, and should be a solid player in a few years. Mario Lucia was arguably the best US High School player in the country.
15. Montreal Canadians – Nathan Beaulieu may turn into one the biggest steals of the draft. Considered a top ten pick by many scouts and experts, his lack of physicality hurt him. He is a premier puck mover however, and Montreal fans should be very happy with the pick. None of the other picks are spectacular. Montreal loaded up on defense, and may get a few NHLers out of it. After round one Montreal had one of the weaker drafts.
16. Nashville Predators – Nashville didn't have a first round pick, but used their top pick to select the first Goaltender in the class Magnus Hellberg. Nashville has an impressive track record of developing goalies and this one should be no different. Nashville utilized their strong European scouting department to select a few more high potential European players.
17. New Jersey Devils – The Devils had arguably the best draft. Swedish Defenseman Adam Larsson fell right into their laps, and they happily threw a red, white, and black sweater on him. Blake Coleman is a safe pick, and the Devils have a history of developing good American Players. Blake Pietila also possesses a good upside coming from the USHL. Reid Boucher the centerman from USHL was a huge steal for the Devils.
18. New York Islanders – The Islanders selected Ryan Strome in the first round, a move that may not have been the right one. A lot of scouts in experts had Strome in the top ten, but Strome was pushed around by Mississauga in the playoffs, and the Atlantic Division is one of the most physical in the NHL. Scott Mayfield however, may be one the best picks in the draft. People talk about Pronger-like upside, and Mayfield will have time to reach that upside.
19. New York Rangers – The Rangers went for a safe pick in JT Miller in the first round. A big strong player who believes he will be in the NHL very soon. The next three picks for the Rangers are shoot for the stars type picks. Steve Fogarty, Michael St. Croix, and Shane McClogan all possess tremendous upside.
20. Ottawa Senators – Ottawa was another team that had a fantastic draft. After selecting Mika Zibanejad, they took players will a high skill upside. Matthew Puempel is one of the best scorers from the draft, and Shane Prince was a great pick-up at 61. Stefan Noeson was a little bit of a reach, but still possesses fantastic offensive upside.
21. Philadelphia Flyers – The Flyers made headlines before the draft by trading away two of their top players in an effort to increase their team's shelf life. After the draft weekend they went from having nothing worth talking about in their prospect pool, to being on of the most stocked teams in the league. Sean Couturier is a dynamic player that fell to them, and Nick Cousins is a fantastic pick up.
22. Phoenix Coyotes – Phoenix took PMD Connor Murphy with their first round pick, a player who has a rough injury history. There is no denying the PMD skills Murphy possesses, but it will be interesting to see if his development has been seriously stalled. Phoenix had one of the better drafts and hope they found some diamonds in the rough with players like Lucas Lessio, Kale Kessey, and Andrew Fritsch.
23. Pittsburgh Penguins – Pittsburgh added Winterhawks defenseman Joe Morrow in the first, hoping that in a few years he will add another offensive presence to the already strong Penguins blue line. Pittsburgh drafted safe, and smart this year, as they have done in the past.
24. St. Louis Blues – The Blues added some good pieces to one of the best prospect pools in the game. Ty Rattie the team's first selection needs to show that he can make more plays on his own, and he is not just a product of a strong Winterhawks team. St. Louis made their big impact with their next selections by adding talented Czech forward Dimitrij Jaskin. Jordan Binnington who shines in the post-season in net for the Owen Sound Attack could also potentially be a future number one netminder.
25. San Jose Sharks – San Jose traded their first round pick in a package for Brent Burns, a move that may come back to bite them. They had a very lack-luster draft with Matthew Nieto being the only potential impact player drafted. They are one of the biggest losers of the weekend.
26. Tampa Bay Lightning – Tampa Bay swung for the fences with talented Russian Vladimir Namestnikov. Tampa showed under Yzerman, that they aren't afraid to take talent despite where it comes from. Nikita Kucherov also possesses tremendous upside. If all goes according to plan, this draft may really pay off for Tampa.
27. Toronto Maple Leafs – Brian Burke traded up, just like he said he would. Only fans that were expecting a top ten pick, should never have expected that. Tyler Biggs was taken with the first selection, and he is absolutely a Burke pick. He needs to hone his offensive skills but he does everything else very well. Stuart Percy has been labeled as a huge sleeper for months, but Toronto didn't take a nap on him. The OHL defenseman will be a fan favorite for years.
28. Vancouver Canucks – Maybe it was the repeated heckling, or the Canucks were still in shock, but the Vancouver Canucks didn't have a great draft. Niklas Jensen has upside, and was a solid pick up at 29. But with their next pick they chose a goalie, one who doesn't really have fantastic potential. The rest of the draft remained un-stellar for the Stanley Cup runner-ups.
29. Washington Capitals – The Caps used their first round pick to acquire Troy Brouwer. The selection of a goaltender even furthers the theory that Semyon Varlamov will not be a Capital much longer. Norweigan goalie Steffen Soberg adds to the already impressive depth Washington possesses in net. RPI defenseman Patrick Koudys was a great pick-up for Washington, anyone that has seen him play can attest to that.
30. Winnipeg Jets – The Jets shocked everyone by selecting Mark Schiefele with their first pick. It was a bold move, but also the wrong one. Schiefele does not possess the upside that other players selected after him have. Austen Brassard is a potential steal, but Winnipeg needed to make a bigger impact in their first draft as the Winnipeg Jets.