By Wayne Whittaker, Boston Bruins Correspondent
It can be easy to forget what condition the Boston Bruins franchise was in when Peter Chiarelli was hired as general manager in July of 2006.
The team had just come off of a 74 point season, good for 13th place in the Eastern Conference.
Chiarelli's predecessor, Mike O'Connell had traded away Boston captain Joe Thornton in November of 2005. Longtime Bruin Sergei Samsonov was also shipped out of town in March.
Their coach, Mike Sullivan, was almost certainly on his way out.
The Bruins goaltending situation was just as muddled.
Hannu Toivonen appeared to be Boston's best bet moving forward, but managed to play just 20 games as his season was cut short due to a high ankle sprain.
Andrew Raycroft played in 30 contests while battling his own injuries, posting a 3.71 goals against average and generally appearing as though he were ready for a change of scenery.
Journeyman Tim Thomas was called up from Providence and had a solid, though inconsistent year which featured his usual other-worldly saves mixed into a collection of soft goals and overplayed angles. His 2.77 goals against average was good enough for him to earn Boston's seventh player award as the unexpected success of the season.
Nevertheless, it was an unspoken assumption that once Toivonen returned to action, Thomas would slide down the depth chart.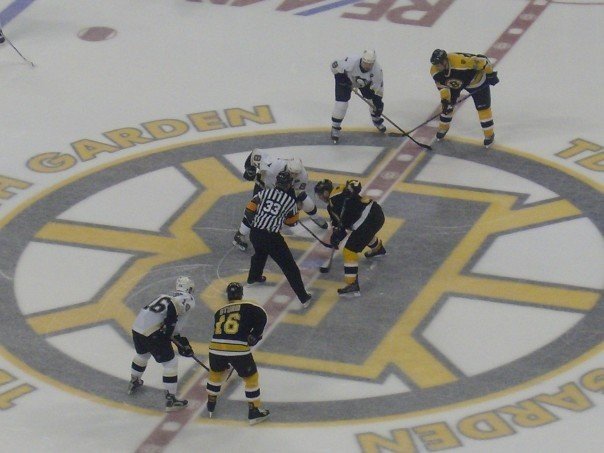 By the time Chiarelli was officially named general manager, the team was in shambles.
The Bruins had no identity, no recent history to serve as optimism, and no reason to believe things would change.
But things would indeed change. Slowly, of course.
Prior to officially bringing Chiarelli on board, the Bruins did a bit of housekeeping.
Interim G.M. Jeff Gorton traded Andrew Raycroft to Toronto for a young goaltending prospect named Tuukka Rask.
Gorton then went on to draft Phil Kessel, Milan Lucic, and Brad Marchand at the 2006 NHL Entry Draft.
Marc Savard was brought in during free agency, and Zdeno Chara (who had previously worked with Chiarelli in the Ottawa Senators franchise) was signed and named captain.
There was finally a fragile foundation for the rebuilding Bruins franchise. And with that, the reins were handed over to Chiarelli.
When Toivonen struggled to return to his once-promising form, Thomas won the starting job as net-minder early in the 2006-2007 season. Despite Thomas' best effort, the team continued to struggle.
There were some notable transactions that year, including Brad Stuart and Wayne Primeau (along with a draft pick) being sent to Calgary in exchange for Andrew Ference and Chuck Kobasew.
There were also some unfortunate mis-steps. The most obvious of which being the hiring and subsequent firing of head coach Dave Lewis, and a trade that sent Kris Versteeg to Chicago, with Brandon Bochenski coming to Boston.
Clearly, there was a bit of a learning curve for the new G.M.
In the summer of 2007 Chiarelli hired Claude Julien as head coach. Julien was the perfect choice for a Bruins team still struggling with an identity, as his defensive system had proved to be effective in previous stints with New Jersey and Montreal.
Manny Fernandez was then brought in as Chiarelli attempted to add some consistency to the goaltending position. However, Fernandez went on to play only four games that year before injuries derailed his season.
The Bruins, led by Claude Julien and backstopped by Tim Thomas (who would appear in his first NHL All Star Game in early 2008), would finally return to the playoffs as the #8 seed, and eventually bow out to the top seeded Montreal Canadiens in a spirited seven-game series that put Boston back on the hockey world's radar.
2008-2009 served as the Bruins' return to relevancy. They finished just one point shy of the President's Trophy, and won their first playoff series in 10 years with a sweep of the Canadiens. They would eventually be eliminated in a dramatic Game 7 of the Conference Semi-Finals.
Thomas and Fernandez were awarded the William Jennings Trophy for the lowest goals against in the NHL. Thomas would also win the Vezina trophy. Chara would capture his first Norris Trophy as league's best defenseman, and Julien was awarded the Jack Adams Award for his coaching efforts.
That offseason, the Toronto Maple Leafs and general manager Brian Burke traded two first round picks and a second round pick to the Bruins for the rights to soon-to-be free agent Phil Kessel. Those draft picks went on to become Tyler Seguin, Jared Knight, and Dougie Hamilton.
2009-2010 was a disappointing season despite the Bruins once again making the playoffs and advancing to the Eastern Conference Semi-Finals. Riddled with injuries and underperforming players, the Bruins would become just the third team in NHL history to lose a series after going up three-games to one.
Rookie netminder Tuukka Rask, who was fantastic for most of the season while an injured Thomas rode the pine, simply ran out of gas late in the playoffs. The Philadelphia Flyers made the historic comeback, and there were calls for the heads of Julien and Chiarelli.
The Bruins ownership decided to stick with the team that had brought them back into the class of hockey's elite, and it was the 2010-2011 season seemed as though it might be management's last chance to make a solid Stanley Cup run.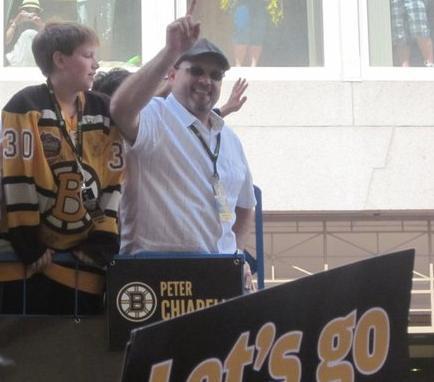 Obviously, the Bruins did not disappoint, capturing their first Stanley Cup in 39 years.
If you look at the team's winning roster and compare it to the roster of the 2005-2006 team that Chiarelli inherited, only Bergeron and Thomas remain.
The acquisitions of Nathan Horton, Mark Recchi, Rich Peverley, Michael Ryder, Chris Kelly, Tyler Seguin, Shawn Thornton, Daniel Paille, Gregory Campbell, Johnny Boychuk, Dennis Seidenberg, Andrew Ference, Adam McQuaid, Tomas Kaberle, prospects Steven Kampfer, Jordan Caron, Ryan Spooner, Jared Knight, Dougie Hamilton, and Alexander Khokhlachev can all be directly traced back to Chiarelli and company.
Chiarelli wanted Boston to be a "tough team to play against", and he accomplished that goal by complimenting cornerstone players with incredible depth and grit.
Chara, Bergeron, Lucic, Thomas, Horton, Seguin, Seidenberg, and Ference are all locked in until at least 2013, with many on the books for several years thereafter.
While Boston may still be basking in the glory of Lord Stanley, they can rest easy knowing that the future is incredibly bright for a still young Bruins club.
Tuukka Rask remains Boston's future goaltender, and promising young players like Brad Marchand and Tyler Seguin will continue to develop into unquestioned stars in the NHL.
Chiarelli's conservative (and sometimes stubborn) style may not always be the most popular brand of thinking in the often antsy world of hockey, but it's certainly proven to work for him. The suggestion that the Bruins won in spite of Chiarelli is preposterous.
While this isn't meant to belittle the pain and frustration felt after heartbreaking losses during the years of 2007-2010, it's a bit easier to look back on them as stepping stones at this point. The goal is always to win the Stanley Cup, and Chiarelli has assembled a team that has done just that.
If the goal is to have a sustained presence at the top of the NHL, the Bruins are on their way to making Chiarelli look even better. While not every contract is perfect, they simply don't need to be. What Peter Chiarelli has done is becoming more and more rare in the salary cap era.
Without any clear cut superstars (aside from Tim Thomas), the Bruins were able to capture the Stanley Cup as a team. And they won't have to blow up the organization like Chicago did a year ago. Most players from this year's roster will have the opportunity to defend their title next Spring.
It's amazing to look back at where the Bruins were just five years ago, sitting at the bottom of the standings, averaging just over 14,000 people per game (though even less actually showed up), and being completely overshadowed by the success of the Patriots, Red Sox, and Celtics.
Today they're filling season-ticket waiting lists, still celebrating their first Cup victory since 1972, and demanding the attention they missed out on for so many years. Jack Edwards put it best in 2008 when he said "hockey never left Boston, but it definitely has returned". And that resurgence would not have been possible without Peter Chiarelli.
—
Wayne Whittaker has been a Boston Bruins Correspondent for TheHockeyWriters.com since 2010. As a Berklee College of Music graduate, and Massachusetts native, Whittaker has been around Boston, the Bruins, and the game of hockey his entire life. His work has also been featured in Sports Illustrated, Huffington Post, CBSSports.com, and Yahoo.com.