The Washington Capitals team fell apart Sunday afternoon at Verizon Center, evaporating all the noise and energy the team had produced during the second period out of the building at the end of their 5-4 loss to the Philadelphia Flyers. Capitals General Manager George McPhee is on the hot seat and has already stated publicly that he is willing to part with assets in return for a better chance at the playoffs.
"If you've got a chance to do something, you're all in and you get what you need. What you pay for it is secondary. You get what you need," McPhee told Craig Custance of ESPN earlier this season. "We had some real good clubs here for a number of years. And we paid a lot over the years to add to the club at the deadline. You owe that to your team and your fan base."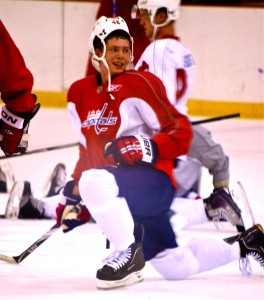 That statement should be concerning to every single Capitals' fans. After moving first round pick Filip Forsberg for Martin Erat, who McPhee has stated he's still looking to move at the deadline, would the Capitals GM consider trading another top prospect in Evgeny Kuznetsov for a marginal upgrade? He certainly should not be, but his job is on the line.
The Capitals are currently one spot out of the final wildcard spot in the Eastern Conference, having the same amount of points as the Detroit Red Wings (68), but have played two more games. Columbus is on their tail too and Washington's schedule isn't getting any easier with another matchup against Philadelphia on Wednesday, followed by tough games against Boston, Phoenix and Pittsburgh on the way. Their roster certainly isn't built for a run through the playoffs, but moving big parts of your future for a marginal upgrade isn't a wise choice. Below are why Washington should stand pat at the trade deadline, with the exception of a minute move.
Goaltending Isn't the Problem
Any trade George McPhee shouldn't result in acquiring a goalie, no matter who it is. Their defense is their issue and no contending team will win with John Erskine and Connor Carrick as their third defensive pairing, even with Ryan Miller in net. Who for some ludicrous reason was suggested by many hockey media as a goalie the Capitals should have made a big time play for. Miller joined a complete and contending team in the St. Louis Blues last just a few days ago in a big trade with the Buffalo Sabres.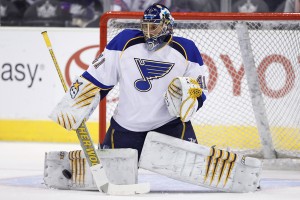 They have a solid young net minder in Philipp Grubauer in Hershey, who is still developing and has been struggling of late. Michal Neuvirth is a highly capable backup at the NHL and still has a year left on his deal following this season. Unless there's a second round pick awaiting McPhee in exchange for Neuvirth, the Capitals goalie product should be held on to, at least till draft day in Philadelphia this summer.
Build the Farm System
Although they dealt Filip Forsberg last spring, the Capitals have one of the better prospect systems in the league, ranked 11th by Hockey Prospectus prior to the 2013-14 season. Evgeny Kuznetsov is expected to join the Capitals after his season in the KHL ends in the next few weeks and he could play a role for Washington down the home stretch, but expectations for the Russian forward should be limited. He should be considered a third line addition to a talented group of forwards if he plays. The backend is the monumental issue for the team (2.89 goals against per game) from the nation's capital for not only this year, but the years ahead.
The Capitals have a strong group of prospects in their system, highlighted by forwards Andre Burakovsky, Stanislav Galiev, Riley Barber along with defensemen Madison Bowey and Nate Schmidt. However, neither blue liner fits the description of the top four defenseman and left handed shot Washington needs to become contenders for a Stanley Cup.
Player Value Could Increase in Offseason
Although he has a single goal this season, albeit an empty netter, Martin Erat hasn't gotten much of a chance to produce offensively. He was scratched multiple teams earlier this season and often played on Washington's fourth line, where enforcers Aaron Volpatti and rookie Tom Wilson usually play. He has 23 assists on the campaign and a friendly 4.5 dollar cap hit that could become attractive at the 2014 draft.
ESPN's Craig Custance wrote that the Stars and Coyotes could be interested, writing: "Look for teams that are on a budget with plenty of cap room to ultimately be the destination there, which is why I believe the Coyotes are interested. For the right price, I could see the Stars entering the picture there, too."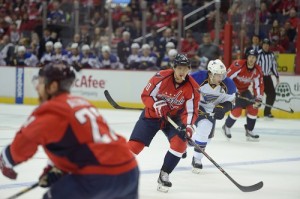 This is why holding on to Erat might be in the best interest for Washington long-term. Having the opportunity to move Czech Republic forward to a team looking to reach the cap floor next season is worth the risk of holding on to Erat for the remaining 20 regular season contests. If he continues to improve as he currently is with more ice time, the former Nashville Predator could potentially net McPhee or whoever the Capitals GM is next season is a second round pick at draft day.
George McPhee should have a quiet deadline, it is that simple. But with his future in Washington, will he make a big move?
You can follow Matthew on twitter @m_speck and email him at mspeck21@yahoo.com with any questions or comments.