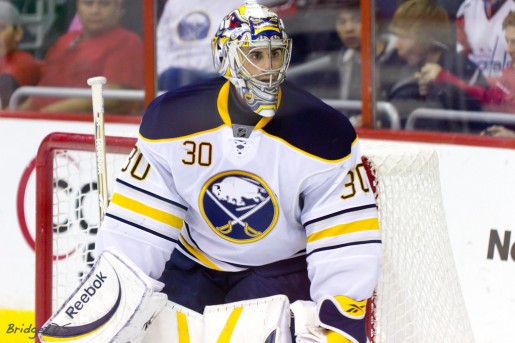 Hello and welcome back from the Olympic break. This will be a running post of sorts going into the weekend. If any trades do happen, they will be broken down here from a fantasy hockey perspective. Now, the first few days this week will mostly be talk, talk, talk. Rumors will be plenty and there will be lots to sift through as far as the 2014 trade deadline.
2014 Trade Deadline Message
This is something that will put people on notice. Writers have to think when they toss all these rumors out there that there are consequences. Fantasy hockey owners always seem to be the ones that suffer last. Hockey fans in general suffer the worst but let's turn up the heat on those that post what is generally nonsense over 90% of the time on places such as HFBoards, etc. The irony is most of these rumors are started by fans, not writers or sources that are supposedly in the know.
The other problem is those writers that spit out these rumors, tease them, massage them, then act as if they are going to happen. Writers and insiders have a high volume of these rumors and there are quite a few who responsibly point out the ones that are closer to fruition. Most do not however.
Now that mix will all be conveyed here from the 26th until March 2nd. The second part will cover March 3rd leading up to the March 5th deadline. My goal is to present the information from this different point of view.
For what it is worth, I highly respect the process and enjoy it. However, the ridiculous deluge of nonsense, in most cases, is a source of frustration for far too many. This delicate balance is always a tightrope.
Are you ready? This all begins on Wednesday, t-minus seven days from the 2014 trade deadline.
=======================================
Trade Deadline Impacto: February 26th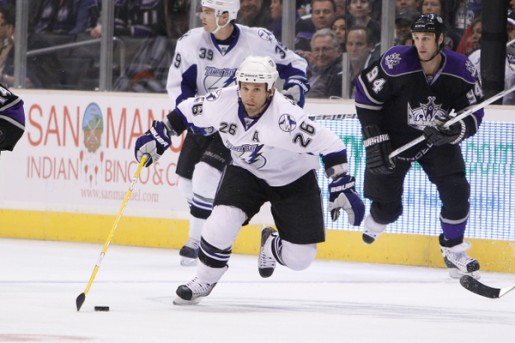 There was an actual trade today as the Minnesota Wild acquired Brad Winchester but let's be honest….it's a deal for making a deal. It really is not even worth to mention the player he was traded for. Chicago acquired Brian Connelly in return. Naturally that really is not the story today.
Rumors are obviously flying everywhere. The big one of the day is once again Martin St. Louis and his preference IF he were to wave his no trade clause. His one destination would be the New York Rangers. Again, it depends on who you believe how close this rumor is to a deal. It may not happen at all or it may become a trade. No one really knows at this time. Here is a little more on the situation.
On the MSL reported trade request & Steve Yzerman – http://t.co/BcXS0YYrrZ

— Sean Leahy (@Sean_Leahy) February 27, 2014
All I know is that this just not seem to go away and yet there is still the feeling that this is much ado about nothing. That being said, stay tuned anyway. Then there are the Ryan Kesler rumors. Mind you, Kesler has a hand injury but hey that never stops the chatter, does it? Honestly, until something more concrete comes in (was there a trade demand?), is it worth reporting? This still screams a summertime deal to me. That may not even be the worst of it and then there is the New York Islanders. There has to be something brewing when the Isles think they can get a first round pick for Andrew MacDonald? Now can they? In this market, I suppose anything is possible.
Report: Isles seek first-rounder in MacDonald trade talks http://t.co/geFBK3LYlr — NBC ProHockeyTalk (@ProHockeyTalk) February 27, 2014
The reports are flying in from everywhere. Again, until something comes along that is a little more concrete then relax! These and other rumors are what is flowing out from the "internets" as they call it today. Just imagine what will worm its way into existence tomorrow. Expect things to slowly heat up to a March 5th crescendo.
=====================================
February 27th Trade Deadline Update Time:
Anytime in a trade deadline, there has to be time where there is just chatter and some "discussions". The reality is a quiet day means a quiet day for this running article. Some Bob MacKenzie reports hit the Twitter and caused a bit of a stir but it was a day that set up the hockey night.
I highly recommend checking out Lyle Richardson's site over at Spectors Hockey. Every single day from now until next Wednesday, Lyle will sift through the rumors and offer some perspective on top of it.
Today did not feature much in the way of substance because a dozen games were to take place at night. Yes a little bit of chatter seemed to spread around during a few games but over the weekend (say Sunday into Monday) expect things to begin to ramp up with ebbs and flows.
That is all for today but tomorrow we promise a bit more. Hopefully, everyone enjoyed the hockey.
====================================
February 28th TDT Update:
It has finally happened. At 6:00 PM ET, the Buffalo Sabres traded Ryan Miller and Steve Ott to the St. Louis Blues for Chris Stewart, Jaroslav Halak, William Carrier, a first round 2015 pick, and a third round 2016 draft pick. This came straight from the Blues' twitter feed:
BREAKING: The Blues have acquired Miller & Ott from Buffalo for Halak, Stewart, Carrier & two picks. INFO >>> http://t.co/NGLbm5mwxT

— St. Louis Blues (@StLouisBlues) March 1, 2014
This is a deal that has been rumored since last year's draft and maybe beyond. The honest to goodness truth is that St. Louis is the team that showed the most interest all along and were the team most willing to make a deal. Give Tim Murray a ton of credit. He is playing the poker hand of his life right now and is doing an excellent job of dealing when he needs to and not when teams want him to.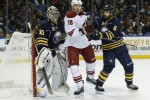 Will there be other deals from Buffalo? That seems to certainly be the case. Everyone that I have talked to so far seems to think more is brewing but right now, the Miller deal is going to take some time to sink in. It will for both sides. Now Doug Armstrong (Blues GM) basically said in so many words that it was Miller or bust and that much is definitely true. This had been in the works for awhile but it was a question of making the right pieces work. There is a conditional aspect of the deal if Ryan Miller resigns with St. Louis but I will get into that over the weekend perhaps. As an aside, Buffalo won again tonight over San Jose this time. This is a blockbuster deal so naturally there is and was going to be a ton of reaction from all over the place. The entire Buffalo organization from top to the fans have really paid their respects.
The Two GM's React Err Speak:
People have to realize that this deal does not mean Ryan Miller will be automatically calling St. Louis home for the rest of his days. The interesting wrinkle is that the 2016 3rd round pick could jump to a 2014 first rounder if Miller stays in St. Louis. What is very clear is that Blues GM Doug Armstrong wants to win now.
"It's something that we'll certainly discuss at the appropriate time," Armstrong said. " … but we really believe Jake Allen is the goalie of the future for the St. Louis Blues."
All Miller has to do is win. The pressure is all on the goaltender to bring a cup home to St. Louis. Now Tim Murray had a topper for this as well and its quotable time via Brian Harrington.
Reason is Sabres get first rounder in this year's draft if Blues make WCF or Miller re-signs this year. Wow..—
Mike Harrington (@BNHarrington) March 01, 2014
Again that is what the 2016 third round picks morphs into if one of those two conditions are met.  At that point, Murray may want to just stay seated on the podium in Philadelphia. 

This will be a trade that is talking about for a long time. Thanks once again to the guys at Pro Hockey Talk for all of their help this evening.
Now about that fantasy hockey impact…
A lot of talk had been focused on the Miller trade and the reality is the debate had begun among fantasy "experts" well before the consummation of said deal. The key is obviously Ryan Miller but there are other pieces of course. Thanks to our friends from Dobberhockey, here is a little impact for our fantasy fans. Miller really is singing the Blues.
St. Louis finally gets the all world goalie they were coveting while Buffalo adds some pieces that they could trade or use. The Buffalo side of the impact will have to wait until after the deadline so be patient. Steve Ott adds a ton of grit and a little bit of offensive punch to the equation for the Blues. At the very least, he is a playoff type of player that St. Louis was lacking.
Oh by the way…..
There were some other rumors too. With one of the big dominoes falling off the board, expect all sorts of speculation from all avenues of social media. Needless to say, the sellers market just became even more of a sellers market. Expect extra value when it did not exist before. More teams will get involved now. Let's see how the speculation swirls over the rest of the weekend.
======================================
The Weekend Trade Deadline Update (3/1-3/3)
Yes there were minor deals and more posturing. Some thought after the Ryan Miller trade that the action would pick up. The first rule of trade deadlines is that when the big fish (see Ilya Kovalchuk in 2010), chatter increases but the deals do not necessarily do so.
That was the case on the weekend as Brandon Pirri of the Chicago Blackhawks was dealt to the Florida Panthers for a third round pick this year and a 5th round pick in 2016. The reality is this slightly more than a minor deal but not by much. Pirri has a chance to get a start in Florida where he will see ice time. It will be interesting to see if he develops into the player many had expected.
As Sunday was almost turning into Monday, we talked to Lyle Richardson on THW Live. Fast forward to an hour in for the full interview. A lot of rumors are addressed along with some other possibilities. The fun part of debates is you never quite know the direction of the debate.
By Monday, rumors started to take shape and gather at least a little steam. Predictably things have begun to get a little quiet. Tomorrow will be much the same with some flare-ups. Will there be some deals? Possibly. Everyone knows the real thrust is on Wednesday where players can be scratched or pulled out of practice, etc. Tuesday might be more of a showcase for some 2014 trade deadline talent.
============================================
A few last words…for now…
Part Two will take place over Tuesday and Wednesday which will basically span the final 30 hours of the deadline. Here is a little commentary from TSN and until Tuesday, good night for now.