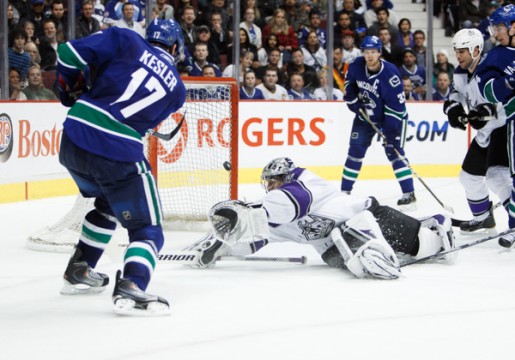 Just 48 hours remain until the NHL trade deadline and the only deal of significance so far has been the Ryan Miller blockbuster between Buffalo and St. Louis.
Despite the inactivity, some of the names being thrown around in potential trades are incredible. Martin St. Louis, Ryan Callahan, Ryan Kesler, Andrei Markov…
We're stuck with more questions than answers at this point, so let's examine some of the weekend's biggest developments in depth.
Today's topic: Ryan Kesler
Last week we suggested that the Penguins return to the three-center model they used to build a Stanley Cup champion and specifically target a player like Kesler.  Reports over the weekend from the US and Canada confirmed what the Pensblog suggested would be the package in return: Brandon Sutter, Simon Despres, and a first round pick.
Question 1: Why are the Pens going all in to get Kesler when their weakness this year is on the wing(s)?
The most common counter I've received to the idea of a Ryan Kesler trade is that he doesn't address the Penguins' most pressing needs as they head into the playoffs — specifically the lack of wingers and the checking lines as a whole.  In other words, what good is Ryan Kesler if his wingers are still AHL-caliber?
What I didn't make clear was that a Kesler trade isn't a move specifically for right now.
Last season, the Penguins were the best team in the NHL heading into the playoffs.  That's not the case this season and nothing Shero does over the next 48 hours will put them into the class of St. Louis or a handful of others in the Western Conference.
That doesn't mean they can't win a Cup — just as going in with the most talent doesn't guarantee a Cup either.  There's an incredible amount of luck in the playoffs and, with the right matchups, any team is capable of winning or losing in this era of the NHL.
Due to a falling salary cap, 2013-14 was always going to be a transition year for the Penguins.  That's why they went all-in last year with short-term rentals of Jarome Iginla, Brenden Morrow, and Douglas Murray.
Shero won't pull off four deals in two days to fill all the holes in the Penguins' forward group and from that perspective it probably doesn't make sense to overpay for a rental (Ales Hemsky, Michael Cammalleri, Matt Moulson, etc).
Brandon Sutter will be a restricted free agent in the offseason and I think he has the contractual leverage to receive nearly $4 million per year on his next contract (up from a current cap hit of $2 million).  From a long-term perspective, Kesler at $5 million would provide a significant upgrade on the ice and only a minimal upgrade to the payroll.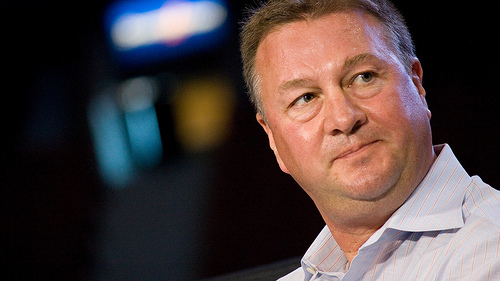 Question 2: Why would Vancouver trade Kesler?
The reason a Ryan Kesler trade is so intriguing is that players of his ilk aren't supposed to become available.
Sure, Blake Wheeler of the Winnipeg Jets sounded like a great option a month or two ago when the media circulated rampant rumors of his potential availability.  But why would Winnipeg ever trade a potential 30+ goal scorer signed to a reasonable contract at age 27?
Common sense says Wheeler isn't going anywhere if the Jets ever want to contend.
Kesler is a different story.  Multiple reports indicate that he wants out of Vancouver and his desires to leave even date back to the offseason.  Vancouver GM Mike Gillis would normally be able to put his foot down and tell Kesler to deal with it, but we can't forget that Gillis already botched the Roberto Luongo situation.
If Kesler is determined to get a deal to happen, he may not take the high road like Luongo did last year.  Waiting until the offseason or hanging onto Kesler through the rest of his contract could become a PR nightmare for a struggling Canucks team.
Even Luongo chimed in with a sarcastic perspective on Kesler's trade demands:
Luongo : whether he wants to go or stay I told him he's not going anywhere

— Jason Botchford (@botchford) February 27, 2014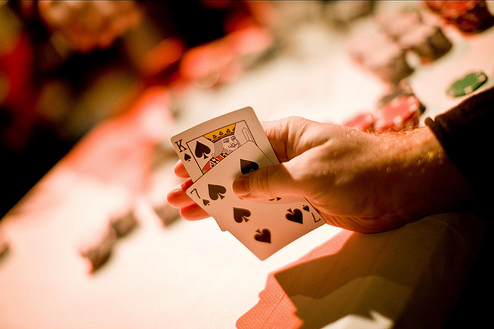 Question 3: Why would the Penguins show their hand?
When the World Series of Poker was all over ESPN a few years ago in the States, I'd sometimes stop on the channel and watch for a few minutes.  ESPN hand-picked the most dramatic moments from hours and hours of poker and every so often they'd highlight a player who would tell the entire table what cards he had.
On the surface, it made no sense. Why would you tell world-class poker players what cards you have (and tell the truth)?
What viewers missed was all the hands before and after that shaped the dynamic at the table.  Hours and hours worth.
Telling your hand to the table conveyed supreme confidence — or temporary insanity.  Telling your hand set expectations — which could then be manipulated — for how you would bet a similar hand in the future.  Telling your hand even puts pressure on the other players at the table.  They start wondering whether they should believe you, or why you would admit it, or…
The Pittsburgh Penguins seemingly showed their hand to the table by allowing the details of their Kesler offer to Vancouver leak out.  But why?
My guess is it's not enough.  The Canucks are trading their best player and need to get a hefty haul in return to stay competitive.  From Pittsburgh, that probably means Derrick Pouliot is part of the deal.  From Philadelphia, that probably means Sean Couturier.  From Detroit, that probably means Gustav Nyqvist.
If the Penguins aren't willing to put Pouliot on the table — and I don't think they should — then they've drawn their line in the sand.  Their offer is out there and it's up to Philadelphia, Detroit, or another team to top it.
Also, think back to last year's trade deadline and how the Jarome Iginla situation played out.
Kesler, like Iginla, holds a no-trade clause and ultimately determines where he goes.  Even if another team swoops in with an offer that's better than Pittsburgh's, Kesler can pick his spot and force Gillis' hand.  Don't discount the time Kesler spent with Dan Bylsma, Ray Shero, Tony Granato and the rest of the Penguins' staff on Team USA last month.  He got a first-hand look at how Bylsma and Shero conduct business — and doesn't have the same insight on Detroit or Philadelphia.
Gillis doesn't have to move Kesler a la Jay Feaster/Iginla, but as discussed above, he may not have the luxury of waiting with the offer publicly on the table.  Does he really want a tank of gasoline sitting in the middle of a smoldering fire for the next two months?
And think about the poker analogy again.
Shero and Penguins aren't only playing for this hand.  Kesler isn't the only player they're after — or even the only big name they've been pursuing.
Putting out the message that Kesler is their priority certainly changes the dynamics on other potential deals, doesn't it?
__________________________________