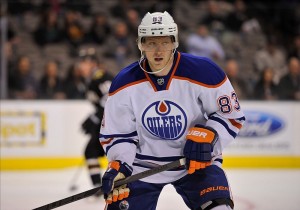 When a team isn't good, yet boasts a lot of young talent and moveable pieces they immediately become the focus of trade rumors. Such has been the case in Edmonton for many years, and with the trade deadline just a couple of days away, talks have really amped up. But what exactly are the Oilers going to do? They aren't known for making big blockbuster trades, but as Coach Dallas Eakins eluded to last week, not many players in the room are untochable.
The Tale of Ales Hemsky
Poor Ales Hemsky has been the subject of trade rumors for what seems like his entire career, yet nothing has ever come to fruition. During a practice last week, he joked to his teammates, "don't worry boys, I won't be here much longer". A joke, with a lot behind it. He's a UFA this summer, so even if the Oilers can't find the right trade partner, there's every reason to believe the two sides will part ways, regardless of how.
Hemsky hasn't been a bad player for the Oilers. He has suffered a few tough injuries, and been stuck in a forever rebuild. He's got a lot of talent and has shown it on numerous occasions. Some fans want to keep him, but the never ending saga should come to an end soon. It's best for both parties.
Hemsky could be a help to many teams. But how much he's worth remains to be seen. Could the Penguins be a possibility? Maybe the Ottawa Senators or Los Angeles Kings. Teams won't want to over pay for a rental, especially one with Hemsky's injury history. But it will come as no surprise if Hemsky is still an Oiler after March 5th. That's just how things go between him and the Oilers.
Who are the Untouchables on the Oilers?
Nashville's GM David Poile's assertion that Shea Weber isn't going anywhere hasn't quelled the trade noise surrounding him, especially in Edmotnon. It would take a lot to pry Weber from the Predators, as much as a Ryan Nugent-Hopkins, among other pieces. But is RNH one of those few untouchables in the Oilers locker room? Edmonton blogger David Staples says yes. He in addition to Taylor Hall, Jordan Eberle, Justin Schultz, Jeff Petry, Nail Yakupov, Martin Marincin and Boyd Gordon should not be going anywhere.
That leaves names such as David Perron and Sam Gagner as possible trade pieces. Perron is having a great season, and he is providing leadership in the locker room. Should he be someone the Oilers are looking toward as a part of the solution rather than a trade piece? As for Gagner, the Oilers certainly want to move him, but they might not be able to find the deal they're looking for. His situation could drag into the summer. But it would be somewhat surprising if he was still an Oiler come next season. Of course stranger things have happened.
What About the Goaltending?
Oilers sign Scrivens to a 2 year deal…thought to be just over 2 mil per year. #TSN

— Aaron Ward (@aaronward_nhl) March 3, 2014
UPDATE: Some breaking news out of Edmonton this morning, the Oilers have re-signed goalie Ben Scrivens. There is potential with Scrivens, no doubt, but the fact that he's largely unproven makes this feel like another Devan Dubnyk (who was placed on waivers today).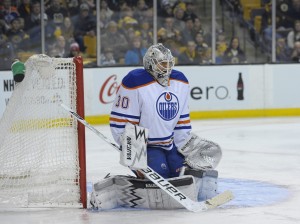 The Oilers are reportedly shopping Ilya Bryzgalov, but finding him another home on trade deadline day won't be easy. If they decide to cut bait with Bryzgalov, whether now or in the offseason, they'll still need some goaltending help. Would they consider recently traded Jaroslav Halak, who is a UFA this summer? What about Cam Ward, who is rumored to be available. Ward is an interesting prospect for the Oilers. He's a former Conn Smythe winning goalie who has faced some injuries over the past few seasons, but still has the talent.
The 30 year-old Saskatoon native grew up in Alberta. He might be interested in heading closer to home. It seems like he might benefit from a change of scenery. But the Hurricanes will want to make sure they get full value for their number one goalie, making a possible trade very tricky.
*
With the trade deadline approaching, there are always big names thrown about, whether they are actually available or not. It's best not to get caught up in the hype, because you're often left disappointed. The Oilers have a lot of work to do on a rebuild that should have shown some progress by now. But in sports things don't always go to plan. The next few days should be interesting. Sit back and enjoy.