The Pittsburgh Penguins were supposed to be a dynasty.  A Stanley Cup in 2009: simply the first of many as the Penguins would ride their 'three-headed monster' to countless championships.
Sidney Crosby, Evgeni Malkin, and Jordan Staal.
No coach could counter that trio down the middle.  No General Manager could replicate that dynamic on their own roster in the salary cap era.
But the countless championships never came.  Injuries and playoff collapses derailed every opportunity.  The only thing separating the Penguins from the Washington Capitals — a team with enormous talent and only regular season success to show for it — was the magical and improbable four-month run under Dan Bylsma in 2009.
By 2012, Staal was a year from unrestricted free agency and had his eyes set on the Carolina Hurricanes.
Penguins GM Ray Shero made a significant offer to Staal — although some say it wasn't as high as the $60 million that was reported (and he eventually received from the Hurricanes).
It didn't matter.  Staal wanted out and with him went the three-center model that was once the envy of the entire NHL.
After trading Staal, Shero admitted that he did all he could:
"My feeling on Jordan Staal is I didn't want to trade him and I said that.  My goal was to sign him to a contract to stay with the Penguins.  How far we could go with this three-center model that we had, that remained to be seen, but I'd like to do that.  It just became more apparent as we talked about it internally. I've talked to Jordan for six years and had a great relationship with him and his family. It just felt like the right thing to do."
Shero said a key to the trade was receiving Brandon Sutter in return from the Hurricanes.
Sutter, 25, has performed adequately as a third line center carrying a $2 million cap hit in Pittsburgh.  His play is most noticeable on the defensive end of the ice, but he hasn't proven himself capable of carrying the third line after the departures of Matt Cooke and Tyler Kennedy last summer.
Sutter is due a qualifying offer of $2.7 million when he heads to restricted free agency this summer.  How much will Shero be willing to pay for a young player who hasn't really shown consistency or intensity?  With Sutter trying to carry a third line, are the Penguins still at risk of being shutdown like they were in Boston last spring?
Maybe it's time to revive the three-center model.
Crosby, Malkin, and Staal only delivered one Cup, but they also only played 24 out of 164 regular season games (15%) together in 2011 and 2012.  In the games where all three made an appearance, the Penguins scored an average of 4.05 goals per night.  In other games, they only averaged 2.87 goals.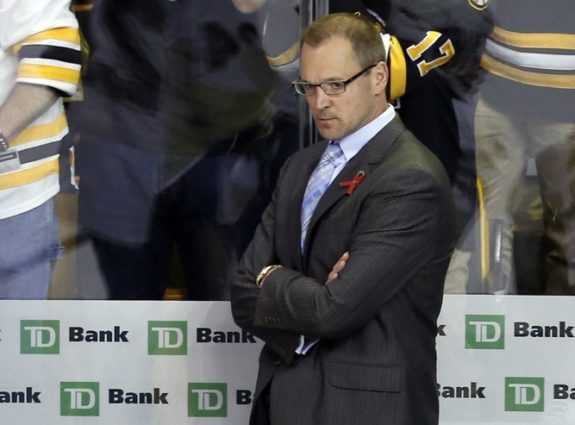 Down the stretch in Staal's final season, Bylsma unleashed the full potential of the matchup nightmare.
Against a team with depth, he ran the three centers on separate lines.  Against teams with a tough top defensive pair, he'd slide Staal up next to Malkin and make the opposing coach pick their poison.  Prior to television timeouts or at the end of periods and games, he'd load up all three on an unstoppable line.
If Shero decides to move Sutter out and pursue a big-name center in the trade market this spring or offseason, he can feel safe with Jayson Megna working his way up through the system as an alternate option at center.  Megna isn't quite ready for the NHL full-time, but he isn't far away either.  Megna has speed and smarts that will help him evolve into an affordable and versatile forward that can move up and down the lineup when called upon to do so.
Then there's the issue of the salary cap.
We've looked at how the Penguins and cap specialist Jason Botterill have tap-danced around the CBA restrictions in the past.  But when the Penguins went to the Stanley Cup Final in 2008, Crosby, Malkin and Staal were all on entry-level contracts.  When the Penguins grabbed the Cup in 2009, Malkin and Staal were still on entry-level deals.
Needless to say, that isn't the case anymore.
Crosby and Malkin combine to make $18.2 million against the cap next season.  Adding another big contract on top of Kris Letang ($7.25 million), James Neal ($5 million), Paul Martin ($5 million), and Marc-Andre Fleury ($5 million) would be a challenge.
My best estimate — with Sutter and Brooks Orpik moving out and Matt Niskanen being retained — puts Shero with around $5 million in flexible spending to apply to an upgrade to the forward group next year.  $5 million won't get the Penguins another Crosby, but it still leaves the door open for some pretty significant names at the center ice position.
The Pensblog thinks that Ryan Kesler could be a good fit for Pittsburgh and I couldn't agree more.
Think about the potential Kesler brings:

1. He'd be a solid upgrade to an already good penalty kill.

2. He's an excellent faceoff man.

3. He has the grit to survive a series against any of the big boys in the East. In fact, he could be a huge X factor in a series against the Bruins if it were to ever get that.
Kesler leads all Vancouver Canucks forwards in shorthanded time on ice this year, which gives him plenty of opportunity to maintain over 20 minutes a night with the Penguins (just as Staal was able to do in a defensively-focused role).
Despite many reports to the contrary on Tuesday, Shero and the Penguins have the cap flexibility to make a deal like this work at the deadline.
Is it too far-fetched?
Gary Roberts, Marian Hossa, Pascal Dupuis, Hal Gill, Chris Kunitz, Eric Tangradi, Bill Guerin, Alex Ponikarovsky, Jordan Leopold, Alex Kovalev, James Neal, Matt Niskanen, Jarome Iginla, Brenden Morrow, Douglas Murray, and Jussi Jokinen suggest that just about anything is possible when it comes to Shero and the deadline.
Additionally, after the Staal trade occurred, I got wind that the Canucks had inquired about Staal's availability.
The Penguins' ask in return?
Ryan Kesler.
__________________________________