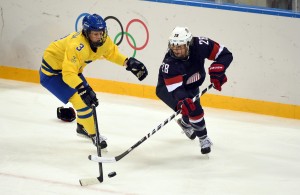 Even though the results weren't what they wanted, the Kessel name garnered quite the reputation at the 2014 Winter Olympic Games in Sochi, Russia. A two-player effort, it's the older half that stepped up his play on the big stage becoming an international household name.
With Amanda and Phil both showing off their scoring abilities for their respective American squads, it's amazing that anything else – USA hockey related – was even talked about over the 16-day event.
However, while Amanda's performance at the international level is something that's never really been in doubt, Phil's international resume was not something to write home about. At least it wasn't – until now.
[Keep FanXChange in mind for your Maple Leafs tickets needs]
Phil Kessel: Sniping In Sochi
Prior to this year's Olympics, Kessel was part of eight other American teams – two under-18 World Junior teams, two World Junior tournaments, three World Championships, and two Olympic teams.
He's had successful tournaments among his nine competitions, but his consistency is what's brought his international play into question. In 59 tournament games, he's recorded 72 points (36g-36a). But out of those 72 points, 47 were put up in four of the nine tournaments.
Kessel's first Olympic games were in 2010 in Vancouver. Although he was part of the silver medal-winning American team, he only recorded two points (1g-1a) in his team's six games. That same year, he put up 55 points (30g-25a) in 82 games for the Toronto Maple Leafs.
And those totals have climbed every season since the 2010 Winter Games. He set a career high with 82 points (37g-45a) the following year in 2011-2012 with the Leafs. His plus-minus rating also climbed from minus-20 in 2010 to minus-10 in 2011.
Phil Kessel was selected by the directorate tonight as the top forward in the 2014 Olympic men's ice hockey tournament. #TeamUSA #USAHockey

— USA Hockey (@usahockey) February 23, 2014
At the Sochi games, Kessel was named the tournament's top forward along with being named to the all-star team. It's just more proof of how his game continues to improve heading into the stretch of 2014.
Playmaker, Sniper, and Two-Way Forward
When Kessel was drafted in the first-round, fifth overall of the 2006 NHL entry draft by the Boston Bruins, it was assumed that his goal scoring abilities were his main attraction. But that's changed since the 26-year old sniper came to the Leafs.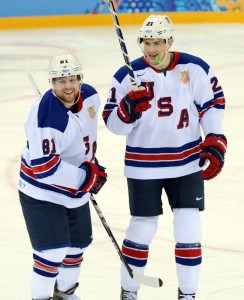 He's been highly criticized for his lack of toughness and lack of defensive play over his career. But at six-feet, 202 pounds, the small forward had slightly changed his game over the past couple of seasons.
It seems that Kessel's found a indisputable chemistry on the Leafs' top line with mates James van Riemsdyk and centre Tyler Bozak. Not only have they been able to find the lethal scorer streaking down the sides of the rink or on Leaf powerplays, but the Madison, Wisconsin native has developed into quite the playmaker. In fact, Kessel's recorded 34 assists in 60 games this season and has no problem dishing off the puck to open teammates.
But while his offence hasn't suffered at all, the most impressive change to his game is his ability to alter the opponents attack with his backcheck. Sure, he's not the greatest defender, but Kessel's demonstrated more of a willingness to try in the defensive zone than ever before.
His defensive play is something that hindered him in Boston under coach Claude Julien and again in Toronto under Ron Wilson. But he seems to be buying into what coach Randy Carlyle is preaching – a team mentality on offence and on defence.
Maybe it's his maturity as a person – not just a player – that has transformed his game. Maybe fans and coaches are just more willing to accept his offensive game will always outweigh his defensive abilities. Or maybe it's the fact that Kessel wants to play and win in Toronto. If he didn't, he wouldn't have signed an eight-year extension.
Whatever the reason, Kessel's changing his overall game and his plus-one rating this year is his highest since coming to the Leafs. For better or worse, he's a member of the blue and white for a long time and if last year's playoff round against Boston was any indication, he'll be looking to win – doing whatever it takes.
For questions and comments, follow Andrew on Twitter @AndrewGForbes or Google+.