How Do You Define the League's Most Valuable Goaltender?
How about the starting keeper who's the biggest difference-maker for his team? Every year, it seems at least one relatively unheralded goalie emerges as such. Last year, it was Sergei Bobrovsky. This year, Ben Bishop.
The coronation of the perennially on-the-cusp Bishop as a bona fide NHL starter is more or less complete, as the 27-year-old netminder is running away with the title of 2013-14 Most Valuable Goaltender with just over a quarter of the season left.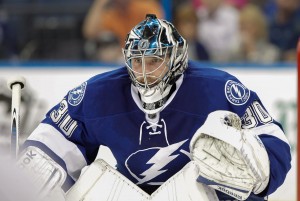 Most Valuable Goaltender VS Vezina
Most Valuable Goaltender isn't a replacement for the Vezina Trophy. Instead, it's a simple, statistically-driven honor, and as you'll see, a useful supplement for the official selection of the sport's top netminder.
Last season's MVG rankings revealed Evgeni Nabokov's unappreciated value and confirmed Bobrovsky's worthiness, while finding Tuukka Rask and Carey Price's potential Vezina candidacies somewhat wanting.
Calculating Most Valuable Goaltender
Here's the fine print: The value of a team's Starter versus their Overall Backup (all backups together) is measured by Most Valuable Goaltender Points (MVG Points). Starter MVG Points are derived from the sum of Save Percentage and Points Earned Differentials (between Starter and Overall Backup). Save Percentage is a fair in-team comparable because the Starter and Overall Backup perform behind roughly the same teammates; Points Earned also judges internal productivity with similar teammates. Starter MVG Points are then compared throughout the league.
The goalie who began the season starting will be designated team Starter. Of course, some of those plans were derailed by injuries (Cam Ward, Jonathan Quick, Pekka Rinne) or ineffective play (Devan Dubnyk, Niklas Backstrom, Martin Brodeur).
2013-14 Most Valuable Goaltender Rankings
However, a number of questions still persist in the crease with just over 20 games left. Where will Ryan Miller end up next week? Will either Ben Scrivens or Ilya Bryzgalov claim Edmonton's starting position? And how does Ondrej Pavelec keep his job?
As of the Olympic break, here are the rankings for 2013-14 Most Valuable Goaltender: