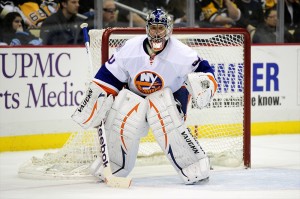 On the same day that Sergei Bobrovsky, Henrik Lundqvist, and Antti Niemi were announced as finalists for the 2012-13 Vezina Trophy, I'm presenting a new kind of goalie award, the Most Valuable Goaltender of the Year, to Evgeni Nabokov of the New York Islanders. This honor is based on a single statistically-driven question: Which starting keeper was the biggest difference-maker for his team?
Despite this article's lofty title, Most Valuable Goaltender of the Year isn't a true replacement for the Vezina. For that, I'd pick Bobrovsky. Instead, it's a simple, important honor, and as you'll see, a useful supplement for selecting the sport's top netminder. For example, it confirmed my initial suspicion that I'd nominate Nabokov over Carey Price or Tuukka Rask, to name two popular candidates, on my fictitious Vezina ballot.
The value of a team's Starter versus their Overall Backup (all backups together) is measured by Most Valuable Goalie Points (MVG Points). Starter MVG Points are derived from the sum of Save Percentage and Points Earned Differentials (between Starter and Overall Backup). Save Percentage is a fair in-team comparable because the Starter and Overall Backup perform behind roughly the same teammates; Points Earned also judges internal productivity with similar teammates. Starter MVG Points are then compared throughout the league.
The goalie who began the season starting will be designated team Starter. Of course, some of those plans were derailed in this breakneck sprint of a year by injuries or ineffective play.
Anyway, here's the complete Most Valuable Goaltender of the Year list for 2012-13. Let me be the first ever to start up the chant, "MVG! MVG! MVG!"
 

TEAM

STARTER (SAVE %) (POINTS EARNED)

OVERALL BACKUP (GOALIES) (SAVE %) (POINTS EARNED)

SAVE % DIFFERENTIAL

(STARTER SAVE % – OVERALL BACK UP SAVE %)

POINTS EARNED DIFFERENTIAL

(STARTER POINTS EARNED – OVERALL BACKUP POINTS EARNED)

STARTER MVG POINTS

( (SAVE % DIFFERENTIAL * 1000) + POINTS EARNED DIFFERENTIAL)

1

NYI

Evgeni Nabokov (.910) (53)

Overall Backup (Kevin Poulin, Rick DiPietro) (.878) (2)

+.032

51

83

2

DET

Jimmy Howard (.923) (49)

Overall Backup (Jonas Gustavsson, Petr Mrazek) (.890) (7)

+.033

42

75

3

CBJ

Sergei Bobrovsky (.932 ) (48)

Overall Backup (Steve Mason) (.899) (7)

+.033

41

74

4

NAS

Pekka Rinne (.910) (38)

Overall Backup (Chris Mason) (.873) (3)

+.037

35

72

5

MIN

Niklas Backstrom (.909) (51)

Overall Backup (Darcy Kuemper, Josh Harding, Matt Hackett) (.889) (4)

+.020

47

67

6

SJ

Antti Niemi (.924) (54)

Overall Backup (Thomas Greiss, Alex Stalock) (.910) (3)

+.014

51

65

7

NYR

Henrik Lundqvist (.926) (51)

Overall Backup (Martin Biron) (.917) (5)

+.009

46

55

8

WSH

Braden Holtby (.920) (47)

Overall Backup (Michal Neuvirth, Philipp Grubauer) (.911) (10)

+.009

37

46

9

DAL

Kari Lehtonen (.916) (33)

Overall Backup (Richard Bachman, Cristopher Nilstorp) (.889) (15)

+.027

18

45

10

WIN

Ondrej Pavelec (.905) (45)

Overall Backup (Al Montoya) (.899) (6)

+.006

39

45

11

TOR

James Reimer (.924) (43)

Overall Backup (Ben Scrivens, Jussi Rynnas) (.916) (14)

+.008

29

37

12

VAN

Cory Schneider (.927) (38)

Overall Backup (Roberto Luongo) (.907) (21)

+.020

17

37

13

NJ

Martin Brodeur (.901) (33)

Overall Backup (Johan Hedberg, Jeff Frazee, Keith Kinkaid) (.885) (15)

+.016

18

34

14

BOS

Tuukka Rask (.929) (43)

Overall Backup (Anton Khudobin) (.920) (19)

+.009

24

33

NHL Average

+.006

21

27

15

MTL

Carey Price (.905) (46)

Overall Backup (Peter Budaj) (.908) (17)

-.003

29

26

16

BUF

Ryan Miller (.915) (39)

Overall Backup (Jhonas Enroth) (.919) (9)

-.004

30

26

17

EDM

Devan Dubnyk (.920) (34)

Overall Backup (Nikolai Khabibulin, Yann Danis) (.917) (11)

+.003

23

26

18

PIT

Marc-Andre Fleury (.916) (46)

Overall Backup (Tomas Vokoun) (.919) (26)

-.003

20

17

19

CHI

Corey Crawford (.926) (43)

Overall Backup (Ray Emery, Carter Hutton) (.920) (34)

+.006

9

15

20

PHI

Ilya Bryzgalov (.900) (41)

Overall Backup (Steve Mason, Brian Boucher, Michael Leighton) (.922) ( 8)

-.022

33

11

21

OTT

Craig Anderson (.941) (26)

Overall Backup (Robin Lehner, Ben Bishop) (.930) (30)

+.011

-4

7

22

COL

Semyon Varlamov (.903) (25)

Overall Backup (Jean-Sebastien Giguere, Sami Aittokallio) (.909) (14)

-.006

11

5

23

CAR

Cam Ward (.908) (19)

Overall Backup (Dan Ellis, Justin Peters) (.899) (23)

+.009

-4

5

24

LAK

Jonathan Quick (.902) (40)

Overall Backup (Jonathan Bernier) (.922) (19)

-.020

21

1

25

TB

Anders Lindback (.902) (21)

Overall Backup (Mathieu Garon, Ben Bishop, Cedrick Desjardins) (.904) (19)

-.002

2

0

26

PHO

Mike Smith (.910) (35)

Overall Backup (Jason LaBarbera, Chad Johnson) (.930) (16)

-.020

19

-1

27

ANA

Jonas Hiller (.913) (34)

Overall Backup (Viktor Fasth) (.921) (32)

-.008

2

-6

28

FLA

Jose Theodore (.893) (11)

Overall Backup (Jacob Markstrom, Scott Clemmensen) (.891) (25)

+.002

-14

-12

29

CAL

Miikka Kiprusoff (.882) (18)

Overall Backup (Joey MacDonald, Leland Irving, Daniel Taylor) (.900) (24)

-.018

-6

-24

30

STL

Jaroslav Halak (.899) (13)

Overall Backup (Brian Elliott, Jake Allen) (.906) (47)

-.007

-34

–41