It is now a best-of-3 series between the Detroit Red Wings and the Anaheim Ducks. After having won one of two games at Honda Center in Anaheim, home-ice advantage had shifted in favor of the Detroit Red Wings in their Western Conference Quarterfinal playoff series with the Ducks. With the next two games played at Joe Louis Arena in Detroit, chances were good that the Red Wings may be heading back to Anaheim for game 5, in search of the series win.
The Ducks had other plans. After a dramatic 5-4 OT win for the Red Wings in which they gained a lot of momentum heading back home, Anaheim was able to stop them dead in their tracks with a dominating 4-0 shutout win. Game 4 on Monday night became an almost do-or-die for the Red Wings, as a loss would put them 2 games behind heading back to Anaheim for game 5. However, overtime was needed, and in dramatic fashion (again), Damien Brunner scored the game-winner, tying the series for the second time. After an abysmal effort in game 3, the Red Wings showed up to play in game 4 knowing very well that this may be their last game ever at the Joe.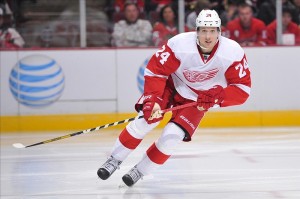 Howard Rebounds From Poor Game 3, Shines in Game 4
Jimmy Howard has been great for the Red Wings in their Western Conference Quarter-Final against the Anaheim Ducks. He was spectacular in his first two games, but stumbled in game 3. After giving up 4 goals on 29 shots, the Syracuse, New York-native had to be much better if the Red Wings were to extend this series at least two more games. He definitely got the message for game 4. The Ducks peppered the Red Wings' tender with 33 shots, but managed only 2 goals against Howard. His play last night certainly was one of the defining factors which lead to the OT win. This save on the Anaheim Ducks, Ryan Getzalf, was the save of the game.
Had Ryan Getzlaf scored on the breakaway only minutes into the third period, the swing in momentum may have been all the Ducks needed to take control of the game with less than a period to go. Howard's bounce-back from a poor performance was key in the Red Wings victory. A sign of a good goaltender is whether they can shake off a poor performance, and remain focused for the next game ahead. Jimmy Howard is that, and will need to continue to be if the Red Wings want to beat the Anaheim Ducks in the now, best-of-3 series.
Pavel Datsyuk's Best Game In The Series
Have I mentioned anything about Pavel Datsyuk the last few posts? I don't think I have. Perhaps it's because he's been extremely quiet. Well you can throw that out the window, because game 4 was his coming out party for the 2013 NHL Playoffs. The 171st overall pick from the 1998 draft was sensational last night. Logging 25 minutes of ice-time, the silky smooth Russian had 1 goal, 3 shots on net, 4 hits, a 1+/- rating, one blocked shot, and two take-aways. With Henrik Zetterberg slipping from the spotlight the past few games, having not registered a point since game 2, it was definitely Datsyuk's time to shine.
Despite only winning 40% of the draws from the face-off circle, he managed to be dominant in all other areas of the game. He was able to take control of the game with his patient puck-handling, a skill that only few players can grasp. His two take-aways are characteristic of a player who's been known to be one of the best pick-pocketers in the NHL. He is even known for laying the body (just ask Francois Beauchemin who got crunched by him last night). All of this highlighted by his magnificent goal that tied the game with just over 6 minutes to play in the third period.
Datsyuk had 2 assists back in game 2. Some may say that was his best game of the series. But I say no. The way he took control of the game last night, coupled with his complete game and highlight-reel goal proves that last night was his best game of the series. The Red Wings cannot count solely on Zetterberg and Howard to carry them through the series. Pavel Datsyuk has proved, time and time again that he is more than capable of playing like this almost every night. He hasn't really done that lately. Perhaps now, is a better time than ever to show it.
Smith, Brunner Continue Sensational Rookie Seasons
This Detroit Red Wings team is different from previous years. The Red Wings are known for being one of the most experienced teams in the playoffs. However, with the departure of skilled veterans like Lidstrom, Holmstrom, Rafalski, and Hudler (either to retirement or to another team), younger players have filled the void and have done a fantastic job. Two players that have fit right in on the Red Wings' roster in their first year in the league are Damien Brunner and Brendan Smith. Both have also been heavily involved during their first round series of the playoffs against the Ducks.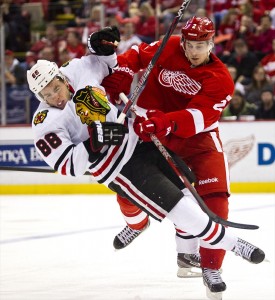 The two aren't very young for NHL rookies. Smith is 24-years-old, and was drafted back in 2007. Brunner is 27 and was signed as a free-agent from the Swiss League last summer. If anything, the age factor is good, as Smith has been able to grow as a player in the AHL under the Red Wings' affiliate, the Grand Rapids Griffons. Brunner has played 8 seasons in the Swiss League which features former NHL players; he also played against current NHLers (one of whom happened to be fellow country-man, and opponent, Jonas Hiller), who played in the Swiss League during the lockout. He has a lot of experience from the Europe and has used it to his advantage thus far.
Smith had a great game last night. After being almost non-existent in the 4-0 loss in game 3 (1 hit and 1 shot on goal in 19 minutes of ice-time), Smith was a noticeable force all night. He scored the first goal for the Red Wings, had a helper on Datsyuk's goal, was a 2+/- rating, and had 2 hits and 2 shots on goal. This also, was easily his best game of the series thus far. His play during the season was not here, nor there. It was great at times, and dropped at others. In 34 games played, he only recorded 8 assists, a +1 +/- rating, and 36 penalty minutes. Other than an injury which forced him to miss 14 games, he has been a mainstay on the blue line for the better part of the season, as well as in the three games played in the playoffs thus far.
Brunner had a fantastic, first regular season with the Red Wings. The first-year NHLer had 26 points in his first year, with 12 goals and 14 assists and -6 +/- rating. He's been a constant on the Red Wings second and third lines, and has even seen some power play time where he registered 3 points. His great play has continued into the post-season, where he has 2 goals and 2 assists which leads all Red Wings and Ducks players. One of those goals came in Monday night's OT win, which happened to be the game-winning goal. He may not receive the same amount of ice-time that the big guns like Datsyuk and Zetterberg get, but he sure makes the most of what he gets so far, and it's showing. Here's the proof.
Scoring the OT winner to tie the series heading into game 5 is definitely enough proof. His secondary scoring is a great asset to have if guys like Datsyuk and Zetterberg aren't producing. But if they are producing, I'm sure coach Mike Babcock isn't upset about the extra fire power.
With the series down to a best-of-3 now, greater emphasis will now be on a more technically sound and clean game. After games 3 and 4, Detroit's grade would drop to a B-. The Red Wings have given the Ducks ample opportunities on the power play, 9 times over the past two games. Luckily, they've only scored two, but those were apart of the game 3 loss. Howard's been great (aside from game 3), but Zetterberg has slowly slipped from the limelight and he will need to be better if the Wings want to advance. Luckily, Pavel Datsyuk and Detroit's supporting players have stepped up their game and have contributed.
With game 5 set to go at Honda Center on Wednesday night, the Red Wings need to re-focus after an up-and-down home-stand. These next three games will be as tight as the first four, and with the Ducks set to ramp up their physicality, the Red Wings better be prepared. But if this series has proven one thing, it's that each team has always bounced back after a bad game or a loss. If this trend continues, we may just be looking at a game 7 folks. But like the Detroit Red Wings, we need to take this one game at a time.
I am a fourth year student at the University of Toronto studying Physical Education/Concurrent Teacher Education. I have been a hockey fan all my life and play in a men's league during the winter. My favourite leagues are the NHL first and foremost, the MLB, and the NFL. I also work at the hockey megastore Pro Hockey Life. Follow me on twitter @rob_ruscitti and check out my sports blog on twitter as well @EhSport360