Since I was a young boy watching the Blues roll out dangerous scoring threats like Brendan Shanahan and Brett Hull, my father, Stan, has always been the curmudgeon when it came to his favorite hockey team.
"They'll blow it," was a common phrase in the Ponder household.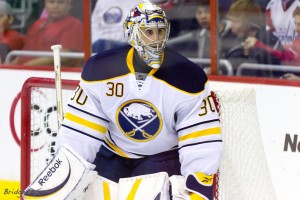 Whether it was because Curtis Joseph had the reputation of being a "regular-season goaltender" or Mike Keenan was busy destroying the team's chemistry, the elder Ponder was never truly sold on what the Blues were pitching.
"They'll find a way to screw it up."
The 63-year-old grandfather has seen it all. He is always happy to regale you with tales of Bobby Plager punching out a fan or Glenn Hall taking a puck to the head, only to return later in the game, but he will not shower you with hope for the Blues, who are currently facing a 46-season Stanley Cup drought.
That's why I expected more of the same when I approached my lifelong compadre of all things hockey. It won't matter was ringing through my head when I called him to ask what he thought of the trade that sent Jaroslav Halak, Chris Stewart, William Carrier and some draft picks to Buffalo in exchange for Ryan Miller and Steve Ott. When I received my response… well, was I shocked.
"I may actually be able to see a Stanley Cup in St. Louis before I die," he said joyfully.
[See related: Who won this trade?]
A Stanley Cup? Could it be true? If the man who attended the very first Blues game in St. Louis believes, then maybe I should, too.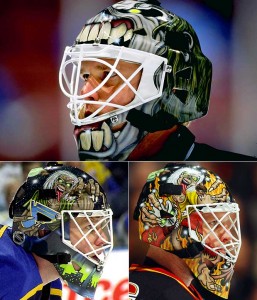 There's reason to be optimistic. The Blues have performed what seems like a life-long search for a Stanley Cup-caliber goaltender. Roman Turek was the last goaltender to bring those aspirations to light, but even he couldn't overcome some fluky goals that saw the Blues fall in five games to the Colorado Avalanche in the 2001 Western Conference finals.
Halak was meant to be the answer. After a brilliant run with Montreal in the 2010 playoffs, the Slovakian netminder was thrust into the starting role for St. Louis. Splitting most of his Blues career with Brian Elliott, Halak accomplished a lot wearing the Bluenote. Currently, he is the Blues' career shutout leader (20), while ranking in the top-five in career games played (159), wins (83) and saves (3,679). But no Stanley Cup.
Now, the pressure rests on Miller's shoulders. The 2010 Olympic silver medalist is known for his big-time play as Buffalo's mainstay in net. More importantly, the 33-year old has excelled this season behind a below-par team, posting a .923 save percentage and a 2.72 GAA in 40 games. He has also faced the sixth-most shots of all NHL goaltenders this season (1,411) and has the sixth-most amount of saves (1,303). There is reason to believe that Miller will thrive under a steady St. Louis defense.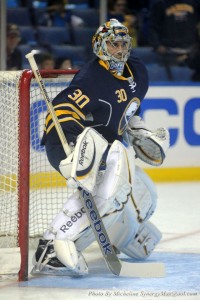 The Blues improved in front of the goal over the past few years. T.J. Oshie, David Backes and Alex Steen have proven to be a dynamic scoring line this season while Vladimir Tarasenko and Jaden Schwartz have come into their own offensively. Ott adds a slight scoring touch along with a terrifying forecheck to an already stacked bottom-two lines. If the Blues can find the scoring touch they scorched teams with before the Olympic break, the rest of the NHL will have a tough time stymying a deep playoff run by the St. Louis team.
Will they find a way to screw it up? Anything is possible. This is the team that dropped a first-round series after winning the 2000 President's Trophy. Yet, this is the same team that entered its second season in 2013-14 as many of the media's Stanley Cup favorite.
"We won't know until we get there," said the seasoned Blues fan. "We'll know better when the playoffs start."
For the battle-scarred Blues fans, such as Stan, this year is as good as any to finally showcase a parade down Market Street in downtown St. Louis. The wait has gone on long enough.