The Chicago Blackhawks and Pittsburgh Penguins squaring off on Saturday night will mark the final iteration of the NHL's 2014 Stadium Series, and constitutes perhaps the most intriguing outdoor matchup this season. Accordingly, let's take a look at some of the biggest storylines surrounding the game (7:00 CST, NBC).
Sidney Crosby vs. Jonathan Toews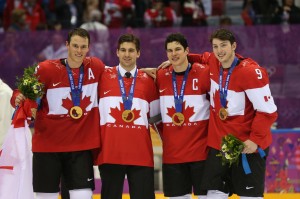 Crosby and Toews have played seven concurrent NHL seasons, but Saturday night marks the first time they will ever go head-to-head against one another as professionals. It's an interesting dynamic that will unfortunately almost inevitably be marred by the trite, unremarkable talking points that so often plague these situations. Instead of blathering on about "two-time Cup winner versus one-time Cup winner," "the real Captain Canada," or other similarly mundane topics, then, let's make things more interesting.
 [Related: A Biography of Jonathan Toews Early Days]
Crosby vs. Toews — Who Will Have the Edge?
A simple question, yet thought-provoking and relevant. Talking heads everywhere cannot believe what they are seeing.
Toews has a sizable advantage in the linemate department, having two of the league's best possession wingers to work with in Marian Hossa and Patrick Sharp. This, however, may not prove to be quite as valuable as it seems; almost all of the Blackhawks' Olympians (including that trio) played dreadfully in a loss at Madison Square Garden on Thursday, and there's no guarantee that they'll be back in form in time to face Pittsburgh.
Toews' season has been mildly disappointing, as he has not managed to match the level of offensive excellence that he displayed in last year's shortened campaign. Crosby, meanwhile, has been as exceptional as ever, and is coming off a productive performance against Montreal (also on Thursday).
Considering Chicago's recent difficulties putting the puck in the opposition's net as well as their year-long problems keeping it out of their own, it seems appropriate to lay the money on Crosby being the more effective player Saturday night.
Did you know that Toews and Crosby went to the same high school, Shattuck St. Mary's? 
The Entertainment Value of the Game Itself
NHL fans have expressed relatively uniform agreement that the three Stadium Series games prior to this one have been fairly dull. Highlighted (or "lowlighted") by a 7-3 Rangers/Devils shellacking that was effectively over in the second period, each game has been more of a chore than a pleasure to watch.
Of course, entertainment value and enjoyment are subjective constructs, but the chief sentiment regarding the Stadium Series to date has been one of combined boredom and apathy.
Several factors could be responsible for this. Could it be that it's not the hockey itself that is dry, but rather the fact that the NHL has made somewhat of a mockery of the outdoor game? Six in a single season is excess upon excess.
Maybe the quality of the ice has been questionable? This has been a topic of discussion at every single outdoor NHL game ever, and will irritatingly continue to be a topic of discussion at every single outdoor NHL game ever.
Or perhaps the lifeless hockey is simply a representation of an unfortunate piece of reality that has been increasingly characterizing NHL hockey regardless of venue.
Whatever the case may be, this matchup contains more star power and captivation potential than any other outdoor tilt that the NHL has scheduled this season. The ingredients are there for the Penguins and Blackhawks to give fans something special. We'll have to wait and see.
Until then, we shall revel in cynicism.
Analytics, and the New School/Old School Debate
A look at the fancy stats reveals that the Blackhawks dominate game tempo and puck possession.
A look at the fancy stats reveals that the Penguins do not.
Taken in conjunction with the game's being on national television, we are presented with the wonderfully fresh "advanced statistics proponents vs. detractors" dichotomy for merely the 7,954,336th time.
As always, one side of the debate will spout sweeping conclusions about the validity and utility of advanced metrics based purely on the outcome of this one, isolated, solitary game.
Very nice.
A Final Note on the Stadium Series, Among Other Things
There will be countless close-ups of fans shivering in the never-ending 2014 Midwest winter.
An innumerable amount of shots will be "waffleboarded aside."
Pierre McGuire will ask Eddie Olczyk questions about everything that has ever existed as well as everything that has not.
And two of the best hockey teams in the world will share the same ice surface for 60 minutes.
Enjoy the game, everyone.
Follow Sean Sarcu on Twitter or add him to your network on Google.