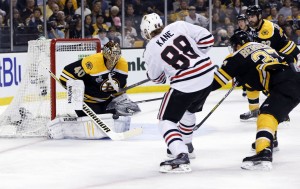 After hoisting Lord Stanley's mug in 2013, Patrick Kane has had a rocky-start to 2014. Last year's Conn Smythe Trophy winner has seen his stats drop after the New Year started and to make matters worse he failed to register a goal during the Olympics.
Make no mistake about it, Kane has enjoyed a lot of success this seasons – putting up point-scoring streaks of 12 and 14 games – however, after leading the team in scoring last year and again this year, he will be expected to chip in – and in a big way.
The Blackhawks, who are currently tied in points with the St. Louis Blues (84 points) atop the Central Division, are trailing the Anaheim Ducks by three points for the overall lead in the NHL standings.
During the second half of the season, Kane has tallied just four goals and six assists in 17 games. Yet, his numbers this season – 27 goals and 36 assists – remain impressive considering the challenges he's been presented with.
The one major challenge, not having a chance to develop chemistry with a regular centre on his line.  The Hawks have paired Kane up with a number of centers throughout the season. His 27 goals might be the most impressive thing about his season thus far.  Kane registered 30 goals in 2009-2010 and is on pace to surpass that total despite not playing with a regular centre.
While Jonathan Toews might be the team captain, there's no disputing that all eyes are on Kane – who is on pace to lead the team in scoring for a second straight season and he's coming off an MVP performance in last year's playoffs – when it comes to repeating as Stanley Cup champs.
But before thinking about the Stanley Cup, Kane will have to break out of this slump in a big way if the Blackhawks wish to win a second straight Presidents' Trophy and gain home-ice advantage throughout this year's playoffs.
Check out our partners at TiqIQ for the best deals on Chicago Blackhawks tickets for all 2013-14 games.