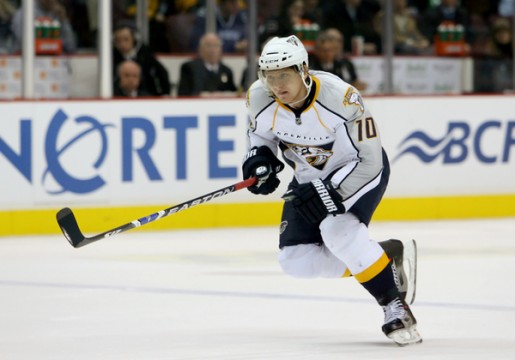 With the trade deadline looming, Martin Erat has, once again, asked to be traded. Never mind that he's been nagging the front office since the second month of the season; never mind that his uninspired, and unproductive play has significantly diminished his appeal; and never mind that his $4.5 million cap hit, as well as the year still remaining on his current contract makes him virtually unmovable: Martin Erat wants the world to know just how unhappy he is.
In the meantime, thanks to a combination of injuries, and the Capitals' desperate, season-long need for secondary scoring, Erat is finally playing the top-6 minutes he feels he is entitled to. With the Capitals presently sitting in ninth place in the Eastern Conference, Erat's play over the final quarter of the season could be the difference between securing home-ice advantage in the first round, and missing the playoffs entirely. On an individual note, a strong finish could restore Erat's damaged reputation as he enters the final year of his contract.
However, instead of capitalizing on this opportunity, Erat's disappointing season has plodded along uninterrupted. Not counting last year's lockout-shortened season, Erat is on pace for his lowest point total in over a decade. The five-time 50-point scorer has precisely one goal this year—an empty netter in the 59th game.
What exactly does Erat expect to come of this? Most Stanley Cup contenders aren't looking to add whiny 32-year-olds who have lost their scoring punch; nor are rebuilding franchises. Even if George McPhee does find a willing trade partner, the best that Erat can realistically hope for is to squeak onto the third or fourth line (sounds eerily familiar, does it not?). When a player demands a trade, it's usually in both parties' best interest to get the trade done. Undoubtedly, George McPhee would like nothing more than to grant Erat's wish, but Erat's play has made it all but impossible.
From this vantage point, Erat has two options: He could coast through the remainder of this season, get bought out by the Caps, and cling to the hope that the other 29 teams didn't notice his decline; or he could swallow his pride, and spend the next 20 games proving to the Capitals—as well as the rest of the league—that he is still the capable top-6 forward he believes himself to be. It would be to his—and the Caps'—tremendous benefit if he chose the latter.