Adrian Kempe
THW's NHL Draft War Room Rankings (E-Mac): #14 (Feb 2014)
THW's NHL Draft Rankings – The Next Ones Edition (aka Chris's List): #17 (March 2014)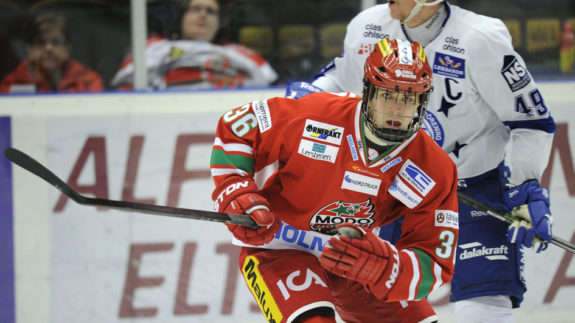 Hashtag/Nickname: #TheBull
Team: #51, MODO, SHL
Position: Left Wing
Shoots: Left
Height: 6'2
Weight: 187 lb.
Born: Kramfors, Sweden, 13-Sep-96
Twitter A/C: @adriankempe
Stats
Other Rankings
7 – Craig Button, Jan-14
13 – NHL Combined – Mid-term, Jan-14
14 – HockeyProspect.com, Feb-14
21 – Future Considerations, Feb-14
22 – ISS, Feb-14
27 – Bob MacKenzie, Jan-14
Worth Retweeting
https://twitter.com/bayouboy19/statuses/422979524775903232
Congrats @adriankempe scoring his very first double-goal and GWG as pro, in SHL for Modo vs HV71 @CAAHockey #nhldraft14

— Claes Elefalk (@elefalk) January 31, 2014
http://t.co/TMB326PEad
#21 Adrian Kempe @adriankempe
Determined & tenacious off puck… heavy hitter & battle around the net. Big presence.

— ISS Hockey (@ISShockey) February 5, 2014
Profiles
Quotable
Craig Button, TSN Director of Scouting at TSN.ca:
"Adrian is an excellent skater with speed and he uses it to get to openings and to back off defenders. He's a player who understands how to use that skating to maximum benefit and to create chances."
From the THW War Room
Eldon MacDonald, THW:  A few words on Adrian Kempe:

The bull –   Adrian is not your typical Swedish dangler; he is more like a bull in a china shop that heads directly to the net and is not afraid  to run over anyone in his way.
Size and speed – At 6'2, 187 lb., Adrian possesses the size and speed that  today's NHL teams are looking for.
Other skills – Adept playmaker, good stickhandler, heavy shot, elite wrister, tenacious forechecker, decent defensively.
Draft placement – With all the small players in this year's draft, Adrian is likely to go sonner rather than later – the teens most likely.
Video
About NHL Draft War Room Series
This series is compiled by Eldon MacDonald and edited by @ChrisRalphTHW)