Just over 12 hours after I released information on how the Sharks were hurting without key forwards Tomas Hertl, Tommy Wingels, and Tyler Kennedy; the injury bug laughed in my face.  Logan Couture is about to undergo surgery on his hand that will keep him out 3-4 weeks.  With Couture out, the Sharks are down to four "mainstream" forwards.  Quick, someone put Pavelski, Thornton, Burns, and Marleau into a safe until the playoffs are here.
Source says Logan Couture will undergo surgery Wednesday on injured hand. Expected to be out 3-4 weeks. Olympics still a possibility…

— Pierre LeBrun (@Real_ESPNLeBrun) January 7, 2014
Couture Out For Multiple Weeks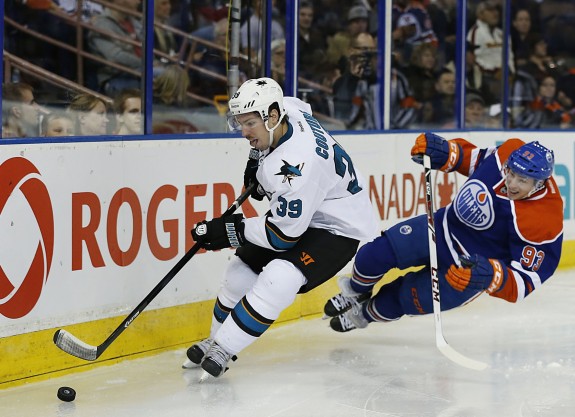 Logan has missed out on a few practices in the last week according to Kevin Kurz.  It adds to an alarming list of inactive forwards for Team Teal.  Couture out, Hamilton back in.  Worcester has shipped over five forwards in an attempt to quell the fires in San Jose.  The San Jose Sharks coaches will scramble to find line combos that make some sort of sense in the next few weeks.
Looking Ahead
If we are to assume Couture out of action until February, he will miss 12 games.  The Sharks only face five teams currently in a playoff spot.  Hopefully, the W-Squad can tread water over the next few weeks while Kennedy, Wingels, and Couture get healthy.  It is much harder to predict when Tomas Hertl and Marty "I'm made of glass" Havlat will return.
In the meantime, here is my optimum combination of forwards until the cavalry comes.
Sheppard (yes, really)-Thornton-Burns
Marleau-Pavelski-Nieto
Kearns-Desjardins-Hamilton
McCarthy-Hayes-Brown
Woof.  So much for that depth early in the season.
Kenneth is a graduate of the University of San Francisco in Politics and Chemistry. But his passion in life has always been hockey. He has played since he was four and even coached a few teams. Kenneth writes for the San Jose Sharks at thehockeywriters.com