The first week of AHL action in 2014 saw a shift in the top of this edition of the power rankings. The Eastern Conference now holds six of the top 10 spots in the league due to some struggles from Western powerhouses.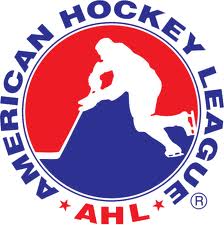 Read on to find out which East team took over the top spot by a narrow margin and which previously struggling squad made it to just outside the top 10 once again.
Note: Games played on Monday, January 6 will be noted in the respective teams' schedules, but are not counted in the rankings results.
1. Providence Bruins (19-11-1-5)
The Bruins jump into No. 1 after a big week where they won three out of four games. Rookie goalie Malcolm Subban had his first shutout of the season with 25 saves in a 3-0 shutout of the Worcester Sharks on Friday. Providence then thumped Worcester 8-2 on Sunday behind three-point performances from Anthony Camara, Ben Youds and Chris Casto.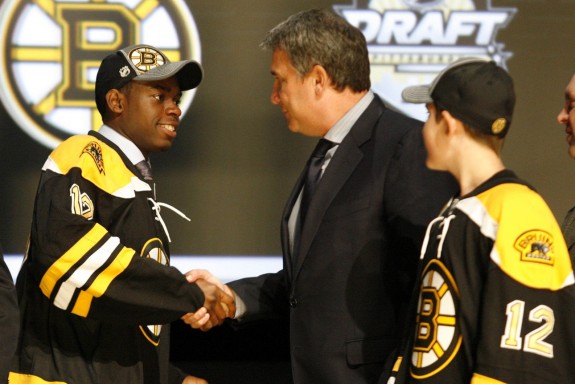 Upcoming Schedule: Friday, January 10 vs. Syracuse Crunch, Saturday, January 11 at Syracuse, Sunday, January 12 vs. Manchester Monarchs
2. Springfield Falcons (24-5-1-3)
Springfield had a perfect 3-0 week, most notably giving the Bruins their only loss of the week on Saturday. Spencer Machacek had both goals in the win. The Falcons also beat the Albany Devils on Friday, 4-3 in overtime, and J.F. Jacques led the way with three points in that game.
Upcoming Schedule: Tuesday, January 7 at Albany Devils, Friday vs. Albany, Saturday at Hershey Bears, Sunday vs. Norfolk Admirals
3. Wilkes-Barre/Scranton Penguins (20-10-1-3)
Even with several players still in Pittsburgh, WBS won three of its four games this week. It ended the Binghamton Senators' seven-game win streak on Sunday with a 4-1 victory. Harry Zolnierczyk anchored the team with four points in three games going into the critical East Division matchup.
Upcoming Schedule: Wednesday, January 8 vs. Syracuse Crunch, Friday at Adirondack Phantoms, Saturday vs. Hartford Wolf Pack
4. Binghamton Senators (21-10-0-3)
The Senators have yet to lose in overtime this season and won their sixth such contest on Saturday by defeating the Crunch 6-5. Mike Hoffman and Cole Schneider each had three assists, and Stephane Da Costa scored twice. However, their seven-game win streak came to an end on Sunday against the Penguins.
B-Sens with consecutive OT wins this weekend for just the second time in team history. Only other time was Nov. 19/20-04 (both over WBS).

— Grady Whittenburg (@RadioUFA) January 5, 2014
Upcoming Schedule: Wednesday at Rochester Americans, Friday vs. Hershey, Saturday vs. Adirondack
5. Toronto Marlies (19-11-2-1)
Toronto was the third team in the top 10 to win three of four contests this week. The highlight was a 5-2 win over the Utica Comets on Saturday in which Josh Leivo tallied a hat trick. The 20-year-old is in the midst of his first full season with the Marlies and has 16 points in 26 games, good for fourth on the team.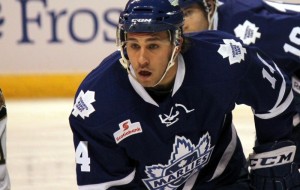 Upcoming Schedule: Friday and Saturday at St. John's IceCaps
6. Texas Stars (21-10-2-3)
The Stars closed out 2013 in a big way, as they came back from being down 5-1 to beat the Oklahoma City Barons 6-5 in overtime. Chris Mueller had the hat trick to lead the comeback. They also split their games with the Charlotte Checkers and have won three of their last four games.
Upcoming Schedule: Friday vs. Abbotsford Heat, Saturday vs. Utica
7. Adirondack Phantoms (18-13-0-2)
The Phantoms are looking strong as their final season in Glens Falls continues. Their week was highlighted by a 4-0 shutout of Albany over Saturday. Kris Newbury posted three points, while Cal Heeter's 33-save performance helped him earn AHL Player of the Week honors.
Upcoming Schedule: Friday vs. Wilkes-Barre/Scranton, Saturday at Binghamton
8. Grand Rapids Griffins (23-9-1-2)
Grand Rapids went just 1-2-1 over the last week, but remain in first place in the Western Conference. Tomas Jurco and Teemu Pulkkinen lead the Griffins with 12 goals apiece, and Jurgo and Jeff Hoggan each have six goals for a power play that is ranked 10th in the AHL with an 18.7 percent success rate.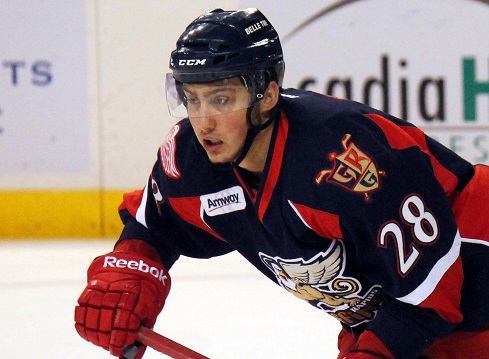 Upcoming Schedule: Wednesday vs. Rockford IceHogs, Friday and Saturday vs. Iowa Wild
9. Manchester Monarchs (23-9-2-4)
The Monarchs' lone win of the week came over a Penguins team missing several top players, and then Manchester fell victim to a hot Binghamton club and a Hershey team that is showing signs of life. Tanner Pearson and Nick Deslauriers have 13 goals apiece, while Jordan Weal leads the club with 30 points.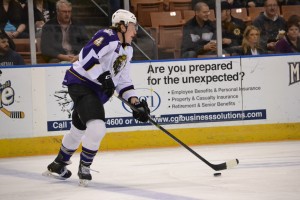 Upcoming Schedule: Friday vs. Bridgeport Sound Tigers, Saturday at Albany, Sunday at Providence
10. Chicago Wolves (19-13-1-2)
Chicago breaks into the top 10 following shootout wins over Rockford and Iowa. Mark Mancari had two assists in Saturday's 4-3 win to reach the AHL's 500 point club. He currently ranks second on the team with eight goals and 23 points.
Upcoming Schedule: Saturday at Milwaukee Admirals
11. Hershey Bears (15-12-3-3)
The Bears had a convincing weekend, taking a 5-1 victory from the Americans on Saturday and a 6-1 win over the second-place Monarchs on Sunday. Brandon Segal had three points in the Rochester win, and then added four more against Manchester. He has taken over Hershey's scoring lead with 24 points in 28 games.
Upcoming Schedule: Friday at Binghamton, Saturday vs. Springfield, Sunday at Albany
12. Lake Erie Monsters (17-13-0-3)
Despite a loss to the Comets on New Year's Day, the Monsters came back with a pair of wins over the Milwaukee Admirals. David van der Guilk had a hat trick in Saturday's 6-1 victory, and Mark Olver contributed four points. A five-game road swing awaits Lake Erie, which can pick up some easy points against the likes of Iowa and Rockford.
Upcoming Schedule: Friday and Saturday at Rockford, Sunday at Milwaukee
13. Hamilton Bulldogs (17-14-0-4)
The up-and-down Bulldogs find themselves once again in the top half of this week's rankings. They are in the middle of a five-game win streak, as Dustin Tokarski stopped 54 of 56 shots he faced over two games. Gabriel Dumont added two goals in Saturday's 3-1 win against the Heat.
Upcoming Schedule: Friday at Rochester, Saturday vs. Rochester, Sunday vs. Iowa
14. Norfolk Admirals (18-12-1-4)
After a loss to the Senators on New Year's Eve, the Admirals took a pair of games from the Sound Tigers on Friday and Saturday. Rookie netminder John Gibson stopped 30 of 32 shots on Saturday before allowing just one goal on five shootout attempts. He has a record of 11-9-3 on the season to go with a 2.61 GAA and .915 save percentage.
Upcoming Schedule: Friday at Portland Pirates, Saturday at Worcester, Sunday at Springfield
15. Rockford IceHogs (16-16-3-2)
The IceHogs won just once this past week, but got four of eight possible points thanks to two shootout losses. In Saturday's 4-2 victory over Grand Rapids, Joakim Nordstrom picked up three points to increase his total to 20 on the season.
Upcoming Schedule: Wednesday at Grand Rapids, Friday and Saturday vs. Lake Erie
16. Oklahoma City Barons (13-17-1-5)
Oklahoma City raised its stock this week with two wins over the San Antonio Rampage after dropping a 5-1 lead against Texas. C.J. Stretch had three points in Friday's 5-2 victory, and Marin Gernat scored twice on Saturday as the Barons won 5-3.
Upcoming Schedule: Thursday vs. Utica, Friday and Saturday vs. Charlotte
17. Albany Devils (19-9-3-2)
A three-game losing streak drops the Devils out of the top 10 in the league this week, but their last two defeats have come against quality opponents in Adirondack and Springfield. Forward Joe Whitney currently has 32 points to lead the team in scoring and could break Albany's single-season points record this year. Petr Vrana set the original mark in the 2007-08 season with 61 points.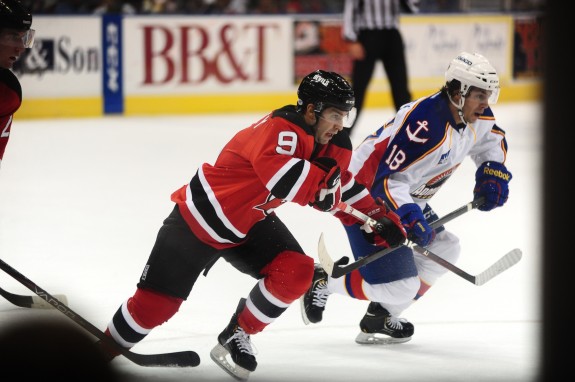 Upcoming Schedule: Tuesday vs. Springfield, Friday at Springfield, Saturday vs. Manchester, Sunday vs. Hershey
18. Abbotsford Heat (23-11-1-1)
The Heat also drop down several spots thanks to a tough week, as they lost twice against the Bulldogs following a three-game winning streak. However, they are still second in the Western Conference, and leading scorer Ben Street now has 32 points in 28 games.
Upcoming Schedule: Tuesday at San Antonio, Friday at Texas, Saturday at San Antonio
19. St. John's IceCaps (17-14-1-2)
The IceCaps' only win this week came against a struggling Portland team on Sunday. With Eric O'Dell on recall to the Winnipeg Jets, St. John's offense is led by Kael Mouillierat, who has 27 points in 34 games.
Upcoming Schedule: Monday, January 6 (Portland won 5-4) and Tuesday vs. Portland, Friday and Saturday vs. Toronto
20. Rochester Americans (14-12-3-3)
Rochester had mixed results in its first two games after an overseas trip, beating Utica 5-2 before losing to Hershey on Saturday. Alex Hutchings scored twice in Friday's victory, his first two goals of the season while on a 25-game tryout with the Americans.
Upcoming Schedule: Wednesday vs. Binghamton, Friday vs. Hamilton, Saturday at Hamilton
21. Charlotte Checkers (15-18-0-1)
The Checkers won two out of three games this week, including a 4-3 victory over Texas on Friday. In Monday's win against Rockford, Anton Khudobin made 41 saves in goal. Meanwhile, Matthew Pistilli helped the offense by scoring twice in both Thursday and Friday's games.
Upcoming Schedule: Friday and Saturday vs. Oklahoma City
22. Syracuse Crunch (14-14-2-3)
Syracuse picked up three of six possible points this week with a win over Toronto and an overtime loss to Binghamton. Brett Connolly was the star with three points in each of those wins, and he now has 20 points to rank third on the Crunch.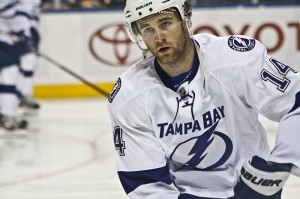 Upcoming Schedule: Wednesday at Wilkes-Barre/Scranton, Friday at Providence, Saturday vs. Providence
23. Milwaukee Admirals (16-10-5-1)
The Admirals dropped both games to Lake Erie after winning three out of five contests leading up to this week. AHL Goaltender of the Month Scott Darling struggled on Saturday, as he gave up five goals on 26 shots. However, he is still second in the league with three shutouts and is 7-3 on the season with a 1.92 GAA and a .939 save percentage.
Upcoming Schedule: Monday vs. Iowa (Milwaukee won 4-3), Saturday vs. Chicago, Sunday vs. Lake Erie
24. Portland Pirates (14-12-1-4)
The Pirates took a 4-2 win from the Sound Tigers on New Year's Eve that saw Brett Hextall score two goals and Daine Todd add two assists. However, they could not maintain that momentum against the IceCaps, falling 3-1 on Sunday.
Upcoming Schedule: Monday and Tuesday at St. John's (5-4 win on Monday), Friday vs. Norfolk, Saturday at Bridgeport, Sunday at Worcester
25. Worcester Sharks (14-15-2-1)
Worcester was 4-6 in its last 10 before facing Providence on Sunday, and its problems only got worse after an 8-2 blowout loss. The Sharks are scoring just 2.28 goals on the season, but allowing 2.97 per game. Two of their top three scorers, Freddie Hamilton and Bracken Kearns, are currently with San Jose, which leaves Daniil Tarasov (18 points in 21 games) to try and help the Sharks put up points.
Upcoming Schedule: Friday vs. Hartford, Saturday vs. Norfolk, Sunday vs. Portland
26. Utica Comets (11-18-1-2)
Pascal Pelletier picked up three points in Utica's 3-2 win over Lake Erie on New Year's Day, but the Comets have lost four of their last five games. They allow 3.13 goals a game and have the 30th-ranked penalty kill in the AHL at 74 percent. However, their power play is ninth in the league at 18.8 percent, and Colin Stuart leads the unit with five goals.
Upcoming Schedule: Thursday at Oklahoma City, Saturday at Texas
27. Iowa Wild (14-14-2-2)
The Wild have three losses in four games after winning three in a row. Brian Connelly had two assists in their only win of the week, a 3-2 shootout victory over Rockford on Friday. He currently has 18 points, but has scored just once this season. Brett Bulmer has the team goal scoring lead with 10 on the year.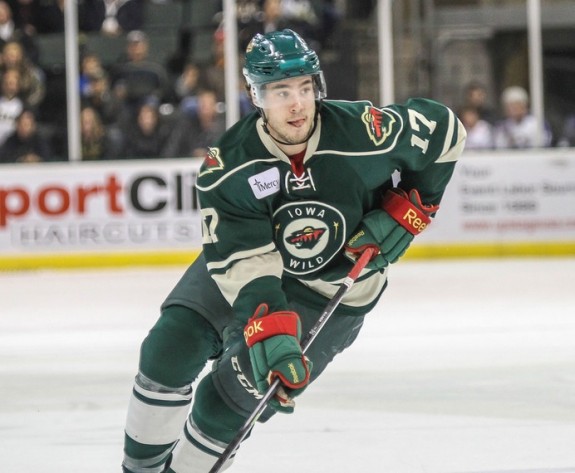 Upcoming Schedule: Friday and Saturday at Grand Rapids, Sunday at Hamilton
28. Bridgeport Sound Tigers (13-18-1-4)
Bridgeport once appeared to be figuring things out, but have now slipped back to 14th place in the Eastern Conference. It dropped all three of its games against Portland and Norfolk and ranks in the bottom half of the league on both the penalty kill (80.7 percent) and the power play 15 percent). Rookie Anders Lee is leading the Sound Tigers with 13 goals and 27 points with Ryan Strome still with the New York Islanders.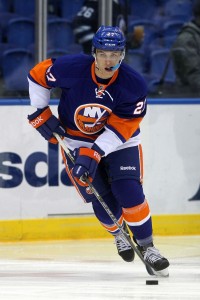 Upcoming Schedule: Friday at Manchester, Saturday vs. Portland, Sunday vs. Hartford
29. Hartford Wolf Pack (11-17-0-5)
Any hopes of a Wolf Pack turnaround were banished this week, as they have lost three games in a row after winning two straight. They score 2.3 goals per game while allowing 3.2, and they could score on just one of their six shootout attempts in Friday's 2-1 loss to the Penguins. Hartford must now hit the road for a five-game stretch that includes a rematch with WBS and two games with intra-state rival Bridgeport.
Upcoming Schedule: Friday at Worcester, Saturday at Wilkes-Barre/Scranton, Sunday at Bridgeport
30. San Antonio Rampage (12-20-0-3)
The Rampage are the first AHL club to have 20 losses on the year and have lost three in a row after dropping two games to a Barons team that's been average to poor all season. Their penalty kill and power play are ranked 26th and 27th, respectively, in the league. Despite the weaknesses on special teams, Bobby Butler and Greg Rallo each have four goals on the man advantage.
Upcoming Schedule: Tuesday and Saturday vs. Abbotsford