If I were to ask an average NHL fan who the best defensemen in the league are, what answers would I likely get?  Of course there's Chara and Suter, big name guys who earn huge paychecks.  Then maybe Duncan Keith and Erik Karlsson win a few mentions.  But isn't it a little strange that the Sharks best defender is not in Bleacher Report's or ESPN's Top 50??  No, I am not talking about Dan Boyle (he is in both of those rankings).  I mean Marc-Edouard Vlasic.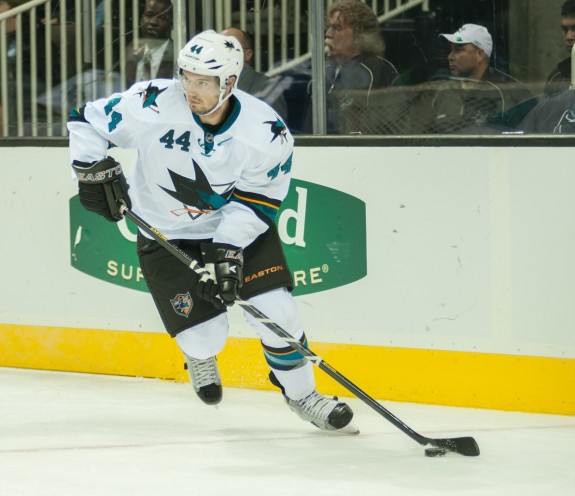 Yes, I said it.  Dan Boyle is no longer the number one guy on the blue line for the Sharks.  After spending so much time as the stalwart veteran defender, Boyle has given way to Marc-Edouard Vlasic.  That is not to say that Boyler is no longer a great defenseman, it just means that Vlasic has become that good.
Marc-Edouard Vlasic Shuts Down Playoffs
Take a trip back to the 2013 postseason.  Remember all that talk of the offense that Vancouver brought to the first round?  There were these two red-haired twins that had such chemistry and talent that it would put the Sharks in a bind.  Whatever happened to them?  Marc-Edouard Vlasic happened.  The Sedin twins vanished during the Sharks' first round sweep of the Vancouver Canucks.  In four games, the offensive leaders for the Canucks were limited to three assists each.
But then came the defensively-minded Los Angeles Kings.  Their best weapon up front?  Anze Kopitar.  The series took seven games this time around, and he only mustered three points himself.  Much can be said about Kopitar's inability to produce in the playoffs last season; but a lot of it can be attributed to the play of Marc-Edouard Vlasic.
In his near 200 minutes of even strength time on the ice in the playoffs last season, Vlasic's top three opponents (in terms of time on the ice against them) were Kopitar, Henrik, and Daniel Sedin (per behindthenet.ca).  He was given the direct challenge of facing down the best the opponent had to offer.  He and Justin Braun shut down the best.  Not Dan Boyle.
More of the Same in 2013-14
In terms of some more advanced statistics, Marc-Edouard Vlasic shows an innate sense of keeping Antti Niemi bored.  Take a look at his Corsi numbers so far this season.  Of defenders who have played at least five games this season, Vlasic is tops in the league with a 29.19 rating (technically, Brent Burns is on top, but he's a forward and we all know it).  That means the Sharks are being the offensive aggressor while he is on the ice at a rate of 29 more events (goals, shots, missed shots, blocked shots) every sixty minutes of even strength time!  When he is off the ice, that rate drops 17 points.  The Sharks still have an offensive advantage, but the defense surrenders much more when Pickles is not on the surface.
After throwing in all those big numbers and long explanations, have something to lighten the mood a little.

Vlasic Taking the Next Step
This season has seen the 26 year-old become much more than just a shut down player.  Through 8 games, he has seven points, matching his total all of last season.  Two of those points are goals, putting him just one short of his total for all of last year.  He assisted on Tomas Hertl's first goal of his career with a beautiful stretch pass against the Phoenix Coyotes.
Under the tutelage of Dan Boyle, Marc-Edouard Vlasic has become a premier defender in the league.  Yet, nobody knows who he is.  His unassuming style of play and hockey IQ make it seem like he isn't doing anything spectacular.  Niemi doesn't have to make highlight reel saves.  There aren't odd-man rushes.  Vlasic reads the game better than most and knows how to keep opponents in check.  He's not a physical hitting machine, he's just plain stubborn.  He frustrates opponents.  He has his fair share of the 134 blocked shots and 71 takeaways San Jose has gathered.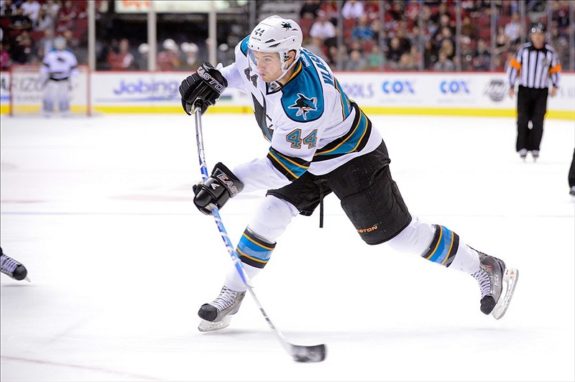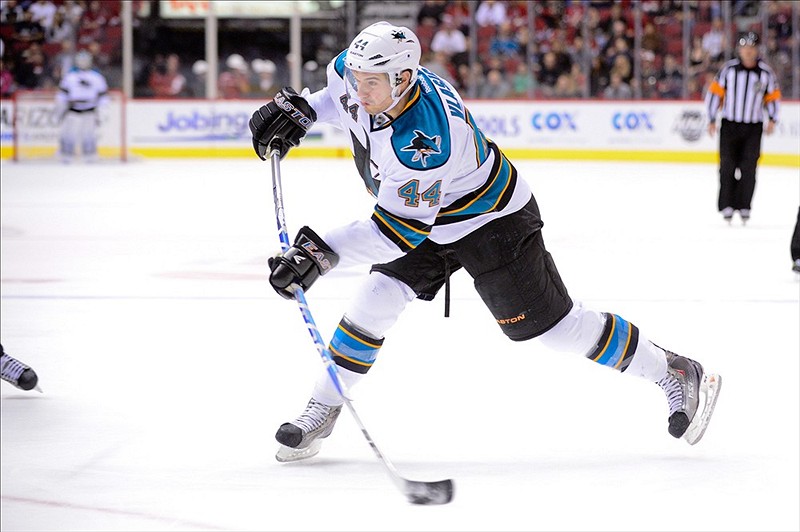 While the forwards will get all the headlines and deals, defense is what wins Cups.  The Blackhawks were the stingiest team last season only giving up 2.02 goals per game.  They won the Cup.  The Kings were second in goals against in 2012.  They won the Cup.  2011's Finals featured the top two teams in that category.  Maybe guys like Marc-Edouard Vlasic can put San Jose near the top in that category this year.
Kenneth is a graduate of the University of San Francisco in Politics and Chemistry. But his passion in life has always been hockey. He has played since he was four and even coached a few teams. Kenneth writes for the San Jose Sharks at thehockeywriters.com