The red hot Ducks visit the ACC Tuesday night in Toronto where the Leafs hope to break a two-game slide. There's tons of different story lines heading into this one so here are 10 things you need to know:
1) Carlyle Faces his Old Team
Only thing standing between Ducks & a franchise record 8-game win streak? Old coach Randy Carlyle & the Leafs

— Mark Masters (@markhmasters) October 21, 2013
Maple Leafs bench boss Randy Carlyle will face the Ducks for the first time since they fired him back in November of 2011. He won a Stanley Cup with the Ducks in 2006-2007 and compiled an impressive regular season record of 273-182-61 over six-plus seasons at the helm of the Ducks. He made the playoffs five out of six seasons as well. As Mark Masters points out, it just so happens the Ducks are on a bit of a run…
2) Ducks Haven't Lost Since Opening Night
Stats Guy – Ducks set a team record… http://t.co/I2XEclVaiK

— Mike Kelly (@MikeKellyNHL) October 21, 2013
The Ducks opened their season with a bad showing in Colorado and came away with an ugly 6-1 loss. Since then however, they have won seven straight games, outscoring their opponents 28-13 during that span. This is their first road trip out East this season, where they will go on to face the Canadiens, Senators, Blue Jackets and Flyers after visiting Toronto.
Why have the Ducks been on such a tear? Well, for starters, they are second in the league in shots on goal per game, at 37.6. They've gotten superb goaltending from Jonas Hiller as well, (aside from Sunday against Dallas when he was pulled), as he is 4-0 with a .937 SV% and 2.01 GAA. When the Ducks grab the lead, they also don't give it up, as they have a perfect record when leading after the 1st or 2nd, which is when they score the majority of their goals. 23 of their 29 goals on the season have come in the first two periods.
3) Perry and Getzlaf on Fire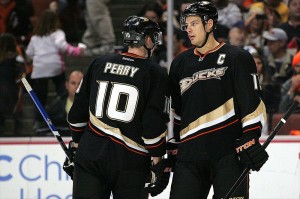 Both Corey Perry and Ryan Getzlaf had a productive night Sunday against the Stars in a 6-3 win. Perry had two goals and an assist, plus eight shots on goal, while Getzlaf had a goal and three helpers. But their hot streaks are more than just a game old, as Getzlaf has eight points in his last five (three goals, five assists), and Perry has seven in his last five (four goals, three assists). During the five game span Perry and Getzlaf have also carried a plus-6 and plus-7 rating respectively. The two superstars have limited career experience against Toronto, but Perry does have seven points in five games, while Getzlaf has only played the Leafs three times, recording four points.
4) Lupul Playing at Another Level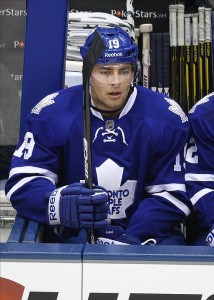 Lupul, a former teammate of Getzlaf and Perry, sits 12th in league scoring with 10 points in nine games. The question for Lupul has recently been one of health, as his production of 113 points in 119 career games in the blue and white is excellent, except for the fact that the 119 games played dates back to midway through the 2010-2011 season (he's never played a full year). So while it's clear his current shooting percentage of 18.2% won't hold up all season long, it's still a positive to see him in the lineup and fire lots of pucks on net. His 33 shots on goal are 17th in the NHL.
5) Leafs Must Improve Play in 2nd Frame
Yes, the Leafs have lost two games in a row. No, it's not the end of the world. But the Leafs were winning games they had no business winning, and so it's not very surprising to see them finally lose a couple games. Yes, Bernier's gaffe against the Hurricanes was just bad luck but the shots in the game were 38-26!
Particularly bad was the second period, when Carolina outshot Toronto 14-6, all at even strength! Against the Hawks, Toronto was outshot 40-20, with the second period shots at an even more atrocious 20-6! The Leafs do not play good come from behind hockey, and with the Ducks getting most of their production early on, they can't afford to have a bad 2nd period.
6) Ducks Starter in Question
Hiller had played outstanding until Sunday night, when he let in three goals on 12 shots. He was replaced by rookie Frederik Andersen, who came into the game trailing 3-1, but stopped all 24 shots he faced as the Ducks stormed back to win 6-3. Anaheim also has Viktor Fasth, who last week was day-to-day with a lower body injury, but has joined the team on the trip to Toronto. Odds are Hiller will start after getting a couple days off, but who knows, maybe they go with Andersen? After all, Hiller is 0-3 lifetime against Toronto. Maybe Fasth is ready? Either way, the Ducks have a SOLID future in goal when you also add in John Gibson:
If you could combine the talents of the goalies in the Anaheim Ducks' system into one all-powerful netminder, the world would end. #NHLDucks

— Pete Jensen 🏒 (@NHLJensen) October 21, 2013
7) Last Game Clarkson Sits Out
Leaf fans are eagerly awaiting the debut of David Clarkson, who was suspended for the first 10 games of the regular season after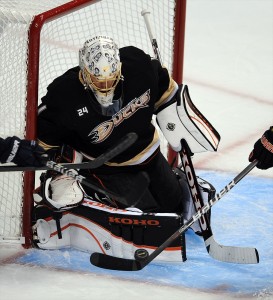 jumping the bench to engage in a preseason fight. It really has felt like eternity for him to play and I can finally say only ONE more game. I'm not saying Clarkson is the saviour of this team, but he sure as hell will help.
8) Rielly Decision Looming
Morgan Rielly has played seven NHL games and tonight in Anaheim will be number eight. After that he gets one more before Leafs management makes a decision for good on whether to keep the 19-year old rookie. Once again, he either stays, or it's back to major junior (and a mediocre Moose Jaw team) for the Vancouver native. He has certainly played well to this point, and deserves a long look, but can he continue to play 18 minutes a night on the 2nd pairing for the rest of the year?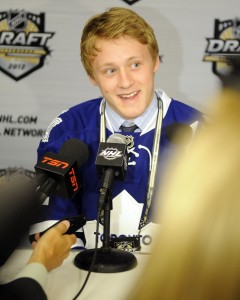 That's the question, because they don't want to be scratching Rielly late in the year. T.J. Brennan's phenomenal play for the Marlies also makes things more interesting, as he may be able to fill Rielly's shoes. Fraser is also still hurt.
9) Ducks PP Atrocious
Before Sunday's game against the Stars, the Ducks were 1-for-27 on the season when on the man advantage. That works out to 3.7%. They managed to score two powerplay goals that night, and are now 3-for-32, for a marginally better 9.4%.
Still, for a team stacked with skill up front (Getzlaf, Perry, Selanne, and younsters Etem, Silfverberg, Palmieri and Bonino), the PP needs some serious work. Last season the Ducks powerplay was 4th in the league at 21.5%, so odds are it will improve. While Anaheim will look for ways to improve its man advantage on Tuesday, it may be in tough against a Leaf PK operating above 85% efficiency. Which brings us to our final point…
10) Leafs STI still Incredible
Remember STI? It stands for SPECIAL TEAMS INDEX (and nothing else!). As mentioned, Toronto's PK is still above 85%, while the powerplay is still flying high at 27.8%. That makes for an STI above 113, which is still incredible. The high flying PP won't last, but against a Ducks PK of 78.6%, perhaps the Leafs can pop a couple goals on the man advantage.
Nathan Kanter covers the Vancouver Canucks and Toronto Maple Leafs for The Hockey Writers. He received his master's in journalism from Western University in May of 2015 before serving as the first ever Digital Managing Editor at Western's university newspaper, The Western Gazette, in 2015-16. From 2016-18, he served as the radio play-by-play voice of the Battlefords North Stars in the SJHL. His work has been published in The Hockey News, at Sportsnet.ca and at Dobber Prospects.