Eldon MacDonald (edited by @ChrisRalphTHW)
Warren Foegele
THW's NHL Draft War Room Rankings – Jun-14: #48
THW's NHL Draft Rankings – The Next Ones Edition (aka Chris's List): #60 (March 2014)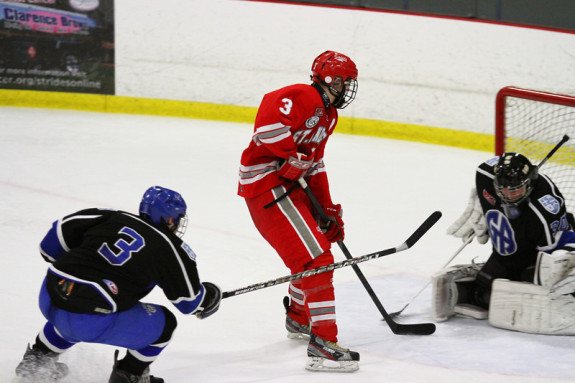 Hashtag: #TheNewJankowski
Team: 3, St. Andrews, Ontario High School
Commit: University of New Hampshire
Position: Left Wing
Shoots: Left
Height: 6'1
Weight: 178 lb.
Born: Markham, ON, 1-Apr-96
Twitter: @FoegDaddy96
Stats
Other Rankings
HM – Bob MacKenzie, Jan-14 (HM = 51 to 60)
86 – NHL Combined – Final, Apr-14
92 – Craig Button, Jun-14
Worth Retweeting
2014 NHL draft prospect Warren Foegele, who was going to UNH for 2015-16, is now going next season (14-15). Won't play in Penticton.

— Bob McKenzie (@TSNBobMcKenzie) January 25, 2014
https://twitter.com/MarkStaudz/status/473129374917480449
#WarrenFoegele's interview w/#ThePipelineShow: http://t.co/79uEQgEVU1 Talks commitment to becoming student-athlete. @FoegDaddy96 @TPS_Guy

— Mike Lowry (@UNHHockeyBlog) February 19, 2014
Saints are MPHL Champions defeating Ridley 3-1 in the final. Goals scored by 19-Cho, 10-Graham and 3-Foegele pic.twitter.com/i7M2gePU32

— St. Andrew's College Hockey (@sachockey) February 23, 2014
#UNHHockeyRecruit #WarrenFoegele 2nd Goal; St Andrew's 3, UCC 1: http://t.co/qXNCZVCLBz via @youtube @FoegDaddy96 @sachockey

— Mike Lowry (@UNHHockeyBlog) March 5, 2014
@TSNBobMcKenzie how about a RT for the @sachockey Saints who won everything they could this year! #foundit pic.twitter.com/qNoMrk5lee

— St. Andrew's College Hockey (@sachockey) March 29, 2014
Back in the Day when we Played for r Hometown #UnionvilleJets @FoegDaddy96 #Sakic 19 #Lemioux 66 #Idols pic.twitter.com/EZHg7kH8J3

— Reese Foegele #15 (@Foegs15) May 15, 2014
Profiles
Interviews
Quotable
Quote 1:The Auroran– St. Andrews College Coach David Manning, "He's always been a talented player and I think that a couple of the attributes that come naturally to him, in terms of being really coachable and working hard, have served him well and he has improved a ton over the last couple of years," Manning said. All of this is a credit to his determination and hard work and his coachability to continue to grow and learn to continue to be the best player he can be. He has been great to have as part of our program."
Quote 2:TheScout.ca, "The former Markham Waxers has had a bit of a coming out period in the past 12 months. Playing in the relatively new Ontario Prep School league (CISAA), Foegele is a smart, competitive two way winger with good footwork. He tracks back, supports defenders and competes. Takes direct routes to the net, willing to do what it takes to win. Some questions about his numbers given that he doesn't always face high competition (a recent 18-0 win as an example), however the growth is there. Much like Walman, Foegele has made an NCAA commit (New Hampshire) but is expected to be drafted in the upcoming OHL Draft."
Quote 3: TheScoutingNews.com, "A lot of accolades are being heaped on OHL un-drafted prospect Warren Foegele (F – JR – St Andrews College) this year, and he definitely deserves most of them! Is he the next Mark Jankowski (Calgary Flames first rounder in 2013)? Will he prove his skeptics wrong?"
From the War Room
Eldon MacDonald, THW:  A few words on Warren Foegele:
The New Jankowski – OK, Warren Foegele is a player who comes from a largely unknown Canadian high school, St. Andrews College in Ontario, who put up enough points this year that you would need a big truck to haul them away, 107 in 52 games. Bob MacKenzie dubbed him this year's Mark Jankowski, a Calgary Flame prospect (drafted 21st in 2012), who came from a similarly obscure hockey background and ended up getting drafted in the first round.
Offense – Yes, Warren's 107 points this year did not always come against top notch competition. However, Warren does possess those offensive skills that bode well for his success when he comes up against more substantive competition next year at the University of New Hampshire. His top skills are his skating and his pro type shot with a quick release. Add nice hands, the willingness to work in traffic, the willingness to finish his checks and a high level of compete and you start to get the picture as to why Warren was able to put up those 107 points.
Defense – Warren has developed into a defensive asset through hard work and his willingness to learn from his coaching staff.
Draft placement – Yes, Warren is a risky pick since he didn't always face high-end opponents. However, watch the videos below and see if you don't agree that Warren possesses enough high-end skills that would lure NHL scouts and entice NHL teams more than just a little bit. I am convinced that at least one of those NHL teams will be enticed to call out the name of "Warren Foegele" sometime in the second round.
Video
____________________________
[Your quintessential free draft resource: