The Washington Capitals are in search of a backup goalie which will certainly have a trickle down affect throughout Washington's minor league system. With young goalie prospect Philipp Grubauer set to gain the bulk of the starts for Washington's AHL affiliate, the Hershey Bears, pending unrestricted free agent net minder David Leggio likely won't be returning to the organization.
"My plan as of now would be to go with Holtby as our No. 1," new Capitals General Manager Brian MacLellan told CSN Washington, "and then find a backup goaltender." MacLellan views Grubauer as the number one goalie at the AHL level this season ofr Hershey, although he played very well during his time with at the NHL level last year when former Caps goalie Michal Neuvirth was injured.
Leggio, 29, is one of the top goalies in the American Hockey League (AHL) and will almost certainly earn a two-way contract with an opportunity to see NHL minutes during the upcoming season. He played in 45 games for Hershey this past season, after two dominant seasons with the Rochester Americans, AHL affiliate of the Buffalo Sabres. A return to the Sabres organization could always be a possibility for the Buffalo, New York native.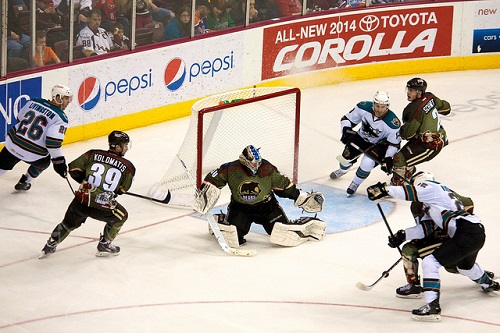 "I would say it's probably more likely that we will not be back," Leggio's agent Steve Bartlett told The Hockey Writers on Wednesday. "I think it's pretty clear Grubauer is the guy they're trying to groom and they've got a couple guys up top. David I think wants to be at worst at the number three (goalie) position. I'm sure it's a good fit all the way around."
With 45 games played, Leggio appeared in his fewest amount of games in four years, after averaging 59 games with Rochester over the past two seasons. He posted a career high .924 save percentage with the Americans during the 2012-13 campaign. Leggio signed with the Washington Capitals on June 8th last summer.
American Hockey league clubs play 76 games per season and Grubauer should earn a shot to receive the majority of those starts. Capitals goalie prospects Brandon Anderson (ECHL, Reading Royals) and Pheonix Copley (college signing) could become Grubauer's backup in Hershey or the organization could sign a veteran to till that role like they have in the past, i.e. Danny Sabourin.
Free agents can officially sign new contracts on July 1st, but teams can negotiate with pending UFA's and RFA's from June 25th to June 30th. Washington's unrestricted free agents that impacted Hershey last season include Chay Genoway, Brandon Segal, Julien Brouillette, Tyson Strachan, Joel Rechlicz, Matt Watkins, David Kolomatis and Ryan Stoa.
The Hockey Writers will release a Hershey Bears offseason preview in the coming days.