by Eldon MacDonald (edited by @ChrisRalphTHW)
Miles Gendron
THW's NHL Draft War Room Rankings – Jun-14: #78
THW's NHL Draft Rankings – The Next Ones Edition (aka Chris's List): #94 (March 2014)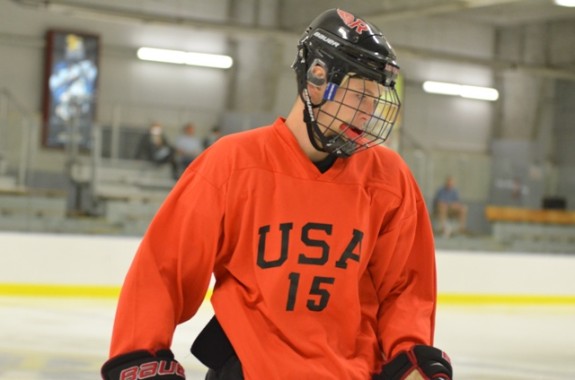 Hashtag: #ThePromise
Team: Rivers Academy, HS MA
Commit: University of Connecticut
Position: Defense
Shoots: Left
Height: 6'2
Weight: 181 lb.
Born: Shrewsbury, MA, 28-Jun-96
Twitter: @mgendron10
Stats
Other Rankings
71 – Craig Button of TSN – Jun-14
89 – NHL Combined – Final, Apr-14
Worth Retweeting
Miles Gendron- Converted Rivers forward to defense an effortless skater with the smarts to handle the position. Riser- watch him this year

— Kirk Luedeke (@kluedeke29) September 4, 2013
UConn recruit Miles Gendron will play for the Penticton Vees of the BCHL next season.

— Mike McMahon (@MikeMcMahonCHN) May 27, 2014
Miles Gendron '14 was named the 2014 recipient of the John Carlton Award as the top senior hockey player in Mass.! pic.twitter.com/RPjwFrCtV1

— Rivers Athletics (@RiversAthletics) March 31, 2014
From the draft combine: NCAA commits Tyler Bird, Miles Gendron and Brandon Hickey make their mark: http://t.co/wCzVrTaLVA

— Ryan Kennedy (@THNRyanKennedy) May 31, 2014
Profile
Quotable
From the War Room
Eldon MacDonald, THW:  A few words on Miles Gendron:
The Promise – Miles is like that dream Italian sports car – man can it go, all the gears, top speed, cornering, almost as fast in reverse. A recently converted defenseman, Miles shows the promise of potentially great things to come with his close to best-in-class skating ability.
Offense – Miles is all about offense, puck rushing, passing, stickhandling, wrist shot. Add some high-end creativity, vision and dynamism and you are starting to look at one exciting hockey player.
Defense – Let's be honest, it is not there yet (the defense) – gap control, stick, positioning and most of the rest. The promise for NHL teams is that Miles has the time to develop his defense when he plays for the Penticton Vees, a regular powerhouse team in the BCHL, in the fall and the University of Connecticut for four years after that.
Combine: I think Miles really helped himself with the combine testing. He showed that he is a world class athlete by finishing fifth in both vertical jump events and ninth in one of the Wingate tests (average power output). It showed to scouts that there was substance behind that "promise".
Awards and Achievements – Top senior high school hockey player in Massachusetts (John, Carlton Award), MVP and all-star of the Independent School League
Improvements to make – Besides the obvious improvement to defense that is required, Miles also needs to fill out his frame and work a bit on his slapshot.
Draft placement – Some teams (the ones that have a great system to begin with like Detroit) may be prepared to take Miles reasonably early in spite of his need to put his defensive game together as he goes to the next level in Penticton in the fall. I would be surprised if Miles lasted beyond round three as The Promise he has shown to date with his skating and his offensive abilities is just too much for NHL teams to forego for long.