Edwin Minney THW Close-Up:
Team: USNTDP/Michigan State University
Date of Birth: 03/29/1996
Place of Birth: Wind Gap, Pennsylvania
Ht: 6' 4.25″     Wt:  191 lbs
Catches: Right
Position: Goalie
NHL Draft Eligibility: 2014
Twitter: @E_Minney31
THW Ranking: 167
Other Rankings:
ISS: 14
CSS (North American Goalies): 7
Future Considerations: N/R
Craig Button: N/R
***
*Check out THW's 2014 NHL Draft Guide, your quintessential draft resource*
***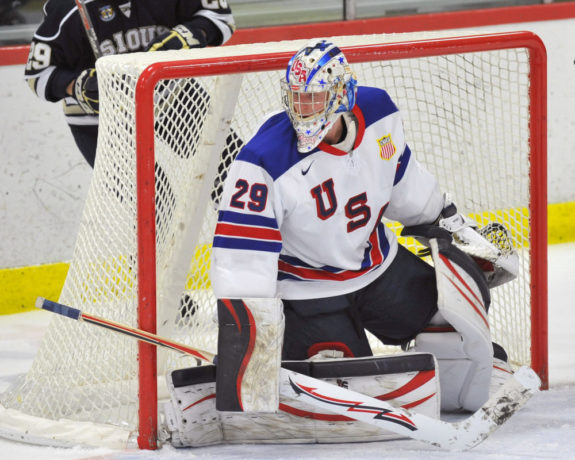 Nothing Mini About Minney
When you stand at over 6′ 4″, you're bound to get noticed – and that has certainly been the case with Edwin Minney over the last few seasons. Being one of the tallest goalies available at this year's draft, Minney clearly has the height advantage on his side, but such a factor definitely doesn't define him as a netminder.
After playing his Midget hockey with the U16 DC Capitals, Minney made the transition to the USHL & USDP as he became part of the USNTDP Juniors and U.S. National U17 Team. Despite the fact that Minney might not have had the best statistics in his first season in the two aforementioned leagues, the goaltender got a chance to face better competition on the ice while receiving some top-notch tutelage from some highly touted coaches.
While Minney's U17 campaign might have had some bumps in the road initially, his U18 hockey season was markedly better as he posted better numbers in both the USHL (17 GP, 2.63 GAA, .905 Save Percentage) and USDP (38 GP, 2.63 GAA, .900 Save Percentage). Not only did Minney have a successful season filled with improvements to various facets of his game, he was also chosen to play in the CCM/USA Hockey All-American Prospects Game – a stage in which the netminder excelled as he stopped 16 of 17 shots thrown his way by members of Team Johnson.
Playing the butterfly style, Minney is a very composed netminder that can take away portions of the net without having to over-rely on his size. Although Minney might be slightly taller than 6′ 4″, the goalie moves fluidly for an individual of his size – and his lateral movements in the crease are a testament to his ability to move so well with so many working parts in motion.
With Minney committed to Michigan State University for the 2014-2015 hockey season, the goalie will have his first taste of NCAA competition, and it wouldn't be farfetched to expect the netminder to take the lessons that he has learned over his last two years and incorporate them at the collegiate level. The NHL Entry Draft is undoubtedly on the forefront of Minney's mind – and probably on the minds of his closest family and friends – but the goaltender has done everything in his power to get to this point of his hockey career, and all signs are pointing to that effort paying off on draft day.
Scout's Honour:
"He plays big in all situations, is so relaxed, calm and poised out there. He has excellent body control and balance when moving throughout the crease and making saves, has an excellent butterfly and great low net coverage, with his extended butterfly covering the lower portion of the net. His recovery and lateral ability is excellent."
– Al Jensen via NHL.com
"Long legged goalie with quick pads. Has good physical tools to develop. Plays an excited style instead of being a calm and  patient anchor in the crease. Has to work on his rebound control and his ability to recover and position for secondary saves. Flops around and gives an impression that he is being put back on his heels by the attacks and it makes the opposition even more competitive." 
– Bill Placzek via DraftSite.com
"A big presence in the net at 6-4, 185, Minney is an ahtletic netminder who endured a trying U17 season. His save percentage this year is sub-.900, but U18 years typically come with low SV% due to the strength of schedule. He did go 20-9-1 this year as the U18s' primary starter with a 2.76 goals-against average."
– Chris Peters via UnitedStatesOfHockey.com
Where He'll End Up In June:
Minney will most likely be a mid-to-late draft pick at this year's NHL Entry Draft. Seeing as how Minney has the size that NHL teams covet, it's hard to envision him being passed over.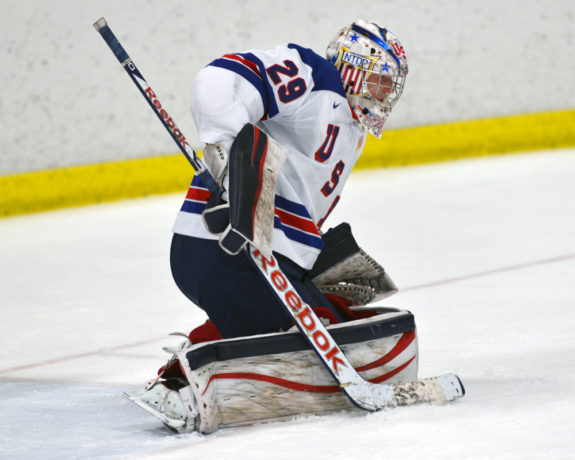 Statistics:
Bio/Interviews:
International Tournaments:
Minney played in four games for Team USA at the Youth Olympic Games during the '11-'12 hockey season and was also a member of the USA U17 & U18 teams for the WHC-17 & WJC-18.
NHL ETA:
Risk/Reward Analysis:
Risk: 1.5-2/5 Reward: 4/5
NHL Potential:
Number one starting goaltender.
Strengths:
Mobility.
Composed in his crease.
Good lateral movements.
Recovery ability.
Athleticism.
Calm and collected.
Good coverage of lower portion of the net.
Balance.
Flaws/Aspects He Needs to Work On:
Slight work on rebound control.
Slight filling out of body frame.
Fantasy Potential:
Video(s):
** THW's The Next Ones prospect profile template design architect: Chris Ralph
In his third year with The Hockey Writers, Toli covers all things related to the New York Islanders. Focusing on the Islanders, the NHL Draft & draft-eligible prospect goalies, and hockey history, Toli can be contacted on Facebook by searching/messaging Toli Metter and on twitter by searching @ToliMetterTHW.