When the St. Louis Blues drafted defenseman Jordan Schmaltz with their first-round selection (25th overall) in 2012, general manager Doug Armstrong likely saw the success of the 2011-12 season continuing on to the future. After hiring Ken Hitchcock in November 2011, Armstrong saw his club finish third in the NHL standings due to a strong system that focused on structured defensive play and a focus on puck-moving defensemen.
Knowing that this formula will likely be the team's focal point for years to come, Armstrong and director of amateur scouting Bill Armstrong (no relation) agreed that drafting the swift-skating, intelligent Schmaltz was the way to go for the club.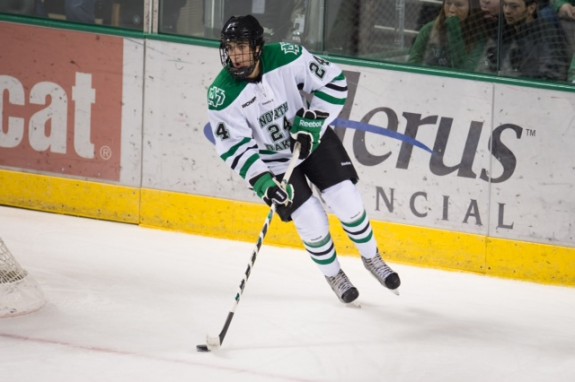 Playing for University of North Dakota, Schmaltz has developed into a top-pairing defenseman for a club that ranked first nationally with 2.76 goals-for-per game last season. In a prospect roundup guide written earlier this month, UND hockey writer Eric Burton called Schmaltz an "offensive-minded defenseman who is smart in his own end and [is] known for his crisp stick-to-stick passes."
Instead of finding the right defensive pairing partner, Armstrong & Co. may be looking to match their future defenseman with a future offensive-minded center.
What better way to celebrate the draft being in the City of Brotherly Love than with some love for a prospect's brother?
With the 21st pick in the 2014 NHL Entry Draft, the St. Louis Blues are proud to select…
From the Green Bay Gamblers of the USHL, Nick Schmaltz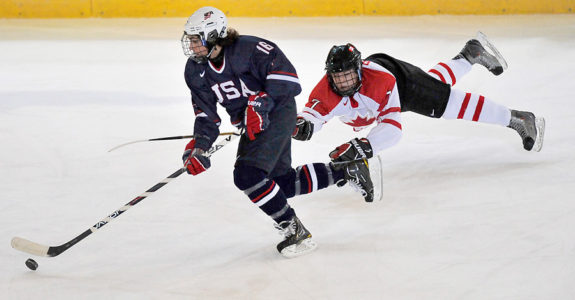 Where he's at
What makes the younger Schmaltz even more attractive for the Blues is where he will be playing next season. The 18-year-old center has agreed to attend UND to play alongside his brother. A Jamie and Jordie Benn combination comes to mind when picturing this lineup, except the points will not be so one sided as it was with the Benns (Jamie posted 79 points and Jordie amassed 20 in 2013-14).
THW draft analyst Shawn Reznik feels that Nick's upside could potentially bring a wealth of offense to the NHL team that drafts him:
His hockey IQ is what sets his game apart from his peers. Using his crisp passing to find the open man on the wing or in front of the net, Schmaltz thrives on making his teammates better.

He can blow by defenses with his speed and quick strides – a positive for being an average sized player.
[See related: Nick Schmaltz – The Next Ones: NHL 2014 Draft Prospect Profile]
Brother Jordan added to this sentiment, when he told NHL.com that his kin, "plays like Thomas Vanek with the way he can slow down the game."
His speed and skillset would be a valuable asset to the Blues, who have not been the fleetest of foot in recent seasons. The struggle would lie in pushing Schmaltz into a Blues-style game. With Hitchcock at the helm and with the current makeup of the roster, it seems that this structure could be here to stay for the foreseeable future. Schmaltz's largest knock on his game is his ineffectiveness in his own zone, which will likely be a central development area that UND coach Dave Hakstol will help progress over the next few seasons.
Where he will be
The center-heavy 2014 draft should be interesting for players such as Schmaltz. He's proven to be a powerful asset in the USHL (45 assists and 63 points in 55 games last season), and will be playing in one of the best college hockey programs in the country this upcoming season.
His rankings show that he could easily be a late first-round selection if the draft heavily favors North American skaters:

Although there is potential to be selected at No. 21, it's likely that a higher-end prospect will still be available for the Blues to grab. If the Madison, Wis. native remains when the Blues make their second pick of the draft (No. 33 in Rd. 2), expect to see another Schmaltz in the "Prospects" tab of the Blues' website.
(Schmaltz is No. 18)
Stay tuned to TheHockeyWriters.com for draft coverage leading up to this weekend.
Follow Jeff on Twitter for all St. Louis Blues draft coverage: @jponder94
Check out the other parts of this series to prepare yourself for the 2014 NHL Entry Draft!
Part I: Josh Ho-Sang
Part II: Ivan Barbashev
Part III: Adrian Kempe
Part IV: Travis Sanheim
Part V: Nick Schmaltz
Part VI: Ryan MacInnis
I am a former NHL media member and reporter for the St. Louis Blues, working for various media outlets. Currently, I am an NHL News Writer and Editor for The Hockey Writers. I live in St. Louis and work as a freelance copywriter in numerous industries.