Looking at the St. Louis Blues' young roster, it's easy to see why they were once considered a team loaded with prospects. However, the team has seen the core of its youth graduate into the NHL, dropping them from one of the most stockpiled teams to below the Vancouver Canucks, Colorado Avalanche and Carolina Hurricanes — all the way to dead last (30th) in the NHL, according to hockeysfuture.com.
Former perennial prospects Alex Pietrangelo, Jaden Schwartz and Vladimir Tarasenko will likely be joined by goaltender Jake Allen this year with the NHL club. There are more that are on their way, too.
This low ranking could easily be turned into a positive, believe it or not. This just means that the Blues will have to hit on some of the players in which they are banking. Dmitrij Jaskin and Ty Rattie have as good a chance as any to shine in training camp and earn a spot on the opening day roster. General manager Doug Armstrong stated in his end-of-the-season press conference that a roster spot could be in some of these prospects' not-too-distant futures.
How long will that be, though? I have compiled a panel of talent judges from across North America to decipher when some of these prospects could make the jump to the NHL. These makeshift talent scouts include Hockey Talk author Ross Bonander (RB), college hockey writer Eric Burton (EB), Blues writer Dave Lipscomb (DL), Boston Bruins writer and Medicine Hat Tigers fan Breanne Mellen (BM), Blues writer Mike Poepping (MP), Philadelphia Flyers writer and current Boston University  student Bill Schoeninger (BS) and, of course, yours truly (JP). We do our best to provide you the knowledge you need to know when these players will no longer be prospects, but trusted members of the organization.
Chicago Wolves (AHL)
Jake Allen – G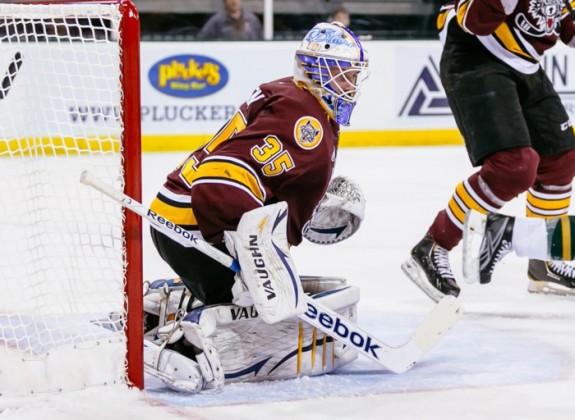 MP: Not much else is needed to be said about the 1B goalie for the Blues next season. He's a solid positional netminder who focuses on angles backstopping his play, and who has proven he's ready for the full-time jump to the NHL. Allen, the AHL's goaltender of the year this past season, will settle in nicely alongside Brian Elliott — which could mean another Jennings Trophy will come to St. Louis soon.
NHL ETA: 2014-15.
JP: One summer ago, the Blues signed Allen to an interesting two-year contract: a two-way deal the first year and a one-way deal the second year. This means that the Blues were planning to commit to Allen after the 2013-14 season. Armstrong admitted this was still the plan last month, stating that Allen "is going to be here next year. He's earned the right." He later confirmed his beliefs when he signed Brian Elliott to a three-year, $7.5 million contract extension.
Make no mistake about it: Allen is ready for the big time. After making his NHL debut in 2012-13, the 23-year-old netminder has grown even further in his abilities and now has goaltending coach Jim Corsi to further his development with the big club.
The sky's the limit for Allen. He stood out as the Blues' best prospect and now has the chance to be the perennial netminder in the NHL.
NHL ETA: Right now.
Jordan Binnington – G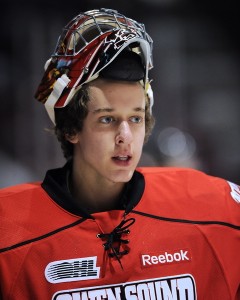 MP: He's a young up-and-comer whose focus is in all the right places. A true young talent in his early juniors years, Binnington surfaced as Canada's eventual No. 1 goaltender at the 2013 World Junior Championships (originally behind Bruins prospect Malcolm Subban), where the team barely missed a medal, losing to Russia in overtime of the Bronze medal game. He's a goalie that likes the big stage and in several years could be the one to bring a Cup to St. Louis (hopefully it won't be the first by that point).
NHL ETA: Binnington will be NHL-ready in 2018-19 but may be used for a substantial trade component before then as he'll be a high prospect.
DL: With the Ryan Miller drama done in St. Louis and the annointing of Brian Elliott as the 1A, Binnington remains at minimum a strong call-up option should injury or poor play befall one of the Elliott/Allen tandem. As projected now, he is not in a position to challenge for an NHL spot in the 2014-2015 camp. Fans should expect Binnington to continue to hold the fort at the AHL level while biding his time. However, this could all change dramatically should Armstrong and owner Tom Stillman decide to bust open the piggy bank for goal scoring.
[See related: Jordan Binnington Offers the Blues a Competent Safety Net]
NHL ETA: The primary way that Binnington joins the Blues this season largely depends on the consistent reliability of Brian Elliott and Jake Allen.
Joel Edmundson – D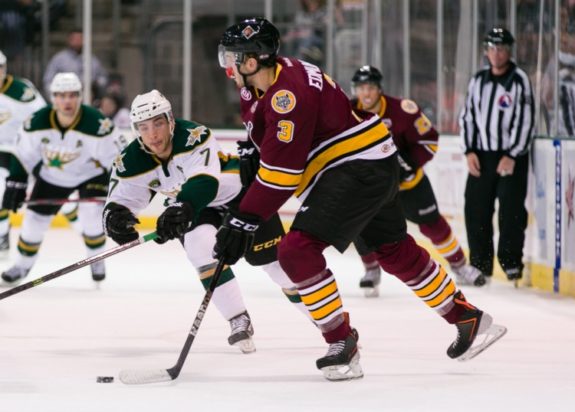 JP: Selected in the second round, 46th overall, of the 2011 NHL Entry Draft, Edmundson was one of the picks for being a Zdeno Chara-type defenseman from the draft with his large frame (6 feet, 4 inches, 207 pounds) and blazing shot from the point. The only knock on his game, pointed out by hockeysfuture.com, is his lack of footspeed and controlling the gaps on the ice. Edmundson posted four goals, eight points and 108 penalty minutes in 64 games with the Wolves this past season. Most importantly, his plus-14 ranked fifth on the Wolves' roster.
Hockeybuzz.com writer Randall Ritchey recently interviewed Chicago Tribune writer Paul LaTour, who covers the Wolves beat. He had this to say about Edmundson's development:
"Edmundson has shown improvement as the season has progressed, providing the Wolves with a more physical presence in front of the net as he's gotten more comfortable."
What was something that the Blues lacked down the stretch? A lumbering defenseman that can clear the crease for the goalies to make the easy saves without obstruction. Edmundson was that player for the Wolves in his rookie AHL season, but he will have to round out his skating if he is to fill that void for the Blues in the future.
NHL ETA: With Barret Jackman's contract up at the end of the 2015-16 season, and Roman Polak's up at the end of the following season, Edmundson will receive his shot to step in as the Blues' best physical defenseman. He'll challenge in training camp before then, but I expect him to step up in a full-time role in 2016-17.
Jani Hakanpaa – D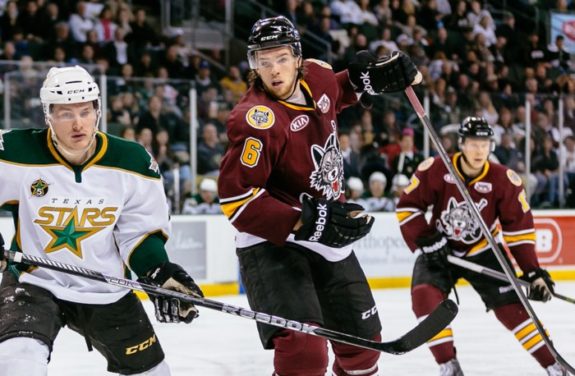 RB: Hakanpaa, the Blues' hulking 6-foot-6 227-pound, Finnish blue-line prospect, had by almost any estimation a solid season with the Wolves. He got into 54 games for a Chicago team that not only won their division (beating out reigning Calder Cup champions the Grand Rapids Griffins by a single point), but also had the second stingiest defense in the Western Conference.
He finished the regular season third on the roster with a plus-20 rating, and only registered a negative rating in seven games. Despite playing a tough game, Hakanpaa doesn't earn many PIMs, totalling just 33 all season so there's room for him to up his nastiness a bit. He fought just once — a fight of which he want any part. Hakanpaa fought the Iowa Wild's Jason Zucker, all 5 feet, 11 inches, 180 pounds of him—and lost, badly. To be fair, Zucker got the early jump after Hakanpaa was called for boarding Zucker's teammate.
NHL ETA: Hakanpaa is only 22 and needs a couple more years in the minors. If he's lucky he'll spend that time the way he spent this past season, learning the North American game alongside veterans like Evan Oberg, Taylor Chorney and Brent Regner.
Dmitrij Jaskin – RW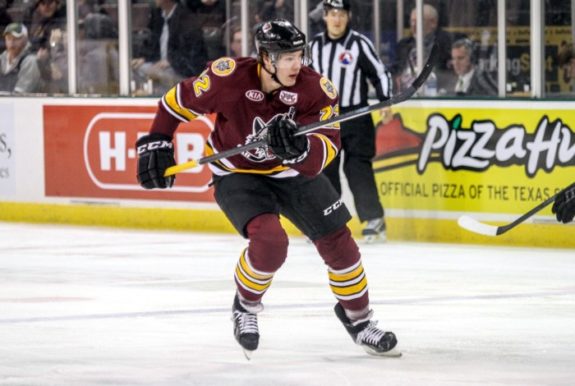 MP: The big power forward has been known for his finesse with the puck throughout his playing career, and with his added experience in the NHL last season, look for him to be a difference maker for the Blues next season and beyond. Though his playing time may still be too limited next season to really make a difference, it will continue his development into a great power forward with a scoring touch (which Berglund was supposed to be).
NHL ETA: Jaskin will truly be ready for the 2015-16 season, but will be effective next year, too.
RB: Blues fans who want to see their farm team produce a player ready for the NHL roster need to look no further than Dmitrij Jaskin. His 18 games with the parent club this past season may not have left much of an impression, but Jaskin is the real deal—a big, strong power forward with great hands who knows how to get the most out of his size and who displays a willingness to go to the dirty areas to get at loose pucks and create scoring opportunities.
With Chicago, Jaskin tallied 15 goals and 29 points in 42 games before his call-up to St. Louis. The Blues sent him back down to Chicago for the start of the Calder Cup playoffs, where he led the club with nine points (four goals, five assists) in as many postseason games before they were ousted by the Toronto Marlies. Notably, he was a beast on the power play, with seven of his points coming with the man advantage.
You really got the impression from his playoff performance that those 18 games with the Blues helped Jaskin elevate his already-rising game. The sky continues to be the only limit with this kid.
NHL ETA: Jaskin is just 21 but he has the tools to begin playing a regular role in the NHL. The question is what do the Blues think will be best for the highly skilled, Russian-born Czech: top-line minutes in the minors or bottom-six minutes in the majors?
Ty Rattie – RW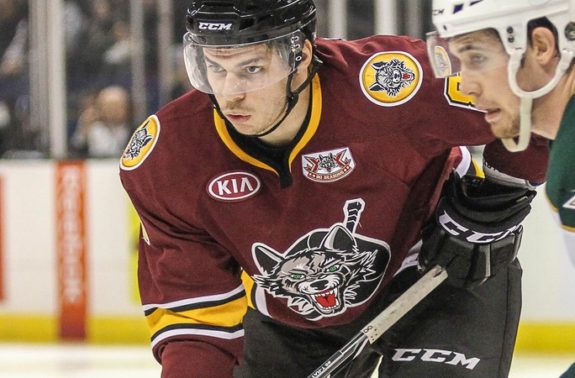 MP: Rattie is one of the best prospects coming into the NHL, and already has a couple of games under his belt from last season. The crafty, swift finesse forward sees the ice very well, and is a true playmaker that can find the back of the net in almost any situation. A current NHL star to compare him to would be Patrick Kane. His vision is only bested by his hands; silky mitts that used to set up play after play with the Portland Winterhawks of the WHL, where he scored over 100 points in each of his last two years. This kid can flat out play and his scoring touch will be more than welcomed in St. Louis.
NHL ETA: Rattie will be NHL-ready in 2016-17 and will be a dynamic second-line forward.
RB: For the Chicago Wolves this past season, the rookie Rattie delivered as advertised: He led the team in games played (72), goals (31), points (48), and was tied for first in power play goals (five).
Rattie's upside has always been the fact that he is a pure goal scorer, with an absolutely lethal shot from the hash marks. He needed one pro season to prove it: his 31 goals were good for fifth overall in the AHL.
Of course, it helps that Rattie isn't shy about shooting. His 211 shots on net were good for 12th overall in the AHL and he led the Wolves in that category by a country mile.
Rattie does the bulk of his scoring in the first and third periods, scoring in the middle frame only a handful of times. Whether you buy into clutch scoring or not, Rattie fits the mold of just such a scorer.
His downsides have always been his skating and his incomplete game. As pertains to the latter, he reminds me of Bruins prospect Matt Fraser: outstanding in the offensive zone, but a bit forgettable everywhere else. Like Fraser, Rattie collects points with a goal-to-assist ratio of about 2-to-1. This is an unnatural statistic in pro hockey. In the NHL the only player with such a pronounced stat is Alex Ovechkin, whose 51 goals and 79 points and minus-35 rating failed to get Washington into the playoffs.
Furthermore, Rattie had just seven primary assists this past season (out of 17 total). He was also a non-factor in Chicago's postseason, scoring one goal and three points in nine games—not what you want out of your top scorer. In his defense, neither of these stats are classic Rattie — quite the opposite in fact. So they're likely an aberration, a thought bolstered by the Blues' assistant GM Kevin McDonald, who said recently that over the course of the season Rattie had "become a better player away from the puck than he was in October."
That, more than any other observation, holds the key to Rattie's future development.
NHL ETA: Rattie's a guy who puts fans on the edge of their seats when he's got the puck. He did it in Major-Junior, he's doing it in minor pro, and there's a strong chance he'll do it in the NHL. Just not next season.
Indiana Ice (USHL)
Sam Kurker – RW

BS: The 2013-14 season ended up being a struggle for Kurker. As a former second-round pick, expectations were high coming into his freshman year (2012-13) at Boston University. However, he delivered only three goals and two assists in 35 games, and was third on the team in penalty minutes (61). His sophomore season wasn't any better, as he registered just one goal and no assists in 12 games. Under new coach David Quinn, Kurker was made a healthy scratch in favor of freshmen on multiple occasions. Kurker boasts great size for a forward at 6 feet 3 inches and 210 pounds.
However, he has not been able to use his size effectively and play a power-forward game. On the ice, he appears to lack the drive and killer instinct needed to use his size along the boards and in front of the net effectively. He does not possess a high hockey IQ or exceptional hands, so in order to produce offense, he will need to work for it.
Frustrated with his lack of playing time, Kurker left BU and joined the Indiana Ice of the USHL. There, he received more playing time and registered 14 points in 24 games and added six points in 12 playoff games as the Ice won the league's championship, the Clark Cup. While the increased offensive output in the USHL is encouraging, it is important to remember Kurker is a 19-year old playing chiefly against players that are 16-18, and much smaller. Moving to the USHL was a significant step down in terms of the quality of competition Kurker was playing against. Kurker possesses the size to play an effective bottom-six game at the NHL level, but to make the big show he will have to revolutionize his game by playing with more energy and physicality.
NHL ETA: If Kurker can make the NHL, it will be as a physical bottom-six forward, but don't expect him to make it until at least 2017-18 as he is still a very raw prospect.
Medicine Hat Tigers (WHL)
Jacob Doty – C
BM: Doty is a formidable force on the ice. Standing at 6 feet, 2 inches and tipping the scales at 203 pounds, the 21-year old has size and knows how to use it. In his final year with the Tigers, this talented forward registered 10 goals, 13 assists and 83 penalty minutes in 68 games. During the Tigers playoff run this season, he garnered a goal and two assists with 26 penalty minutes in 17 games. While that's all well and good, Doty is also never afraid to drop the gloves on the ice, which can be a useful weapon against opponents. One of his bouts was even included in Puck Daddy's Top 10 Fights of 2013.
Though not the greatest skater on the ice (he moves more like a freight train — just a solid, lumbering force), Doty works hard and puts in extra work to ensure he's the best he can be. Doty comes to the Blues via a free-agency signing as opposed to being drafted, which is also unique. He was invited to attend a Blues training camp and, based on the abilities he was able to show, he was signed to a three-year, entry-level contract in September.
NHL ETA: 2016-2017 season. While skilled, Doty will need to pick up his speed and become a little more fleet of foot to make it into the NHL. By spending a few years with a team not at the WHL level, he will be able to develop his skills a bit more to be able to offer what the Blues need. The raw material is there with Doty, it simply needs a little bit of polishing.
North Dakota Fighting Sioux (NCHC)
Jordan Schmaltz – D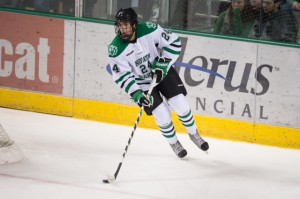 EB: Following the 2013-14 season, the University of North Dakota got some very good news when they learned that sophomore defenseman Jordan Schmaltz was returning for his junior season.
As a junior, Schmaltz will be an older statesman in a relatively young D-Corps. Next season, UND will have only one senior defenseman that regularly plays in the top-six pairings.
Schmaltz scored six goals and 24 points in 41 games, and was the top-scoring defenseman on a D-Corps that ranked first nationally with 2.76 points per game. He played on the first defense pairing with senior captain Dillon Simpson and showed great improvement in his overall game.
Schmaltz is set to play with his brother Nick, who's slated to be drafted in the first round of the 2014 NHL Entry Level Draft. Jordan is an offensive-minded defenseman who is smart in his own end and known for his crisp stick-to-stick passes.
NHL ETA: Schmaltz needs a little more seasoning, but should be NHL ready after a couple more seasons.
—-
Stay tuned all summer long for draft coverage and prospect analysis! As always, follow me on Twitter @jponder94 for Blues coverage.