The Los Angeles Kings are the clear favorites against the New York Rangers. Owning (easily) the most impactful forward and defenseman in this series, the opposition will be hard pressed to control play when Anze Kopitar and Drew Doughty are on the ice. And the Kings are one of the few teams in the league that can match, if not surpass, the Rangers' depth.
That said, in a seven-game series, anything can happen. What might derail LA's parade route down Figueroa?
Henrik Lundqvist VS Jonathan Quick
Quick has been fortunate to face three teams that have been just as uneven in net as he's been. It's not often that you get to face five different starting goalies in your first two playoff rounds. This inconsistency appears to be par for course from the 2012 Conn Smythe winner.
The consistently excellent Lundqvist is not likely to falter as dramatically as Quick's prior opponents. And the 2006 Gold Medalist is certainly capable of stealing the championship.
The good news for Kings fans is that Quick doesn't need to win this series himself—chances are, he just needs to not lose it.
And yes, I know he's capable of more. But who knows if we see Banner or Hulk or whatever's in between this round?
Rick Nash Gets Hot, Kings Go Cold
Nash is a career 12.4% shooter. He's shooting 4.6% this postseason (4.2% over his playoff career).
Trevor Lewis is a career 4.3% shooter.
Nash's averaged 3.25 shots/game during the playoffs—3.46 shots/game over his regular season career—so that's not the issue. The chances have been there too.
So while it's possible that Nash grips the stick a little tighter in the clutch, as some have suggested, it's more likely that he's going to start outshooting Trevor Lewis any day now.
On LA's side, most of their scorers are riding a wave of good luck: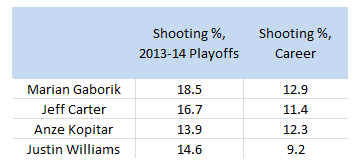 We can also include the less-experienced Alec Martinez (16.0%), Tyler Toffoli (13.7%), Jake Muzzin (13.2%), and Tanner Pearson (12.1%). Even the aforementioned Lewis has posted a 14.3%!
This is not to say that the Rangers haven't shot well this postseason. But the Kings have been extraordinary so far:

Even in their history-making 2012, the Kings posted just a 9.3 playoff shooting % (as opposed to a 7.5 regular season). Of course, you can say that they're correcting their regular season misfortune right now, but this is extreme. Essentially, the team has shot like a collective Jeff Carter during the playoffs. Will the Southern California heat wave continue another couple weeks?
Power Restored
After enduring nine playoff games without a 5v4 goal, the Rangers' power play has notched seven such markers in their last nine. Their man advantage is certainly better than their dismal 13.6% over this postseason. Perhaps much better, examining their regular season underlying numbers. Their 5v4 shot volume suggests better results:

(Corsi For/60 mins measures blocked + unblocked shot attempts for when a player or team is on the ice per 60 minutes of ice time. Fenwick For/60 mins measures unblocked shot attempts for when a player or team is on the ice per 60 minutes of ice time.)
Los Angeles, on the other hand, has annihilated competition on the man advantage with a playoff 25.4% (after a regular season 15.1%). But as outlined in my first round playoff preview, this improvement is very legitimate, if not necessarily 25.4% legitimate.
I have some unsolved questions about New York's penalty killing:

(Corsi Against/60 mins measures blocked + unblocked shot attempts against when a player or team is on the ice per 60 minutes of ice time. Fenwick Against/60 mins measures unblocked shot attempts against when a player or team is on the ice per 60 minutes of ice time.)
The Blueshirts have somehow shaved a significant amount of 4v5 Shots Against during the playoffs. After crunching the numbers for each of their series (ask me if interested) and watching tape, I can't really explain the increase in NY PK blocked and missed shots against.
Luck, a great penalty kill, or terrific coaching? Evan Sporer of Blueshirt Banter emphasizes the latter: "Alain Vigneault and Ulf Samuelsson have done a great job preparing and fine-tuning in each of the three series thus far for what the opposing power play brings."
As for LA's PK, it's not especially strong, even with Willie Mitchell back and the prospect of Robyn Regehr's return.
It's worth noting that the Rangers were the league's second-most disciplined team in the regular season (232 Times Shorthanded); the Kings ranked 28th (296 Times Shorthanded).
Bottom Six Will Give Fits
Benoit Pouliot-Derick Brassard-Mats Zuccarello is one of the league's best third lines. They may see a lot of the Carter or Mike Richards lines. Los Angeles's third line will probably draw Carl Hagelin-Brad Richards-Martin St. Louis. As mentioned in the Jewels from the Crown preview, they're "Vigneault's weapon of choice in the offensive zone." 
If the Kopitar line, as expected, outplays Chris Kreider-Derek Stepan-Nash, these closer matchups may prove to be the series swing vote.
Vigneault has shown little fear in his fourth-line deployment (usually Brian Boyle-Dominic Moore-Derek Dorsett), consistently throwing them against the likes of Claude Giroux, Sidney Crosby, and Evgeni Malkin this postseason.
He should shelter them more if possible. While they contest the majority of New York's defensive zone starts, their Corsi and Corsi Relative Quality of Competition is in the bottom quarter among team forwards, suggesting that it's not just their tougher minutes accounting for their burnable puck possession. Basically, they're used like Chicago's Marcus Kruger, but they're not as good (Kruger being a "fourth-liner" given his team's toughest minutes but posting strong Corsi).
(Corsi Relative Quality of Competition compares 5v5 Even Strength all shots attempted versus shots against when a player is on the ice, relative to teammates and opposition.)
Prediction?
The Kings ride down Figueroa after six games. Expecting that LA's scoring tapers off a little, I'm looking at a tighter team defense and an improved Quick to lead the way. New York has the weakest offense of any of Los Angeles's playoff opponents, which should help.