According to numbers obtained from NHL Records, there have been 1,090 players to win the Stanley Cup, with 467 players (42%) winning it more than once. Interestingly, the further we dig into the numbers, only 195 skaters have won the silver chalice more than twice, meaning that 17% of winners are members of one of the most exclusive clubs in league history. 
Related: Little Known Facts About the Stanley Cup
Realistically, long gone are the days of true dynasties, where teams won three, four, or five championships in a row. Ultimately, the salary cap has prevented a team's ability for an extended run at the top, explaining why a few of this generation's leaders, like Sidney Crosby and Patrick Kane, won their titles over an extended period. 

Considering there isn't an active NHL player with four Stanley Cup rings, it is a safe bet that the top spots on this list are in no danger of being challenged anytime soon. Unless the league goes through a significant restructuring, no one may ever achieve the feats accomplished by the stars of generations gone by. 
10. Mark Messier & 13 Players (Six Stanley Cups)
Historically, there are 14 players to win the Stanley Cup an astonishing six times, with Glenn Anderson, Kevin Lowe, and Mark Messier being the last players to reach the plateau in 1994. Interestingly, out of the 14 players with six championships, only two, Larry Hillman and Ralph Backstrom, still need to be inducted into the Hockey Hall of Fame (HHOF).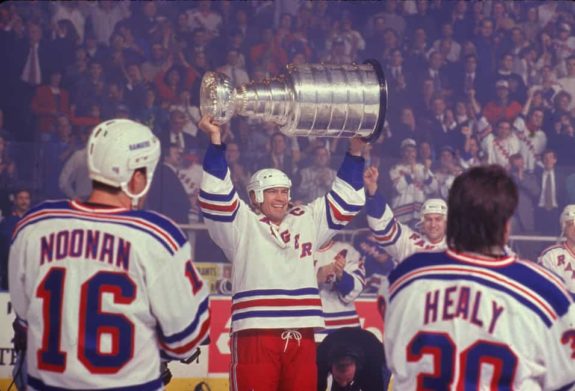 Ultimately, this entry on the list is highlighted by Messier, who remains the only captain in league history to lead two different franchises to the Stanley Cup. Additionally, he's in a group that includes legends like Bernie Geoffiron, Doug Harvey, Tom Johnson, Dickie Moore, Dick Duff, Frank Mahovlich, Jacques Laperriere, Guy Lapointe, Larry Robinson, and Bryan Trottier. 
9. Jean-Guy Talbot (Seven Stanley Cups)
Jean-Guy Talbot played 1,066 games over 17 seasons with the Montreal Canadiens, Minnesota North Stars, Detroit Red Wings, Buffalo Sabres, and St. Louis Blues. Despite not winning a single award, the defenseman was a one-time All-Star in 1961-62. 
Although Talbot is not in the HHOF, with only 285 career points, he was part of a Canadiens dynasty that won five titles from 1956 to 1960. Furthermore, he earned another two rings in 1965 and 1966 before leaving the team in the 1967 Expansion Draft. Interestingly, at the time of his seventh win (1966), Talbot and several teammates had the second most rings behind only Maurice Richard. 
8. Serge Savard (Eight Stanley Cups)
Serge Savard is a HHOF defenceman who starred with his hometown Canadiens from 1966 to 1981 before finishing his career with the Winnipeg Jets in 1983. As one of the 100 Greatest Players in NHL history, he finished his career with a plus-462 in the plus/minus column, which is a number higher than his point total, 439, achieved in 1,040 games.
During his first two seasons, Savard won back-to-back championships in 1968 and 1969, taking home the Conn Smythe Trophy during his rookie campaign. Then, he won two more rings in 1971 and 1973 before finishing the decade with four straight titles from 1976 to 1979. 
7. Jacques Lemaire (Eight Stanley Cups)
To a younger generation of hockey fans, Jacques Lemaire is a hockey coach and executive. However, he is one of the most decorated Stanley Cup champions winning the game's grandest prize eight times as a player and once as a head coach.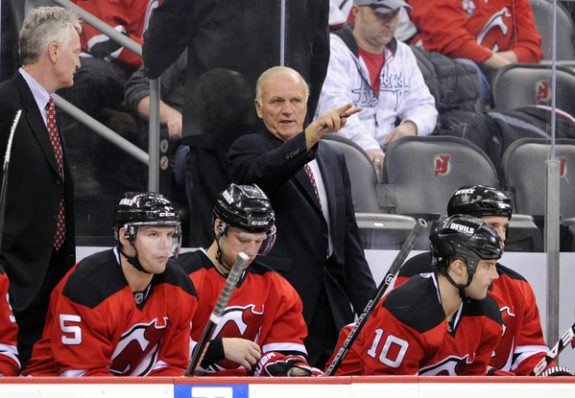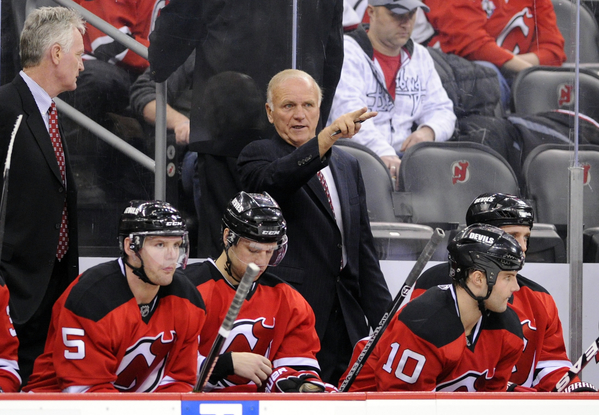 Although he scored 835 points in 853 games, Lemaire never won an award but played in two All-Star Games and has a plaque at the HHOF and a spot on the NHL's 100 Greatest Players list. Moreover, like his longtime teammate Savard, he won the Stanley Cup in his first two seasons, 1968 and 1969, before winning six additional titles in the 1970s, including four straight from 1976 to 1979. As a head coach, he led the New Jersey Devils to their first championship in 1995. 
6. Red Kelly (Eight Stanley Cups)
Shockingly, Red Kelly is the only player ranked amongst the top nine players with the most Stanley Cup rings who never skated with the Canadiens. At the beginning of his HHOF career, which included four Lady Byng Trophies and a Norris Trophy, he played 13 years with the Red Wings winning four championships in 1950, 1952, 1954, and 1955. 
After a trade in 1960, he helped the Toronto Maple Leafs win four titles in seven seasons, including three straight in 1962, 1963, and 1964. Famously, Kelly was part of the last Maple Leafs' team to win the Cup in 1967, his final season in the league. Upon retirement, after 1,316 games, he became a head coach but never led any of his teams to the Stanley Cup Final. 
5. Maurice "The Rocket" Richard (Eight Stanley Cups)
Before Connor McDavid, Wayne Gretzky, and Gordie Howe, Richard was one of the most feared goal scorers to lace up a pair of skates. As the first player to score 50 goals in a season and the first to collect 500 goals, Richard's legacy in the game and his home province of Quebec is unmatched 63 years after his retirement.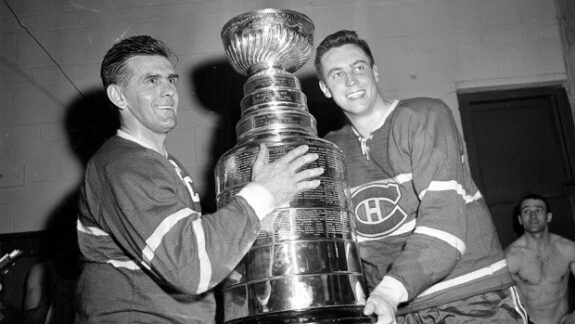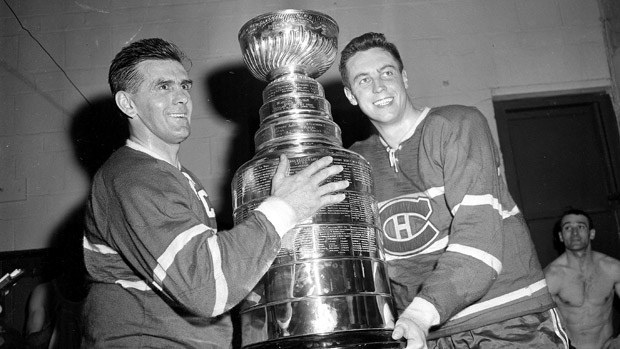 Despite being a 14-time All-Star, Richard only won one Hart Trophy (1946) and finished with 544 goals in 978 games to find his name on the list of 100 Greatest Players and earn introduction into the HHOF in 1961. During his second season, 1944, he won his first Stanley Cup and followed that win with titles in 1946 and 1953. Coincidentally, the Canadiens became the first team in NHL history to win five straight championships, earning victories in 1956, 1957, 1958, 1959, and 1960, with Richard serving as team captain on the final four. 
4. Claude Provost (Nine Stanley Cups)
Surprisingly, Claude Provost is not in the HHOF despite winning a championship nine times during his 15-year career, all with the Canadiens. Interestingly, the native of Montreal won the silver chalice in his first five seasons, part of a dynasty that dominated the game from 1956 to 1960. 
Historically, he played in 11 All-Star Games and is the only player with that many appearances not currently in the HHOF. Despite four additional titles in the late 1960s, with back-to-back wins in 1965, 1966, 1968, and 1969, he won his only award, the Bill Masterton Trophy, in 1968. Overall, he scored 589 points in 1,009 games. 
3. Yvan Cournoyer (Ten Stanley Cups)
Yvan Cournoyer is only one of three players in league history to be a part of ten Stanley Cup victories. Despite playing only five games in 1963-64, he became an NHL regular the following season, winning six rings in the next nine seasons between 1965 and 1973. 
The HHOFer is on the 100 Greatest Players list, thanks to four All-Star Games, 863 points in 968 games, and a Conn Smythe Trophy win in 1973. Although he already had six rings by 1976, he was an instrumental player during the Canadiens' four-peat, which ended in 1979. Historically, he remains only the second captain (besides M. Richard) in club history to win more than two Stanley Cups in a row.
2. Jean Beliveau (Ten Stanley Cups)
Jean Beliveau is one of the greatest players and executives in Canadiens history, earning 17 Stanley Cup rings during his lifetime. Historically, the HHOFer was the fourth player to score 500 goals and just the second to collect 1,000 points. As a two-time Hart Trophy winner, he earned one Art Ross Trophy and became the first player to win the Conn Smythe Trophy as playoff MVP in 1965.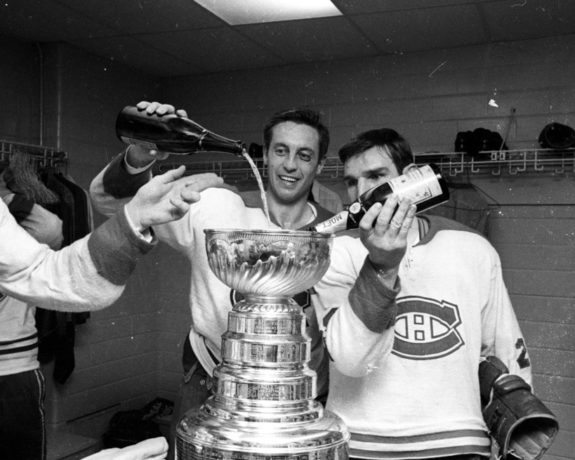 Although he didn't win a championship in his first four seasons, Beliveau was a significant reason behind the Canadiens' five straight titles from 1956 to 1960. After being named team captain in 1961, he guided them to five additional wins between 1965 and 1971. Upon retirement, he joined the team's front office and got his name engraved on the Stanley Cup seven more times as the Canadiens won in 1973, 1976, 1977, 1978, 1979, 1986, and 1993. 
1. Henri Richard (11 Stanley Cups)
When anyone looks up who has the most championships by a player in North American sports history, there is the NBA's Bill Russell and the NHL's Henri Richard. Although he played in his brother's shadow, the "Pocket Rocket" played his entire 20-year career with the Canadiens, winning the Stanley Cup 11 times.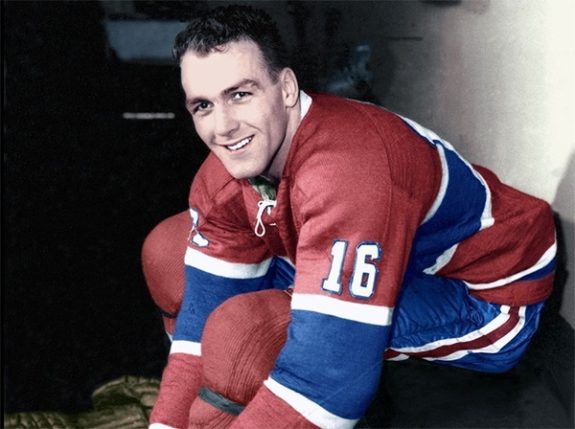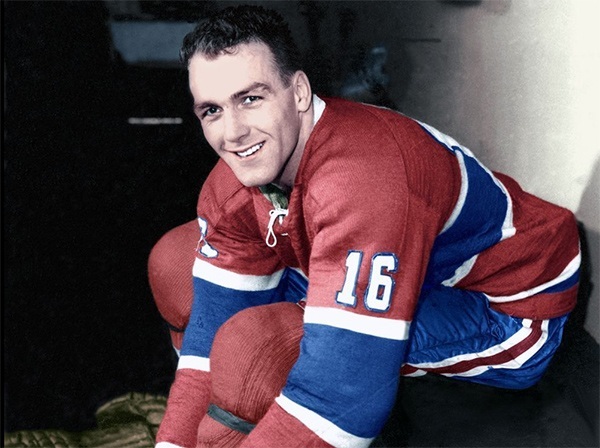 Surprisingly, Richard still ranks in the top three in Canadiens history in assists and points while maintaining his spot at the top of the most games played list. Additionally, he served four years as captain, just like his older brother. 
Historically, Richard was part of the five-year dynasty that started in 1956 and ended in 1960. After a brief drought between titles, he was part of the teams that won in 1965, 1966, 1968, 1969, 1971, and 1973. Furthermore, the 1975 Bill Masterton Trophy winner entered the HHOF in 1979 and earned a spot among the game's 100 Greatest Players. 
Historical Perspective
According to numbers obtained from NHL.com, 7,565 players have skated in at least one game in the league, with 4,307 of them making an appearance in a playoff game. After breaking down the numbers, only 14.4% of players in league history have won the Stanley Cup, with 25% of playoff skaters winning it all.
Related: Top 10 NHL Legends Who Never Hoisted Lord Stanley's Cup
Realistically every player dreams of winning the Stanley Cup; that's why most want to play in the NHL. However, only a small percentage of them have hoisted the Cup over their heads. Historically, iconic players found themselves in the right place at the right time, racking up championships at unprecedented rates. 
Over the last 23 years, many fans and experts wondered if and when players would eventually break several of Gretzky's records. Although some have already fallen, and a few more are on the verge, it is a guarantee that no one in the modern era will ever win the Stanley Cup more than ten times.