| | | | |
| --- | --- | --- | --- |
| Born: | July 9, 1927 | Draft: | Undrafted |
| Hometown: | Simcoe, ON, Canada | Position: | Defence/Center |
| Known For: | 8 Stanley Cups | Shoots: | Left |
| National Team: | Canada | | |
Leonard Patrick "Red" Kelly CM (July 9, 1927 – May 2, 2019) was a Canadian professional ice hockey player and coach. He was also a Liberal Member of Parliament for the Toronto-area riding of York West from 1962 to 1965, during which time he also won the Stanley Cup—twice—while actively playing for the Toronto Maple Leafs. Kelly played on more Stanley Cup-winning teams (eight) than any other player who never played for the Montreal Canadiens; Henri Richard (11), Jean Beliveau (10), Yvan Cournoyer (10) and Claude Provost (9) won their Cups with the Canadiens.
In 2017, Kelly was named one of the '100 Greatest NHL Players' in history.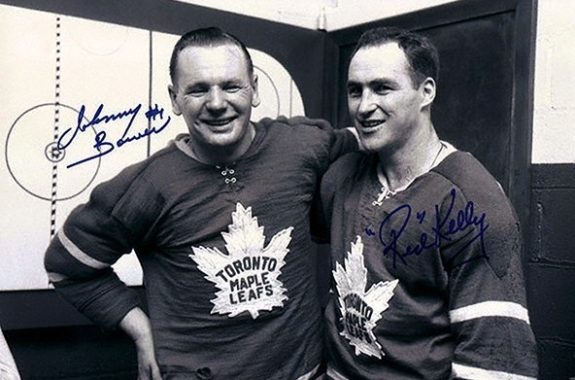 Red Kelly Stats
Trade Tracker
Deeper Dive
Kelly's Remarkable Playing Career
The Maple Leafs passed on Kelly after a scout predicted he would not last 20 games in the NHL (despite the Majors' long relationship with the Leafs) and the 19-year-old joined the Detroit Red Wings in 1947. In 1954 he was runner-up for the Hart Memorial Trophy and won the James Norris Memorial Trophy as the NHL's top defenceman, the first time the trophy was awarded and also won the Lady Byng Trophy in 1951, 1953 and 1954 as the NHL's most gentlemanly player. In over 12 years as a Red Wing the team won eight regular-season championships and four Stanley Cups. He was chosen as a First Team All-Star defenceman six times.
However, midway through the next season, a reporter asked Kelly why he'd been off his game for much of 1959. Kelly replied, "Don't know. Might have been the ankle." — thereby divulging the team secret that Kelly had played the previous season with a broken ankle, much to the chagrin of Red Wings' GM, Jack Adams. When Adams got wind of the story, he was furious, and immediately brokered a four-player deal in which Kelly was sent to the New York Rangers. However, Kelly scuttled the deal when he announced he would retire rather than go to New York.
Maple Leafs head coach Punch Imlach stepped in and tried to talk Kelly into playing for him. Though he disliked Maple Leaf Gardens and was still smarting from the scout's assessment of him 13 years earlier, Kelly agreed to be traded to the Leafs. Once Kelly arrived in Toronto, Imlach asked him to switch positions and become a full-time centre, figuring that Kelly could easily match up against the Montreal Canadiens' Jean Béliveau. The switch paid off. Already a great playmaker, Kelly turned Frank Mahovlich into one of the most lethal goal scorers in NHL history.
Kelly won his fourth Lady Byng Award in 1961. In his eight seasons with the Leafs, they won four Stanley Cups–the same number of times he'd won in Detroit. In 1,316 regular season games, he scored 281 goals and 542 assists for 823 points. At the time of his retirement, he was seventh all time in career points, fifth in assists, 13th in goals, and second only to Gordie Howe in games played. In 164 playoff games, he scored 33 goals and 59 assists for 92 points.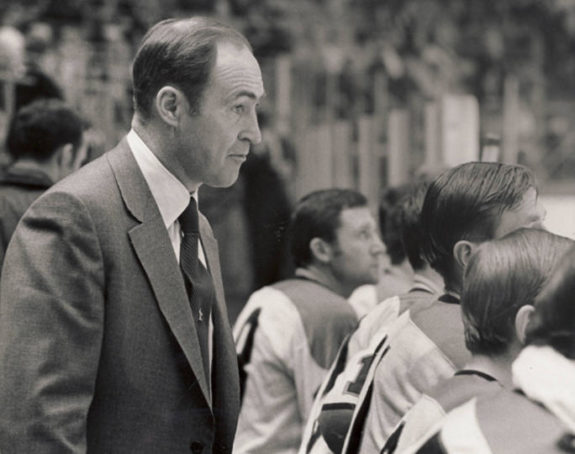 More Accolades
Kelly's Jersey (#4) was retired by both the Detroit Red Wings and the Toronto Maple Leafs
Kelly was elected to the Hockey Hall of Fame in 1969.
Was a Member of the Canadian Parliament while winning Stanley Cups playing on the Maple Leafs
In 2001, he was made a Member of the Order of Canada.
Sources