So far in this series, we have looked at the possible forwards that the Blues could take with their No. 21 pick in this upcoming weekend's draft. Sometimes, the best player available is on the defensive side of the puck.
Just ask anyone who watched the 2012 NHL Entry Draft. Just two years ago, there were eight defenseman — including seven consecutive picks — selected within the first 10 picks of the first round.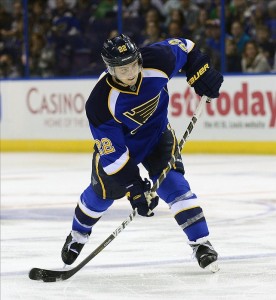 No team knows how valuable a good defenseman can be more than the St. Louis Blues. Last season, the Blues built from the goal line out, spending nearly half of their payroll on their blue line.
The Blues run a system that allows for shots from the point and defensemen to carry the puck through the neutral zone. This has allowed certain defensemen, namely Kevin Shattenkirk, to thrive in assist production (at least 34 assists in the last two non-lockout seasons). However, this system also asks the defensemen to be quick in gliding back in the event of a turnover and to be aware of forwards setting up camp on the St. Louis blue line.
The Blues already have one young defenseman waiting in the wings that they hope will fit in this style (2012 first-round selection Jordan Schmaltz), but they may want someone else who can also be the future of the solid defensive core.
With the 21st pick in the 2014 NHL Entry Draft, the St. Louis Blues are proud to select…
From the Calgary Hitmen of the WHL, Travis Sanheim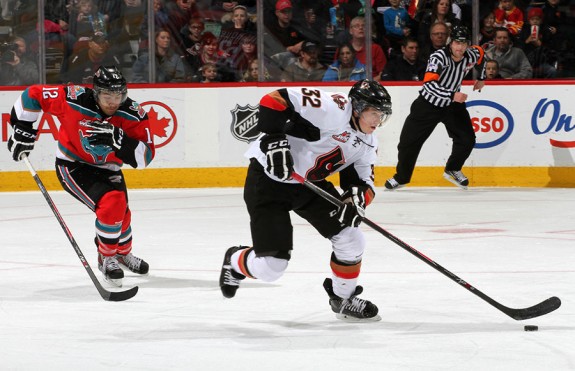 Where he's at
The Brandon, Manitoba native has taken an opportunity and absolutely ran with it. After being selected in the ninth round of the 2011 WHL Bantam Draft, Sanheim honed his skills and worked on his defensive game. He played with the Yellowhead Chiefs of the AAA Manitoba Midget Hockey League before, finally, joining the Hitmen this past season. Since that time, Sanheim has seen his stock rise from No. 167 (midseason) to No. 53 (currently).
However, these rankings were compiled before the 2014 U-18 championship in Finland. There, Sanheim was a revelation on defense, compiling six assists and a plus-5 in seven games. Without Sanheim, Canada would likely not have captured a bronze medal. Yea, he was that impenetrable in his zone.
His rankings definitely do not jump out of the page at you, but Craig Button seems to believe in the smooth-skating, intelligent defenseman.

His rankings are all over the map, but THW draft analyst Ryan Pike explains why Sanheim may be overlooked by some:
There are a lot of things to like about Sanheim. First and foremost, he's a smart player. He doesn't make a lot of risky plays and he reads coverage well. His offensive game was arguably tentative initially due to him figuring out the ebbs and flows of the WHL – when to cheat and when not to – and he erred on the side of caution. He rarely got caught far out of position, though, a fact evidenced by the seven minor penalties he took all season.

Sanheim has a big frame. He's still filling out, but he utilizes his reach and size well, and moves quite well for someone as lanky as he is. If there's a criticism of his game, it's that he's not overly aggressive or physical. He's not a crash-and-bang big-bodied defender; in many ways he resembles Jay Bouwmeester in that respect. He's big, but he uses superior positioning and speed to counter his opponents rather than brute force.
[See related: Travis Sanheim – The Next Ones: 2014 NHL Draft Prospect Profile]
How could you argue that Sanheim wouldn't be a solid pickup for the Blues when he so closely resembles the team's No. 2 defenseman?
Where he will be
As eluded to by Pike, the defenseman will need some seasoning in the WHL before making the jump to the NHL. This is a common occurrence for defensemen, but it may need to be handled even more delicately with Sanheim. His professional body of work is so miniscule that there is no telling when he will be ready to make the next jump in his career.
Unfortunately for him, this leads to having absolutely no idea when he will go in the draft. He could hear his name called in the mid-first round or he may not even hear it until early in the third round. It all depends on how much the NHL teams' scouting departments believe that there is a next gear in Sanheim's game.
If the Blues still see a highly touted forward available with their first pick, expect to see director of amateur scouting Bill Armstrong jump on one of those names. However, the Blues do pick again with the third pick of the second round; if Sanheim remains, he could be a valuable selection that pays off in the future.
Stay tuned to TheHockeyWriters.com for draft coverage leading up to the weekend of June 27-28.
Follow Jeff on Twitter for all St. Louis Blues draft coverage: @jponder94
Check out the other parts of this series to prepare yourself for the 2014 NHL Entry Draft!
Part I: Josh Ho-Sang
Part II: Ivan Barbashev
Part III: Adrian Kempe
Part IV: Travis Sanheim
Part V: Nick Schmaltz
Part VI: Ryan MacInnis
I am a former NHL media member and reporter for the St. Louis Blues, working for various media outlets. Currently, I am an NHL News Writer and Editor for The Hockey Writers. I live in St. Louis and work as a freelance copywriter in numerous industries.