Travis Sanheim THW Close-Up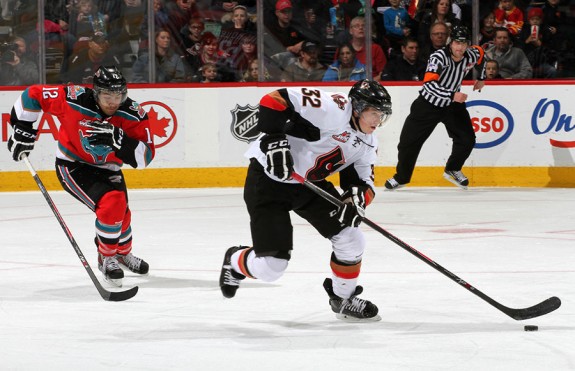 Date of Birth: March 29, 1996
Place of Birth: Elkhorn, MB
Ht: 6'4" Wt: 205 lbs
Shoots: Left
Position: Defenseman
NHL Draft Eligibility: 2014
Travis Sanheim is a very interesting hockey player, particularly as we approach the 2014 NHL Draft.
The Manitoba product successfully made the leap from midget to the WHL, using a very strong couple of years in the Manitoba league with Yellowhead as a stepping stone to a strong freshman campaign with the Calgary Hitmen. Somewhat curiously (at first), he was paired with fellow WHL newbie Ben Thomas. While Thomas had a few bumps in the road – his primary initial strength area being the offensive side of the game – Sanheim was able to cover up for his partner rather well.
As the season ended, Hitmen coach Mike Williamson seemed quite smart, as playing with each other rounded the other player's game out; Sanheim became a better offensive player and Thomas improved his play without the puck.
There are a lot of things to like about Sanheim. First and foremost, he's a smart player. He doesn't make a lot of risky plays and he reads coverage well. His offensive game was arguably tentative initially due to him figuring out the ebbs and flows of the WHL – when to cheat and when not to – and he erred on the side of caution. He rarely got caught far out of position, though, a fact evidenced by the seven minor penalties he took all season.
Sanheim has a big frame. He's still filling out, but he utilizes his reach and size well, and moves quite well for someone as lanky as he is. If there's a criticism of his game, it's that he's not overly aggressive or physical. He's not a crash-and-bang big-bodied defender; in many ways he resembles Jay Bouwmeester in that respect. He's big, but he uses superior positioning and speed to counter his opponents rather than brute force.
With a veteran-laden blueline, the Hitmen were able to bring Sanheim along slowly. The up-shot of that is he was rarely hung out to dry and that he's likely better than his offensive numbers indicate; much of the power-play time for the club went to the veterans, so expect his production to increase considerably next season.
That said, it's unclear if Sanheim has topped-out yet. He's such an intelligent player, and he showed considerably growth in his game over the course of the year. If he can add a bit more oomph to his offensive game, or some meanness to his defensive game, or even just continue to round out some smaller aspects of his play, he could end up a fantastic sleeper pick for a patient club.
Scout's Honour:
"He has the tools to potentially be a number 3 or 4 defenceman at the NHL level.  He has always been a solid defender but his ever improving offensive game has turned some heads in the second half of the season.  He is playing with a little more confidence, jumping into the play at the right times and putting up some points."
–Mitch Kasprick, Winnipeg Hockey Talk
Statistics:
Bio/Interview(s)/Link(s):
International Tournaments:
Sanheim was part of Team Western Canada at the World U17 Challenge and played with Canada's bronze medal-winning team at the U18 World Championships, where he was named the tournament's best defenseman.
ETA:
2-3 years
Risk-Reward Analysis:
Risk 1/5, Reward 3.5/5
NHL Potential:
Second-pairing defender
Strengths:
Big frame
Smooth skater
Intelligent defensive player
Flaws/Aspects He Needs To Work On:
Doesn't play that mean or physical yet
Doesn't take a lot of chances with the puck, usually make a safe play
Could stand to shoot the puck a bit more than he does
Fantasy Hockey Potential:
Offensive 8/10, Defensive 8/10
NHL Player(s) Comparison:
Johnny Boychuk had a similar junior career trajectory and a big frame, and he developed into a dependable two-way defender who contributes to his club's success.
When He'll Go In June:
Sanheim projects likely as a second or third round pick.