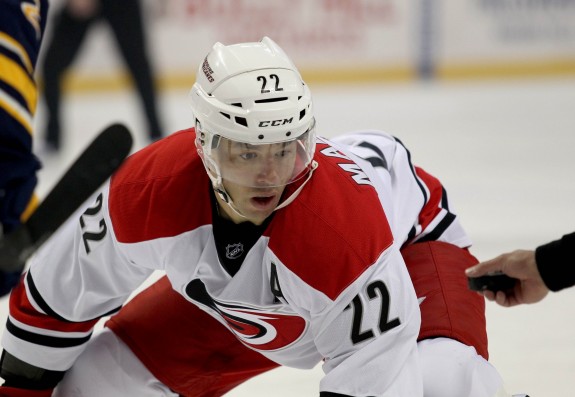 The Bill Masterton Memorial trophy is awarded annually to the player who best exemplifies the qualities of perseverance, sportsmanship, and dedication in the National Hockey League. Jaromir Jagr of the New Jersey Devils, Dominic Moore of the New York Rangers, and Manny Malhotra were named finalists for the awards this year.
In the past couple of years the award has gone to players who have battled through career and life threatening injuries and disorders. Last season Minnesota Wild goalie Josh Harding was awarded the trophy after returning to the 2013 season after being diagnosed with multiple sclerosis.
Many people inside the league wouldn't have been surprised if Manny Malhotra was finished playing hockey. In 2011, while playing for the Vancouver Canucks, Malhotra caught a puck in the eye in a late season game against Colorado. He missed almost the entire 2012-2013 season.
After contributing in AHL team, the Hurricanes called up Malhotra and he ended playing in 69 games for the NHL squad. Malhotra finished the season with seven goals and six assists, and was ranked second in the league with a face-off percentage of 59.4 %.  He mainly played on the third and fourth lines and was named one of the Hurricanes alternate captains during the season.
It isn't the stats that should lead to Malhotra winning the award.  A player who most of the league thought his career was over, and was an afterthought to many coaches and general managers as an available veteran presence this past off season. He was given a professional try out and proved to coaches he still had some left in the tank. He proved enough to get a promotion from the AHL, and was signed by the Canes four weeks later. He spent the rest of the season he became a leader, and was a grinder that added depth to a struggling team.
Malhotra embodies the award by fighting through a terrible eye injury that would have kept most players out of the league for the rest of the careers. He was late in his career, and was forgotten by most NHL teams. Instead of taking a job in the booth, he kept training, and found ways to contribute at an NHL level. Not taking away from the other finalists, but Manny Malhotra embodies perseverance, sportsmanship, and dedication to the sport of hockey and the entire NHL.
He became a beloved player in Carolina, and gives a strong moral presence for a young team. Malhotra is an unrestricted free agent this off-season, and should be on the top of the list for newly hired GM Ron Francis, as a leadership player who should be brought back to a team trying to end its post-season drought.