Ten years ago, the Calgary Flames signed an undrafted overage OHL defenseman to a contract.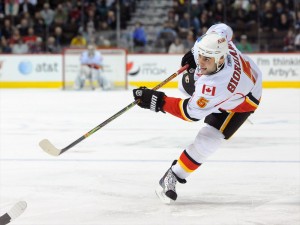 It was a low-risk gamble at the time. The Flames needed bodies for their roster spots with their split AHL affiliate in Lowell, Mass., and relied upon their scouts to find players that would fill the void as their drafting tried to catch up.
Ten years later, Mark Giordano stands not just as Calgary's best player, but perhaps the best hockey player in the Western Conference.
A GREAT LEADER
In first year of his captaincy, taking over for future Hall of Famer Jarome Iginla, Giordano managed to help craft the Calgary Flames into the hardest-working team in the NHL. As a result, a team that spent years floating around the playoff fringes has finally begun the rebuild and finally has a well-defined team concept.
When he was introduced as the club's new general manager, Brad Treliving specifically praised Giordano as one of the players he looked forward to working with.
"I've been a fan of Mark Giordano as a player. I think he's established himself as one of the true, great leaders in the game, in a very short period of time. That excites me," said Treliving. Flames head coach Bob Hartley had similar praise for Giordano at the year-end team meetings.
COUNTING STATS
In terms of offensive production, Giordano was 11th in the NHL with a career-high 47 points. But when you bear in mind that he missed 18 games due to injury, his pro-rated scoring production (0.734 points-per-game) would place him third in the NHL – ahead of players like Shea Weber and P.K. Subban.
And that's playing on the fourth-worst team in the National Hockey League, with his primary defensive partner being 23-year-old T.J. Brodie.
He was even +12 on a team with a -32 goal differential and that bled scoring chances against during most games. In short: Mark Giordano has emerged as a bonafide Norris Trophy contender.
The Flames went 30-29-5 with Giordano in the line-up and went 5-11-2 in the 18 games he missed.
FANCY STATS
Independent of the bad-ness of his team, Mark Giordano has strong possession stats. Despite playing against the stiffest competition on the team (and amongst the toughest competition in hockey for a defender), Giordano has Corsi numbers among the best in the league (of defensemen). When you control for how bad the Flames are and look at Corsi-Rel (adjusting for the team's overall level of possession), Giordano is head-and-shoulders the best in the league relative to who he plays with (and against).
A quick glimpse of this via our friends at Extra Skater: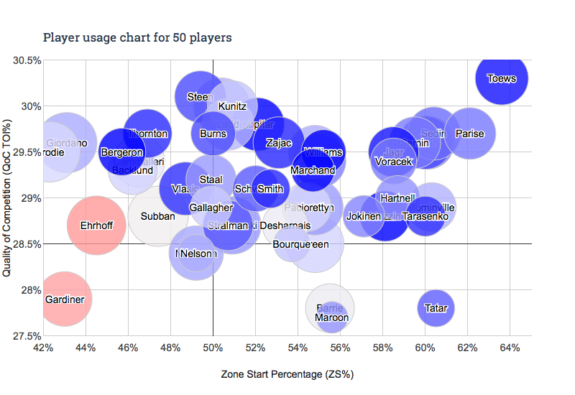 In short: Giordano and partner T.J. Brodie are in the top left corner, indicating that they get buried in terms of zone starts (they start most of their shifts in the defensive zone) and they get buried in terms of opposition (the quality of the players they face). Heck, they're among the left-most and top-most among the 50 leading players in Corsi-Rel.
So despite playing on the fourth-worst team in hockey, and the worst face-off team in hockey – so the other team gets a head-start on shot attempts right away – Mark Giordano (and T.J. Brodie) are facing some of the absolute most unfavourable circumstances a pair of players could hope to face. And they're still putting the puck towards the other team's net more than it's going towards theirs.
HE'S A BARGAIN
And Giordano's making a pittance for what he bring to the table: just $4,020,000 per year through the 2015-16 season. To compare, this year's three Norris finalists make $6.9 million (Zdeno Chara), $5.54 million (Duncan Keith) and $7.8 million (Shea Weber).
Giordano's not even the highest-paid defenseman on his team.
WHO'S BETTER?
While Giordano's been just excellent of late, I'm hesitant to storm the NHL offices, steal the Hart Trophy and deliver it to his home quite yet.
There are a handful of Eastern players that mean more to their teams than he does, or at least as much: Boston's Patrice Bergeron for his insane possession stats, Pittsburgh's Sidney Crosby for his clutch offensive production, and perhaps Tampa's Ben Bishop or Montreal's Carey Price in terms of clutch goaltending.
But in terms of importance to his team's success, nobody's more important to their team in the Western Conference than Mark Giordano. And as the Flames emerge from the wilderness and scramble back to respectability, for the time-being, they'll go as far as Mark Giordano can lead them.