Matt Moulson has had a rocky year. He started the season on a line with John Tavares, expecting to stay on Long Island, the only team where he's ever seen success. A surprise trade landed him with the basement-dwelling, rebuilding Buffalo Sabres. He was then one of a number of high-profile trades at the deadline, heading to Minnesota, a playoff hopeful.
Moulson notched six goals and seven assists through 20 regular season games for the Wild. He even came at a pretty good price (paired with Cody McCormick), costing the Wild non-2015 draft picks and fourth-line center Torrey Mitchell, whose role as a fourth liner and penalty killer was made expendable by the emergence of Erik Haula. (Not to mention that Mitchell reportedly asked for a trade.)
Playoffs Paint A Different Picture
The playoffs have not been as kind to the three-time 30-goal scorer. Through ten playoff games, he only has a goal and two assists.
As many have noted (including Tony Abbott at Hockey Wilderness) the advanced stats seem to indicate that Moulson hasn't been as bad as the stat sheet might indicate. His 21 shots in the playoffs have included some good scoring opportunities and his possession numbers are solid. In fact, he didn't have a game with a negative plus/minus at all in the seven-game series against Colorado. It's not as bleak as it looks.
An article by Ger Devine highlights how Moulson has been doing what he needs to do to score goals and help the Wild create offensive pressure. His possession numbers and Corsi for are among the team's best.
On the other hand, he's not scoring and that's what the Wild need desperately with Chicago doing a good job of shutting down the Wild's top performers. Moulson was brought to Minnesota to put points on the board. If he performs like he's capable of, the Wild have a formidable top six that Zach Parise, Mikko Koivu, Charlie Coyle, Mikael Granlund, Jason Pominville, and Moulson. That leaves the bottom six with some threats as well, including the explosive Erik Haula and once-frightening Dany Heatley.
That's all well and good, but the Wild need goals and they need them now.
What to Do About Moulson?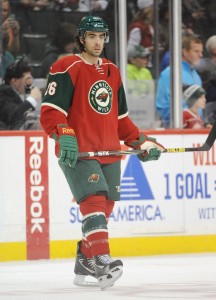 This question has been floated repeatedly throughout the playoffs. What do you do with a star forward who isn't performing when it matters most? Coach Mike Yeo hasn't been afraid of benching players late in the season and in the playoffs. He gave both Dany Heatley and Kyle Brodziak the first healthy scratches of their careers this year and both responded well to the wake-up call.
Maybe a healthy scratch is the answer for Moulson. Maybe it's the wake-up call he needs before returning to the lineup as an effective player. Or maybe he just needs to be scratched and the team needs to move on. It's hard to say with any certainty how a player will react to being benched, but with the Game 4 return of Matt Cooke — he's been serving a seven-game suspension for kneeing Colorado's Tyson Barrie — it seems that the Moulson scratch is imminent.
Here are the lines during Thursday's practice according to the Pioneer Press' Chad Graff:
New #mnwild lines with Cooke Niederreiter-Koivu-Coyle Parise-Granlund-Pominville Cooke-Haula-Fontaine Heatley-Brodziak-McCormick

— Chad Graff (@ChadGraff) May 8, 2014
The notable omission? Moulson. Practice doesn't necessarily indicate anything for a game, especially when the game is still a day away, but it does give a pretty good indication of what Yeo is thinking about. This has been speculated about all over. Cooke re-entering the lineup could spell a bench spot for Moulson if he didn't step up. However, Star Tribune beat writer Michael Russo has thrown another wrinkle into the equation.
I actually don't see Moulson on the ice for #mnwild, so maybe he's been playing hurt for #mnwild

— Michael Russo (@Russostrib) May 8, 2014
Not only is Moulson not on a line in Thursday's practice, he's not on the ice at all. An injury is speculation at this point and what matters to the team now is that he isn't in the lineup.
But it's not insignificant that Moulson is missing.
Moulson's future
What a potential injury may have the biggest impact on is the perception of his playoff performance and thus his future with the Wild. With Dany Heatley's oversized contract expiring at the end of this season and a rising salary cap, the Wild are poised to make a big move, or at least attempt a big move, in the offseason.
Of course, the speculation that started last summer is that Minnesota would be a good home for Thomas Vanek. He's close with Pominville, he played college hockey with the University of Minnesota Gophers and lives in Minnesota in the offseason. There are a number of factors involved in determining the plausibility of Vanek signing in Minnesota and that's another article entirely, but the Vanek speculation does impact Moulson's future with Minnesota.
If the Wild cannot land Vanek, they'd likely be happy to re-sign Moulson, but it's unlikely that they would have the salary cap or the stomach for signing both of them, especially with so many young players on the team who will be due a salary increase in coming seasons.
Back to the point: If Moulson's (relatively) poor performance is due to injury, it casts his poor playoff performance in a different light. He may seem more attractive to Wild management since they can sign him before free agency begins in July. If they could work out that deal, then they've improved the team in the offseason and don't risk holding out for Vanek only to have him sign somewhere else.
If Moulson's poor performance in the playoffs is due to, well, performing poorly, he looks a little less attractive as a permanent fixture in Minnesota. There's always been the speculation that Moulson wouldn't have the career numbers he has if he hadn't spent so much time on a line with an elite talent like Tavares. (Anyone playing on a line with Tavares will have improved numbers, but that doesn't automatically mean you're going to score 30 goals.) But if it looks like he isn't built for the playoffs — he does have some speed issues, despite being a dynamic scorer — that may make him less appealing to Wild management.
But those decisions are, Minnesota hopes, a long way down the road. For now, it appears that Cooke is in and Moulson is out.
UPDATE:
Moulson is dealing with a lower-body injury, according to Chad Graff.
Yeo said Matt Moulson has a lower body injury and isn't expected to play in Game 4.

— Chad Graff (@ChadGraff) May 8, 2014