Minnesota Wild player Matt Cooke faces a suspension of six games or more by the NHL for a knee on knee hit on Colorado Avalanche player Tyson Barrie in game three Monday night. Barrie was injured on the play and will be out six to eight weeks, ending his playoff season. The NHL has not set a time or date for the hearing.
When Matt Cooke was signed by the Minnesota Wild I was very upset. I never liked the goon and I didn't want him on my team. He's a dirty player who disregards the safety of his fellow players. I believe he goes out of his way to injure his opponents.
Matt Cooke has stated that he's worked hard to change the way he plays and his image. For the entire regular 2013/14 NHL season he seemed to do that but this hockey fan knew it was matter of time that the real Matt Cook would rear his ugly head. I had a feeling the real Matt Cooke would show up in the payoffs where every game and every series is intense and physical.
Was Knee on Knee Hit Intentional?
I will let you be the judge. You can watch the video below.
I think that the video is very clear. Cooke tried to bake Barrie. It looked intentional to me. Why should I give this guy the benefit of the doubt? Has he earned my sympathy or trust? No he hasn't. He hasn't come close to that and to be honest it is nearly impossible for him to do so.
I wish the Wild hadn't signed him to a three year contract. Unless they trade him or there is a clause in his contract that gives the Wild a way out of his contract, Wild fans are stuck with this guy. I don't think I can stomach seeing him suit up for Minnesota for another two seasons.
It doesn't matter if this particular incident was an accident and/or unintentional. Matt Cook has played dirty for most of his career. He took a couple of seasons off being dirty. Most of us knew that part of his game would resurface. That's who Matt is. He's one of the dirtiest players in the game.  The NHL will look back at his past and his numerous infractions and will deliver a penalty that is appropriate.
If you have any doubts if Matt can be rehabilitated, we can take a walk down memory lane.
Matt Cook Has a Checkered Past (Career)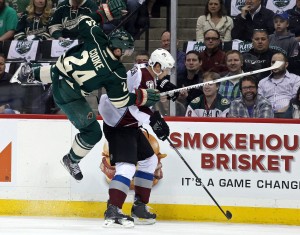 Matt Cooke is known for his dirty playing. It's unfortunate because he's a talented player and if he stuck to hockey and not mixed martial arts he could become a star player. This series has proven that Cooke was a good contributor for the Wild and his absence will leave a void for a team that needs every good player in their lineup.
Matt Cooke has been suspended six times. Six times you say? That's horrible and he's still allowed to allowed to play in the NHL?
Let's look at some of Matt Cooke's past on ice dirty play that has led to suspensions to get an idea of the real Matt Cooke.
Matt Cooke has elbowed a player in the head multiple times, has boarded (boarding) a player multiple times, has made multiple deliberate knee on knee hits, has taken cheap shots to an opponent by sucker punching them, has cross checked a player from behind, has checked a player from behind and even tried to decapitate Chris Osgood with his skate.
I didn't want detail each and every incident. That would take another article. Cooke's on ice behavior speaks volumes for the type of player that he is. I don't believe this guy will ever clean up his act.
Wild Got What They Deserved for Signing Cooke
When you play with the fire you get burned. Matt Cooke might be a good guy off the ice but he's a disgusting thug on it. It would be one thing if he was extremely physical in a positive way but he is dirty and a cheap shot artist. I don't believe that he deserves to play in the NHL.
The Minnesota Wild knew who they were getting when they signed him to a three year deal. They took a big gamble on this guy, hoping that he had truly changed his dirty playing. The gamble that the Wild took wasn't any different than me going to the slots and praying that my luck would change. Common sense dictates that I use my brain and that I expect to get burned by those ruthless slot machines.
There will be Wild fans who think Matt's latest incident wasn't so bad or that Tyson Barrie contributed to his injury. I don't agree with that line of thinking. Based on Cooke's past thuggery it's easy for me to say that Matt Cook's knee on knee hit was dirty. Was it intentional? There's no way of knowing that but that's the style Cooke plays and it needs to be eradicated from the NHL.
I guess there is one silver lining with this incident. I won't have to see Matt Cooke's mug for the remainder of this series.