Anaheim missed a chance to take a stranglehold on their Western Conference quarterfinals matchup, dropping to Dallas last night. Anaheim still has a 2-1 lead in the best-of-seven.
Some thoughts from last night's game: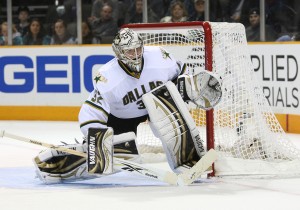 Goaltender Kari Lehtonen snagged his first career playoff win at age 30 with a 3-0 shutout, avoiding a 3-0 series deficit.
Lehtonen has been a warrior all season long, playing more games than any goalie and facing the second most shots despite a couple of injuries. This is the workhorse netminder the old Atlanta Thrashers envisioned when they drafted the big Finn second overall in '02.
How much could Winnipeg use a Lehtonen right now?
The Stars looked a lot more comfortable on home ice, taking the game to the Ducks early. They set the tone with their impressive team speed.
Having said that, the forecheck was mediocre, but at least they were gaining the line and maintaining some offensive zone time.
Looked like Ryan Getzlaf was thrown off his game early from a few altercations with uber-pest Ryan Garbutt. When Getzlaf is off his game, Garbutt is having a strong one.
Devante-Smith Pelly was throwing his weight around in the first period with reckless abandon, finishing the game with a whopping 10 hits. The 2010 second rounder has some untapped offence to his game; for now, he plays an energy role for Anaheim.
Tyler Seguin finished sixth amongst Stars forwards in ice time, behind role players like Vernon Fiddler and Cody Eakin.
Like I mentioned after game one, the Stars would need to improve their puck movement if they wanted any success against the powerhouse Ducks. They gave the Anaheim forecheck nothing to work with. Only one shift in the first comes to mind, with great work by Nick Bonino and Patrick Maroon down low drawing a Jamie Benn penalty.
That penalty is the one that let Benn slip in undetected for the night's first goal, and eventual game winner:
Too bad Ray Whitney isn't the Wizard of old; his savvy presence, particularly with the man-advantage, could have given the Ducks fits. The same could be said about Teemu Selanne I suppose.
Tough to see a soldier like Stephane Robidas go down like that, which wound up being another broken leg. Nice ovation from the Dallas fans as he was helped off the ice. They haven't forgotten everything he's done for them in his 11-season tenure.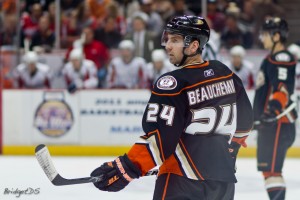 Three games into the series, and the Ducks still don't have an answer for Benn or Tyler Seguin. They're too dynamic and intelligent to be shut down for extended stretches. Besides Beachuemin, there isn't a defender on the Ducks that can adequately keep up with the Stars'…stars.
The enviable depth of the Ducks still hasn't taken over. Their top-nine of – excluding the dynamic duo – Saku Koivu, Mathieu Perreault, Kyle Palmieri, Teemu Selanne, Patrick Maroon, Nick Bonino, and Jakob Silfverberg have combined for a paltry three goals in three games. The Stars can go toe-to-toe with their heavy artillery at the top end, so these guys need to get going.