When explaining Tyson Barrie's game to people that do not see him on a regular basis, I find myself calling him "a poor man's Erik Karlsson". Many new viewers got a chance to watch the break-out defenseman put on a show in his first career playoff game, but to Avalanche followers this was nothing new. When the Avs need a goal, Tyson Barrie is on the ice. Seeing as how the Avalanche were trailing for most of the game, it's no surprise Barrie was given a season high 26:43 of ice time. And like he has all season, the 22 year old delivered.
But this is not about how Barrie has been Mr. Clutch for Colorado this season (you can find that information here). The more I watch him play, the more I think to myself, "is he really that far off from Erik Karlsson?" It seems the gap is closing – and rapidly.
Career to Date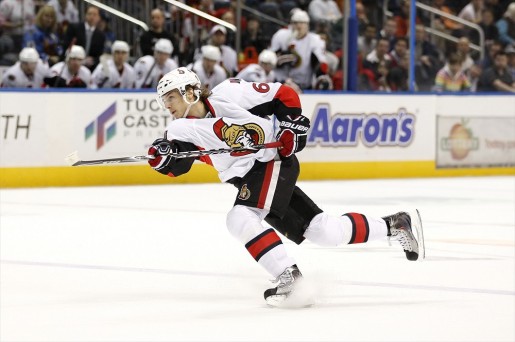 Let's first consider each player's careers to this point. Erik Karlsson was selected 15th overall in 2008, while Tyson Barrie was a 3rd round selection in 2009. While Karlsson played junior in Sweden, Barrie suited up for the Kelowna Rockets of the WHL; so their developments have taken very different routes. One year of development is enormous for a young player as seen by Karlsson's 315 NHL games to Barrie's 106. Karlsson also has a Norris Trophy and has led defensemen in points for two of the past three seasons.
Meanwhile, Barrie earned WHL defenseman of the league in junior, but has only just been able to solidify himself on the Avalanche roster this season. Barrie is showing why the Avalanche deemed Kevin Shattenkirk expendable. In 64 games this season, he put up 37 points and was 3rd on the team (highest among defensemen) with a +17. While these numbers are impressive, they do not tell the whole story.
In his first 25 games Barrie had trouble finding his game and in turn earning the trust of the coaching staff, scoring only 7 points. Once the new year hit, he put up 30 points in his final 39 games – the difference in scoring at a 22 point pace versus a 63 point season over an 82 game season. While a 63 point season would be extremely impressive for a defenseman, it still does not touch Karlsson's highest offensive totals – but let's dig a little deeper.
Deployment
Erik Karlsson was second only to Ryan Suter in TOI/game with 27:04. This should come as no surprise – Karlsson is Ottawa's #1 defenseman, a former Norris winner and used in all situations.. right? Actually, Karlsson ranks last amongst defensemen on his team in short-handed ice time per game. Even rookie Cody Ceci plays more short handed. This means that Karlsson spends most of his minutes on the powerplay or at even strength, much like Barrie. The main difference is that Barrie averaged almost a full 10 minutes less of ice time per game than Karlsson.
One could argue that given more ice time, Barrie would produce more and hover around Karlsson's point totals; as evidenced by his performance in game one. In fact, Barrie ranks only second to Karlsson among defensemen in time on ice per point.
Despite his great game one performance, Barrie played 6 minutes less in game two because the Avalanche were playing with the lead for most of the tilt.
Contract and Team Philosophy
I am not arguing that Tyson Barrie is "better" than Erik Karlsson. Karlsson is one of the best in the game at generating offense from the blue line. In a vacuum, Erik Karlsson is the more skilled of the two. However, I am calling a spade a spade. Both are tremendous offensive talents from the back end that are, in essence, a fourth forward on the ice. Neither will ever be known for their stalwart defensive play, but instead what they can bring offensively.
What I am saying is that Tyson Barrie is a better option for a team. Barrie is Colorado's #3 defenseman and does not have to worry about facing the opposition's best opponents every night. He knows his role, and does it extremely well. I have no doubt that Karlsson would thrive in Barrie's position, but Ottawa has mishandled him. They gave an equal opportunity defenseman the most ice time on the team from a young age once they saw  he could score; and so far he has been a -26 for his career. After he lead the league in points for defenseman and won a Norris trophy, they were forced to pay him 6.5M following his entry level deal.
Meanwhile, Barrie is coming out of his entry level deal this summer. It will be interesting to see what kind of contract he gets, but at most it will be less than half of Karlsson's. So, while producing points at a similar clip and being a +17 on the season, Barrie will come at a fraction of the price. It would benefit the Ottawa Senators to limit Karlsson's ice time and make him more of a specialty player, even though it will take a hit to his point totals. The question is, who would you prefer?