At this point, it's getting a little silly. Last night in Vancouver, Tyson Barrie did it again, scoring a hugely important goal, late in the game, which would eventually become the game-winner for the upstart Colorado Avalanche.
Barrie, a 3rd round pick in 2009, continues to impress in what can only be described as a breakout season of epic proportions. He now has 13 goals, 25 assists, and is a plus-18 on the season – remarkable, considering this is Barrie's first full season in the NHL. Although he was a part of the same draft class that brought Matt Duchene and Ryan O'Reilly to Colorado, Barrie took longer to develop (as defensemen often do), competing in only 42 NHL games since 2011, registering 2 goals, 11 assists.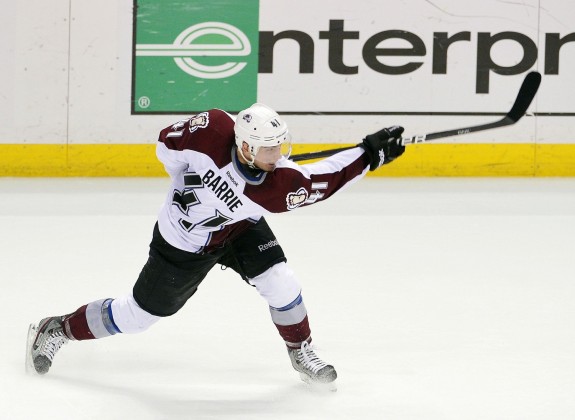 Prior to this season, Barrie had spent the majority of his professional career with Lake Erie (Colorado's AHL affiliate). While a steady offensive contributor with the Monsters, it would've been hard for most to envision his offensive production transferring so seamlessly to the NHL – at least not yet.
Fortunately for Barrie, an opportunity presented itself on an Avalanche blueline in desperate need of offensive support. In 48 games last season, Avalanche defensemen contributed just 5 goals. This season, they've scored a whopping 47 goals, led by Barrie (13), Nick Holden (10), Erik Johnson (9), Andre Benoit (7), and Jan Hejda (6).
Most impressively however, has been the timing and importance of Barrie's goals, many of which have been game-winning (GWG) or game-tying (GTG)…
4/10/14 vs VAN – GWG (12:30 in 3rd)

Barrie, who is suited well for 4-on-4, puts the Avs ahead 3-2 on this gorgeous 2-on-1 rush, out-waiting a sprawled Alex Edler before beating Jacob Markstrom with a great wristshot. Colorado ended up beating Vancouver 4-2, leapfrogging St. Louis for tops in the Central Division, with 3 games remaining.
4/3/14 vs NYR – GWG (Shootout)

Barrie admitted after the game that he had received a tip from head coach, Patrick Roy, telling him to go backhand, top shelf on Lundquist. When asked if this was true, Roy responded, "Yeah…But he made the play".
4/3/14 vs NYR – GTG (19:08 in 3rd)

With Varlamov on the bench for an extra attacker, Barrie found a loose puck in the high slot and put it past a stunned Lundquist.
"I kind of whiffed on the first shot, but it just kept rolling with me and I got a second shot at it. Just fortunate it got by him," said Barrie, who moments earlier referred to himself as "Mr. Lucky".
A very pleased Coach Roy, added, "What has made the difference with Barrie? He went to the minors and worked on his game and he plays north hockey. We did not want him to play east-west anymore. He has our full confidence."
3/27/14 vs VAN – GWG (00:55 in OT)
"I saw [Duchene] there and [Ryan O'Reilly] there and I kind of got broken up," said Barrie. "I saw two guys went to Dutchy so I thought I might as well stay in front of the net. Dutchy made a great pass to me and I was fortunate enough to get a tip up over him."
Patrick Roy heaped praise on his young defensman, saying of Barrie, "He reminds me of Ozolinsh in his prime. He was jumping in the rush, he was gambling a few times, but we have a team that allows our 'D' to gamble and Tyson took advantage."
3/4/14 vs CHI – GWG (12:50 in 3rd)

In a game of significant importance for both teams, Barrie put the Avs up 3-2 with this power play howitzer on a great feed from Erik Johnson.
"He put it right in my wheelhouse and I was able to get everything on it," Barrie said. "You always want to put it upstairs. I was lucky to beat Crawford there."
 1/14/14 vs CHI – GWG (4:09 in OT)

Despite getting outshot 48-26, the Avs would steal one from the Hawks on Barrie's second of the night. After losing their previous meeting against Chicago, 7-2, Barrie commented, "We wanted to have a good bounce-back game after that. If you can beat the champs, it's always nice."
1/8/14 vs OTT – GWG (00:33 in OT)

After scoring his first OT goal of the year and second of his career, Barrie explained, "It was just a matter of trying to beat the goalie. I thought I saw some room on the right side and tried to put it there and fortunately it went in. That's a huge two points for us."
With Barrie, the Avalanche may have finally found the offensive defenseman they've been missing.
Chris Kawano can be reached via Twitter: @ChrisKawano or via email: c.kawano@me.com