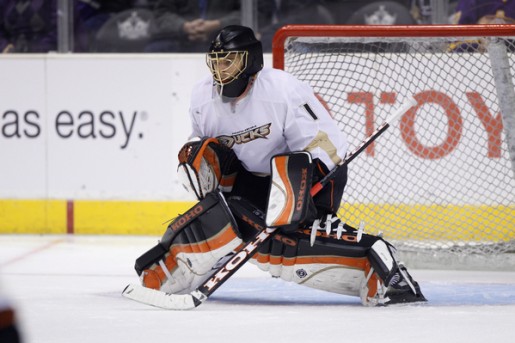 The Ducks enter game three of their series with the suddenly hot Los Angeles Kings down two games. After losing the first three games in their first round matchup against the Sharks, the Kings have reeled off six victories in a row and look even more complete than when they won the cup as the 8th seed two years ago. Anze Kopitar, who finished 17th in regular season scoring with 70 points in 82 games, leads the way in the playoffs with 14 points through nine games. Kopitar looks lethal on the ice, sporting an almost Gretzky-like awareness in terms of knowing where his teammates are, and sending them perfect feeds. Anaheim finds themselves in quite the bind after losing the first two at home, as they face the defensive stalwarts in their own castle for games three and four. So what do the Ducks have to do differently to win? Well, to be honest, nothing really.
Staying the Course
Why nothing you ask? If you watch the recaps of games one and two, the Ducks aren't really doing much wrong. Especially when you take a closer look at game two, you can plainly see the Kings walked away with that victory thanks to a couple lucky bounces and a smoldering Jonathan Quick. Anaheim outshot LA 37-17, scored the only powerplay goal, had 11 more hits, 5 more faceoff wins, and an equal amount of giveaways, takeaways and blocked shots. In game one, the Kings led in a couple more stats, but not by much at all. The Kings became the fourth team in NHL history to come back from a 3-0 deficit in the playoffs, and that can go a long way toward boosting the confidence of an entire team. For the Kings, just about everything is clicking right now. And when you're good, you're also lucky (which gets you goals like the game winner in game two).
Neutralizing Threats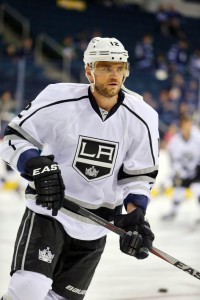 Since coming over to the Kings, Marian Gaborik tallied 16 points in 19 games during the regular season. After being riddled with injuries the last few seasons, pundits were unsure whether Gaborik could return to his former goal-scoring prowess, but he's done just that in the post season. In two games against the Ducks, Gaborik has notched three goals, including a game winner in overtime, bringing his total to six through nine games. That puts him in a tie for first with Pittsburgh's Jussi Jokinen. Bruce Boudreau and the boys know that game three is do or die, and before they figure out how to best Quick, they also have to ensure Kopitar and Gaborik stay off the scoresheet. Anaheim has trouble fighting star power, as showcased in their first series against the Stars, but the defence needs to step it up and take charge. At any moment, Anaheim is capable of ripping four or five goals home and surprising their opponent, especially if Corey Perry begins to heat up.
Who's In Net?
Hiller has allowed five goals in the three games he's played this playoffs. Three of them have come off the stick of Gaborik. Check out this play here:
Just watching Gaborik, you can tell he has all the confidence in the world right now, and is not afraid to walk in and snipe a top corner. He accepted the pass in the slot and immediately released it, but Hiller was able to fight the screen and raise his shoulder just in time. Aside from the opening goal which came 34 seconds into the game, the only thing that got past Hiller was a deflected puck off his own defender. Right now Hiller looks to be zoned in. he may not be on fire quite yet, but given time Hiller is quite capable of shutting out a team like the Kings (who finished 26th in regular season scoring). Since relieving Frederik Andersen, Hiller has gone 1-2, but has played quite well. He currently sports a 1.75 GAA and a 923 SV%, which will be more than enough when Perry and Bonino start connecting more frequently. The Ducks may be down two games, but they are far from out of this series. It doesn't take a genius to foresee a tied series heading back to Anaheim for game five. No team has come back after being down more than the Anaheim Ducks have this season, so don't think Ryan Getzlaf and co. are going to give up now.
Check out game three tonight starting at 10:00 p.m. and watch what is surely going to be a sizzling game.