Although the Blues have been working on a formula that equates to playoff victories, they seem to have the regular season figured out. A tenacious forecheck, never-say-die attitude and exasperating team play have resulted in 130 wins in 212 games, spanning over three seasons.
The attitude in the locker room remains the same; sticking to the Blues' game plan and not getting drawn into another team's style will be the key to success. St. Louis' roster is made up of players that fit this mold as there is not one player that jumps off the page as an elite scorer. All of them have the potential to be the gamebreaker.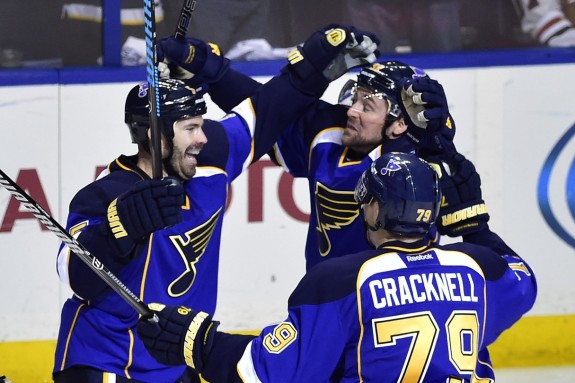 Although management may shift to a different idea in the future, it's not crazy to believe that director of amateur scouting Bill Armstrong is searching through the slew of draftable players for that one guy that could easily fit this team's mold… even if it's years in the future.
The Blues have been building in this direction for quite some time, with recent draft picks Jaden Schwartz (14th overall, 2010), Vladimir Tarasenko (16th overall, 2010) and, to a certain extent, Dmitrij Jaskin (41st overall, 2011) already understanding this concept. The Blues are hoping for at least one more in 2014.
With the 21st pick in the 2014 NHL Entry Draft, the St. Louis Blues are proud to select…
From Modo Hockey Ornskoldsvik of the SHL, Adrian Kempe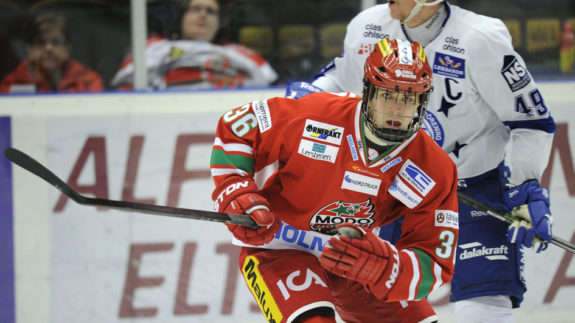 Where he's at
The Kramfors, Sweden native toiled in the U18 leagues until making the Modo squad last season. The 6-foot-2, 187-pound forward posted just five goals and six assists in 45 games, although he was used sparingly with other scoring-type forwards. Don't let the low numbers fool you; this kid was playing against fully grown men and used his big frame to create multiple scoring chances for his Swedish teammates.
A winger named Tarasenko put up just seven goals and three assists in 38 games during his rookie year in the KHL. He's turned out to be a solid draft choice for the Blues.
THW draft expert Shawn Reznik feels that Kempe offers a load of talent to the team that drafts him, although he could use some conditioning in some aspects of his game:
Kempe's game benefits by playing with goal scorers. A noted passer, Kempe finds passing lanes even through the tightest of spaces.

His hard work and tenacity are also an advantage, especially when he will have to transfer to North American ice. Being on bigger ice slows the pace of the game down, which has aided in Kempe's defensive development. He's a strong checker and battles along the boards well. With his size (that he hasn't quite filled out), Kempe always goes to the net to screen goalies and pick up dirty rebounds.
[See related: Adrian Kempe – The Next Ones: NHL 2014 Draft Prospect Profile]
Where he will be
If you're expecting a David Perron-type pick — someone who is drafted in the latter stages of the first round and jumps straight into the NHL the very next season — chances are that Kempe is not on your radar. Kempe needs to build that big frame into more solid muscle if he plans to outwork the Zdeno Charas and Shea Webers of the league.

Kempe will also expect to find an extra gear or two in terms of footspeed before becoming a top-six forward on an NHL roster. Playing against Sweden's deadliest skaters in his native land should push his strides to be quicker.
Luckily, the Blues are a team that is built to win now and into the future with their three top prospects expected to receive NHL playing time this coming year (Jake Allen, Dmitrij Jaskin, Ty Rattie). The crop is thin from there, which would allow the Blues to focus on the development of Kempe. He would likely stay in Sweden, but there is another option if both sides agree to pursue it.
The complex AHL age and eligibility rules state that if a player is drafted into the CHL (Canadian Hockey League) before he is drafted by an NHL club, the player must abide by the rule that states a player cannot play in the AHL until he is 20 years of age. This stipulation is in place to help protect the star players of the CHL from being buried in the AHL by its parent-NHL club.
Kempe was drafted in the 2013 CHL Import Draft, thus meaning that if he wants to come to the NHL in the next two years, he will only be able to play with his NHL club or the Barrie Colts, the CHL club that drafted him.
With all of that confusion out of the way, Kempe could potentially be a CHL prospect next season, which could help him understand the North American game a little better. This would also allow Blues management to keep a closer eye on their prospect. If he opts to stay in Sweden (which is more likely), he will be playing against the best that Sweden has to offer. Either way, it's a win-win in terms of development.
Stay tuned to TheHockeyWriters.com for draft coverage leading up to the weekend of June 27-28.
Check out the other parts of this series to prepare yourself for the 2014 NHL Entry Draft!
Part I: Josh Ho-Sang
Part II: Ivan Barbashev
Part III: Adrian Kempe
Part IV: Travis Sanheim
Part V: Nick Schmaltz
Part VI: Ryan MacInnis
I am a former NHL media member and reporter for the St. Louis Blues, working for various media outlets. Currently, I am an NHL News Writer and Editor for The Hockey Writers. I live in St. Louis and work as a freelance copywriter in numerous industries.