Is there a more exciting time for an NHL franchise than the days leading up to the NHL Entry Draft?
Think about it: not only are all 30 teams negotiating some minor deals here and there (or in some cases, monster trades), but it is the only time that the team can honestly say there is nothing on their minds other than the future. There is no present; all that comes after this is the long and grueling summer months that are spent preparing for one season. The draft encompasses all seasons in the foreseeable future.
For some teams, its exciting yet extremely nerve-racking. For some teams, this could be the only shot to find that gem prospect in the first round for some time.
Meet the St. Louis Blues.
The Blues forfeited their 22nd overall pick in 2013, after moving it to the Calgary Flames in the Jay Bouwmeester trade. This past season, the team moved its 2015 first-round selection to the Buffalo Sabres in the Ryan Miller and Steve Ott trade. In fact, pending future trades, the Blues will only draft in the first round twice from 2011-2015.
Blues general manager Doug Armstrong and director of amateur scouting Bill Armstrong hope that 2014 will prove to be a success for the franchise in the long run. Owning the 21st overall pick, the Blues possess nine total picks in the draft, including two in the second round.
Historically, the 21st pick has produced some NHL talent, as well as some high-end AHL property. You can see that the talent range can vary from year to year.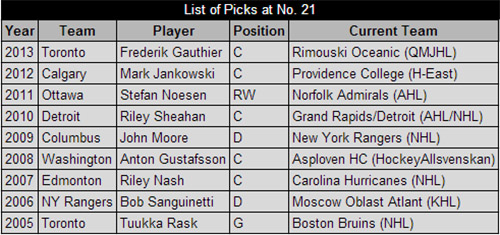 This series will provide you with a glimpse into who could be taken with that first pick for the St. Louis team. We start with a young man from Thornhill, Ontario.
With the 21st pick in the 2014 NHL Entry Draft, the St. Louis Blues are proud to select…
From the Windsor Spitfires of the OHL, Josh Ho-Sang.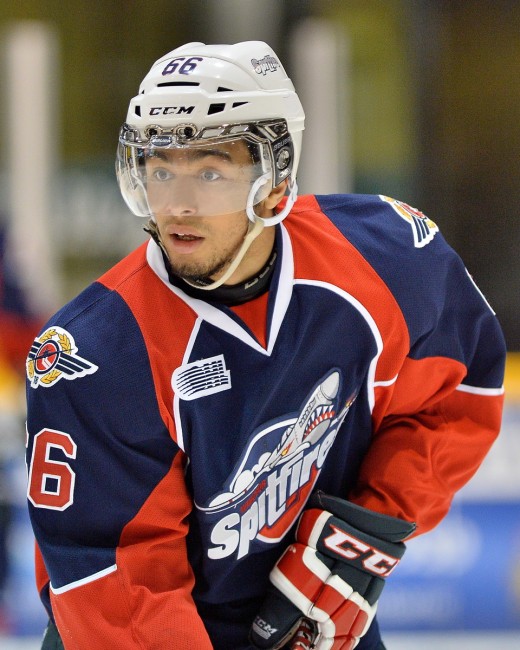 Where he's at
The most interesting aspect of this center/right wing's game (other than he is of Jamaican-Canadian descent), is that he possesses top-end speed and highlight-reel skill that goes unmatched among his Spitfire teammates.
The 5-foot-11, 165-pound forward has the following projections, carefully laid out by Shawn Reznik and Chris Ralph of TheHockeyWriters.com:

[See related: Josh Ho-Sang – The Next Ones: NHL 2014 Draft Prospect Profile]
An average-sized guy projected to go in the mid-to-late-first round with admirable puck-handling skill… sound familiar?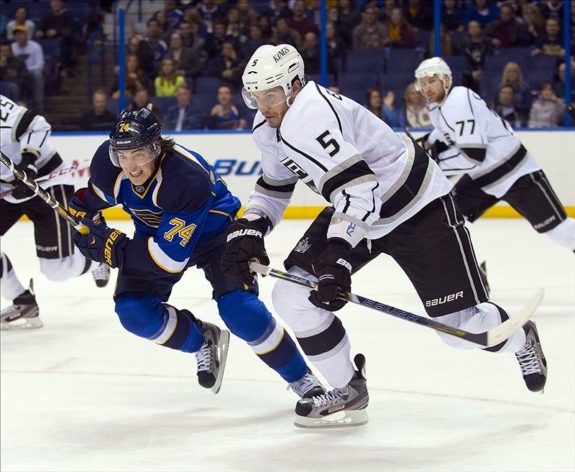 Ho-Sang led his team with 53 assists and 85 points in 2013-14, which was just his second year in the OHL. Although he spent some time on the wing, he quickly became an important centerman for the Spitfires.
Speed, puck control and an unbelievable set of hands: that's all an offensive force needs, right? Not if you plan to be a staple in the Blues' current system.
Ho-Sang's biggest knock comes from his ineffective back-checking abilities and inability to position properly in the defensive zone. The Blues are a defense-first team; this is an area of the game that will strongly be monitored if the Blues scouting department decides to take a chance on the 18-year old (and if he is still available at No. 21).
Where he will be
Ho-Sang has plenty of top-end abilities that would make him a solid choice for any team to draft him. As already stated, though, he will need to work to become a more complete player that thrives in the NHL. Says THW Blues writer Mike Poepping:
Ho-Sang needs a few years to develop in the minors before truly making an impact because he plays such a quick game that he could get critically injured if he's brought up too early and not allowed time to fully develop physically. He should be a great second-line star within the first three years of becoming a regular NHL player though, and would work very nicely alongside Ty Rattie or Dmitrij Jaskin once they mature.
Ho-Sang is expected to continue his development at the center position, meaning the Blues could have a solid top-six-worthy middle man to take important draws and explode up the ice. If the team's recent bottom-six signing of Joakim Lindstrom and the expected scenario of locking up Jaden Schwartz are any indications, the Blues are considering making speed a priority in the not-too-distant future.
[See related: Blues Display New Philosophy with Joakim Lindstrom Signing]
Stay tuned to TheHockeyWriters.com for draft coverage leading up to the weekend of June 27-28.
Follow Jeff on Twitter for all St. Louis Blues draft coverage: @jponder94
Check out the other parts of this series to prepare yourself for the 2014 NHL Entry Draft!
Part I: Josh Ho-Sang
Part II: Ivan Barbashev
Part III: Adrian Kempe
Part IV: Travis Sanheim
Part V: Nick Schmaltz
Part VI: Ryan MacInnis
I am a former NHL media member and reporter for the St. Louis Blues, working for various media outlets. Currently, I am an NHL News Writer and Editor for The Hockey Writers. I live in St. Louis and work as a freelance copywriter in numerous industries.