The Canucks are in full swing as they pursue a Head Coach for the upcoming season. Many feel the best option was Barry Trotz, who accepted the Washington offer and went back to the team that gave him his first pro job. And although the Canucks have had a short list for a while now in John Stevens and Willie Desjardins, when Dan Bylsma was fired in Pittsburgh, he may have vaulted to the front of the pack.
It is likely Vancouver would have had him in their sights all along, but when the Penguins fired their GM Ray Shero a couple weeks ago, they didn't do what many expected and release Bylsma as well. It was a surprise to many, and the thinking became that Pittsburgh would hold on to him. Now it would appear that they held on to him to keep him from signing with Washington, a division rival, and waited for them to fill the position with Trotz.
Regardless of the circumstances of Bylsma becoming available, the Canucks should be giving him a lot of attention.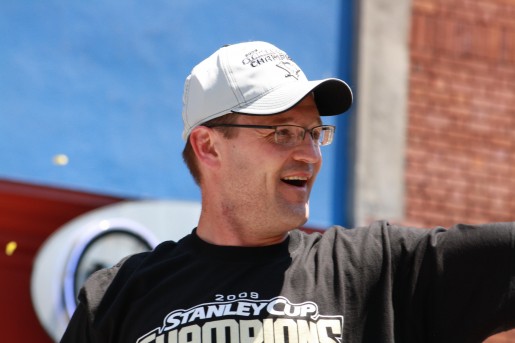 Bylsma has had the characteristics that make him attractive as a coach for a very long time now.
He has always had drive and courage, once breaking his collar bone as a youngster and trying to hide his injury because he didn't want to get himself and his brothers in trouble.
He was also a multi-sport athlete in high school, an All-State catcher in Baseball and a State Champion golfer before going on to Bowling Green University and focusing on Hockey, where he studied accounting and polished his penalty killing abilities until they glowed in the dark. Short on offensive blessings, he realized quickly that specialized skills were going to be his ticket to having a career.
Bylsma should have quit many times over, but it is not in his nature to give up easily. He was drafted by the Winnipeg Jets and although he never got to play a game with them, he never waivered from his belief that he would make the big league.
Then the Los Angeles Kings signed him in 1994. Now that he had a team really showing interest in him, he attacked the opportunity with his usual zeal to try to obtain a steady NHL job. It was a struggle, and he leaned heavily on that work ethic he developed as a kid. There were always bigger and faster players, and he was getting by mainly on his hard work and penalty killing abilities.
He started in the ECHL with the Greensboro Monarchs, and while short on natural offensive prowess, it became clear he would go the extra mile to win a game, if the extra mile involved blocking a shot with your face, for example. He still has 2 plates and 6 screws in there for his efforts.
Many broken bones and injuries later, the intensely goal-oriented Bylsma accomplished the task of making the NHL and played his first 4 NHL games for the Kings in 95-96. From there he played regularly for 2 seasons, and then spent a few years up and down from the minors to the big team.
Staying in pro hockey was a constant battle, a daily dose of taking punishment mentally and physically. As much as this type of life will make you tough, there are events that take place in life that transcend sports, or any job for that matter. And although he was used to absorbing pain and dealing with adversity, nothing could have prepared him for a day in January 1998 when his wife called him and informed him of the stillborn birth of his daughter.
To continue at this point re-defined perseverance. It would have been impossible for most to go on and certainly no one would have thought less of him if he packed it in. But Bylsma and his family have an inner strength that is beyond admirable, and he pressed forward under difficult circumstances, as he always had.
Perhaps this was the point in his career he started to develop his leadership abilities, because when Anaheim signed him in 2000, he was given an alternate captaincy as the Ducks built their franchise.

He spent the next couple years between Anaheim and the farm team in Cincinnati, and retired in 2004.
Coaching Career
It didn't take long for Bylsma to start his coaching career, beginning almost immediately with Anaheim's farm team in Cincinnati in the 04-05 season. It was an ideal opportunity, as he was familiar with the organization from playing with them while he was trying to maintain a spot on the Duck's roster.
It may not look like a glamorous job, but Bylsma was definitely fast tracking to the NHL. A coaching spot in the AHL is a direct line to the NHL, and it spoke a lot about Bylsma's character that Anaheim would assign him this position fresh off a playing career, without the traditional background of coaching in Junior A or the CHL, or even in Europe.
After a stint in the NHL as assistant coach with the New York Islanders in 05-06, he headed to the Wilkes-Barre Scranton Penguins for 2 years as an Assistant. This was largely due to wanting to work with then-coach Todd Richards and an opportunity to be in the farm system of an elite organization.

It proved to be a very shrewd move, and a couple years later he's the head coach to start the 08-09 season. 5 years after retiring as a player, Bylsma was now a head coach at the highest level of hockey next to the NHL.
And then in Feb '09 he caught his biggest break of his career so far. Pittsburgh was out of a playoff spot and Michel Therrien was fired, leading Ray Shero to hire Bylsma as the interim coach for the remainder of the year.
"I worked for this day. I planned for this day. I prepared," Bylsma said. "I was expecting this day to come at some point in my life. I know I'm going to be better five years from now. I expect that from myself. I expect myself to be better a month from now."

Read more: http://www.post-gazette.com/sports/penguins/2009/04/14/NHL-Playoffs-Bylsma-s-success-reads-like-fish-story/stories/200904140159#ixzz34VYN9RD2
He responded to his promotion by going 18-3-4 in the remainder of the regular season and recorded 25 points. As a result, he lead the Penguins into the playoffs where they capped it all off by winning the Stanley Cup.
Pros and Cons
Critics point to a lack of success in the playoffs after winning the Cup, a second round loss followed by a couple first round exits.
While that is true, in 2013 he went to the 3rd round with the Penguins, so clearly there was good and bad. Another point worth considering was his goaltending. I like Marc-Andre Fleury, but a couple of those years he was terrible in the playoffs, and whether or not he might be replaced in goal was a hot topic.
Tomas Vokoun was brought in, and Fleury's play was essentially a punchline throughout the league. That kind of goaltending is tough to blame on a coach, and though it wasn't the only reason for some post season woes, it was one that everyone pointed out at every opportunity.
At the same time, it is felt that he lost the room, and that he wasn't able to motivate the players anymore, which some people feel it is his job to do.
I disagree with that, regardless of who the team is or who the coach is. The players make millions playing the game they love, and have a chance every year to win the Stanley Cup. There is no reason on earth anyone should have to motivate them, much less the team's coach.
The coach's job is to teach and create with the players he has around him, which is the essence of Bylsma's coaching style. He likes the teaching aspect and designing plays, and rarely displays anger during the performance of his duties. And he had success employing his techniques, just not as much as he or the team wanted to attain.
But it should be noted that it was using those techniques that won him the Jack Adams trophy in 2010-2011, on the strength of 49-25-0-8 record and the best record in the East, with both Sidney Crosby and Evgeni Malkin missing half the season and all of the playoffs with injuries.
The Candidate Overall
Essentially he is a coach who likes to instruct and inspire, whether that comes from example, or from an identifiable improvement a player can see in his game because of what Bylsma has taught him.
His work ethic is first rate, and was developed pursuing an NHL career while struggling to say in the big league every day, something that most of the players he will coach can identify with.
And the bottom line is, he has a track record of accomplishing goals while overcoming great odds in the process.
No coach is perfect, but some coaches match up better with some teams in the same way players do. Given Bylsma's personality and coaching preferences, he seems to be ideal for the setting in Vancouver. It's not just the team in place now, it's also about the team the Canucks are trying to build in the near future.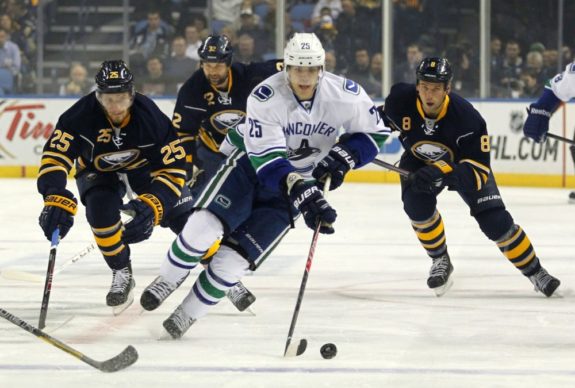 The Canucks will have to hurry, Florida has already interviewed him for their vacancy and it's reported he is one of five being considered there. As much as the organization likes to make well thought out decisions, this is one they should feel comfortable making quickly.