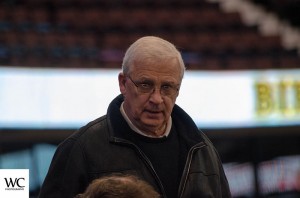 General Manager Bryan Murray is set to lead the Senators into his eighth Draft in Philadelphia at the 2014 NHL Draft. His assistant general managers Pierre Dorion and Randy Lee will be right at his side during this busy time.
The three of them,along with input from the Senators unheralded scouting staff, have a very good record of success in the recent history of the NHL Draft.
After all the hours of scouting prospects the day finally comes that the organization will pick those that they feel have potential to be of value. Unfortunately due to trades the Ottawa Senators currently only have four picks in the 2014 NHL Draft.
Top 10 Prospects
Curtis Lazar, C (Top Six)
Chris Driedger, G (Average Starter)
Cody Ceci, D (Top Four)
Mark Stone, RW (Top Six)
Jean-Gabriel Pageau, C (Top Nine)
Ryan Dzingel, C (Top Nine)
Matt Puempel, L W (Top Nine)
Shane Prince, LW (Top Nine)
Mike Hoffman, LW (Bottom Six)
Mark Borowiecki, D (Third Pairing)
Team Needs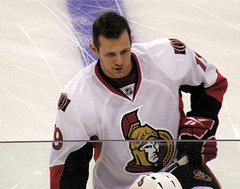 With Jason Spezza waiting to pack his bags to leave the Senators there will be a large hole in their offense. Based on the players currently under contract, and Jason Spezza leaving ,the current top six forward group would be: Bobby Ryan, Kyle Turris, Clarke MacArthur, Erik Condra, Mika Zibanejad and Chris Neil.
While the Senators are obviously in the midst of a rebuilding phase that is not a top six group that can be expected to compete over and 82 game NHL regular season.
The defense is a relative strength with Erik Karlsson, Jared Cowen, Marc Methot, Chris Phillips, Patrick Wiercioch and Cody Ceci rounding out the top six.
Between the pipes Ottawa is comfortable moving into the season with Craig Anderson and Robin Lehner set to back stop them.
The clearest need is skill and depth at the NHL level at the forward position. Prospects like Mike Hoffman, Curtis Lazar and Jean-Gabriel Pageau will have a great deal of offensive responsibility placed on them if no moves are made to improve this forward squad.
Picks
40th Overall – 2nd Round
70th Overall – 3rd Round
100 Overall – 4th Round
190 Overall – 7th Round
Organizational Strengths & Weaknesses
Currently the Ottawa Senators prospect pool is ranked 19th in the NHL by Hockey's Future. In all likelihood Ceci, Borowiecki, Lazar, Stone, Pageau and Hoffman should see some significant time at the NHL level this season.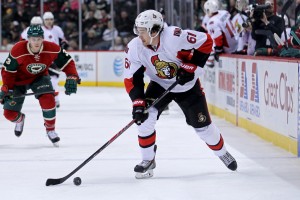 With the graduations of Borowiecki and Ceci this thins out the top end talent of the Senators defensive prospects. A replenishment of this will need to occur moving forward. However on offense Ottawa can still boast a great number of potential second or third line players. Although more high end skill would be a welcome addition for the Senators forward prospect ranks.
Draft Tendencies
Since Bryan Murray's first NHL Draft at the helm of the Ottawa Senators in 2007 he has made 48 selections, with 14 of them seeing action in more than 20 NHL games thus far. If you remove the seven picks from last year's NHL Draft that is a 34% success ratio of having players make it to the NHL level.
Amongst those 48 selections since 2007 Murray has picked nine centers, 15 wingers, 14 defense and four goaltenders. Within those players six centers, two wingers, five defenders and one goalie have played greater than 20 NHL games. By position the success ratio is: centers 67%, wingers 13%, defenders 36% and goalies 25%.
Clearly Murray seems to have a preference for drafting forwards, specifically centers, with 24 of them over 14 defenders in the past eight seasons. Bryan Murray and the Senators have been the most successful when drafting centers during the NHL Draft over the past eight seasons.
Will Spezza help them move up in the draft?
With only four picks in the 2014 NHL Draft the Senators will not have a great chance of selecting an impact NHL player. Although it is presumed that a first round draft pick will be part of the return for Jason Spezza.
With the main trade partners for Spezza rumored to be the Anaheim Ducks and St. Louis Blues this could move the Senators into the 24th (assuming that the Ducks would not trade Ottawa's 10th overall pick back to them) or 21st slot respectively. In that range Future Considerations projects that one of Jakub Vrana, Jack Dougherty, Thatcher Demko, Nikolay Goldobin and Conner Bleackley will be available.
Amongst those names Jack Dougherty, a defender out of the National Team Development Program in the USA would fit the bill of adding defensive prospect depth. He has been profiled by The Hockey Writers in the 2014 NHL Draft Prospect Profiles series.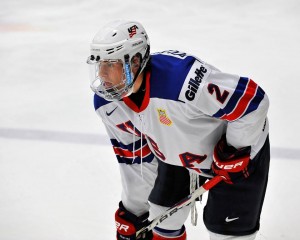 Future Considerations thoughts on him: A pillar on the U18 NTDP program's blueline playing out of the USHL this season, Dougherty's stock remained consistent throughout the year, as did his play. The 6-foot-1, 185-pound defender strives in his own zone, employing a physical brand of hockey alongside an active stick to thwart opportunities against.

Dougherty also has the ability – and likes – to step up for the big hit. Although it's not a glaring hole, Dougherty's skating isn't brilliant and that mobility issue may scare teams away come June. His creativity with the puck is another downside and a main reason he only managed five goals and 17 points in 51 games this past year.
Final Thoughts
The Ottawa Senators are in a transition phase, gone are the glory days of Spezza, Alfredsson, Phillips and Neil. During this transition Bryan Murray has done a good job of restocking the cupboard and those assets are beginning to be difference makers at the NHL level.
Based on the recent past the Senators have done a good job of finding value in the later rounds of the draft, as well as not missing on first round talents. Picks that have played greater than 20 NHL games by round: first (5), second (3), third (1), fourth (2) and fifth (2).
Rest assured Senators fans your team is in the capable hands of Bryan Murray during the 2014 NHL Draft.