Standing tall at over 6'4″ and weighing in at slightly under 200 lbs., Edwin Minney is poised to be one of the top netminders available for the 2014 NHL Entry Draft. After spending the last two years with the USNTDP team of the USHL, Minney has progressed quite nicely in his development and his play this season has certainly spoke volumes of what the American netminder is capable of.
While Minney has only appeared in ten games so far this season, he holds a sterling 2.38 GAA and .923 Save Percentage. Of course, looking at Minney's peripheral statistics from this season definitely make him a very attractive option for hockey fans that are eager for their NHL team to select a goalie this year, but stats alone do not do enough justice for this goaltender.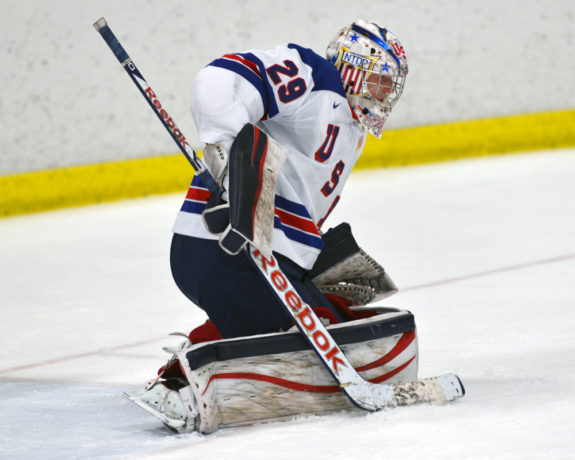 Not only has Minney worked diligently on his craft over the last several years, he has persevered through some challenging times and situations that have helped define him as an individual. Recently, The Hockey Writers had a chance to sit down and have a conversation with the young goalie, and he certainly did not fail to impress.
The Hockey Writers: Your play for the USNTDP team has greatly improved from last season, what adjustments have you made that have allowed you to take your play to the next level?
Edwin Minney: I really think that a lot of it has to do with my team in itself. Last year we kind of struggled as a team just to break through the ice, but this year, right from the start the guys were working so hard and playing so well in front of me. It makes it a lot easier for me to be able to go out there and play knowing that I have that confidence that they're going to go out there and score goals, so a lot of it has to do with my teammates and knowing that they're always going to have my back.
THW: What do you think has been the biggest learning curve from last season going into this season?
EM: I think the biggest thing has just been learning how to make the key save at certain points of a game – especially in a close game that we might be dominating. If the other team gets a really good scoring chance or something, then I think that learning how to make that big save just helps so much in terms of keeping the momentum going for my team.
THW: You were the no. 2 ranked North American netminder on CSS's midterm rankings, what has it been like to be a part of the USNTDP team over the last two seasons?
EM: It has really been an honor, and I wouldn't be where I am right now if it wasn't for them. I really think that it was a big part of my development and it helped get me better. In regard to the rankings, it's awesome to be a part of that, and I know that without all of the on and off-ice work I wouldn't be where I am right now.
THW: You've committed to Michigan State University for the upcoming '14-'15 hockey season, what influenced you decision to go to that specific hockey program? Were there other hockey programs that were vying for your services or universities/institutions that you might have been looking at?
EM: Yeah, I was looking for a big and open campus with a good hockey program, so I went to Michigan State on a visit. Before that, I had been to Vermont and Cornell, so after visiting those two schools I went to Michigan State and it really just felt like the right fit for me. I really love the coaches there and it just seemed like the right place for me.
THW: You're one of the bigger goalies available in the NHL Draft, how do you try and use your size to your advantage?
EM: I really try to just play a big calm game, because I feel that if I start running around then my size kind of gets taken out, so I try to just play in the middle of the net as best as I can. I really try to stay on my angles and give myself the best possible chance [to make the save] every time. The simpler I keep it, the more my body is going to be in the net, so it just gives me a better chance to make each save.
THW: What would you say are your biggest strengths to NHL teams that are scouting you?
EM: I really think that I track the puck well. Although I'm big and I play positionally well, I really feel like I still do a good job with my hands and my rebound control especially. I really try to make each save as simple as possible and I feel like I do a really good job of making the first save pretty consistently and for the most part trying to keep that out of harms way – so I think that's probably one of my biggest strengths.
THW: You mentioned in prior interviews that you worked really hard on your strength and conditioning workouts going into this season and also working on your angles. What aspects of your game would you say you need to improve upon or fine tune before the NHL Entry Draft rolls around?
EM: I really think my mental game could use some improvement. Just letting goals go – mainly in practice. I feel like I could work on my mental game and really get that down pat. It [mental game] has steadily improved since I got here [USNTDP], but I still feel like there is some work to be done there, so if I can keep going with that then I feel like it can take my game to the next level.
THW: In a 2013 interview, you said that you went through every possible situation that one could throw at you as a goalie last season. How do you think that that has helped you for this season as well as your prospects for the draft?
EM: I really think that it has had a huge impact because we kind of went through so many tough times last year. There were so many different situations that happened and it really set me up – this year and moving forward – how to notice them almost before they get there and not let those happen. It helped me focus in on what I need to do right in order to prevent that from happening, so I feel that it has really been a huge part of my development so far, and it has helped me so much this year.
THW: Has there been a particular NHL or professional goalie that you like to learn from or watch? In terms of style of play, which NHL goalie would you say that you resemble the most?
EM: I like to watch Devan Dubnyk and Ben Bishop – those are the two guys I like to watch because they're both big guys and play positionally well. I really think that those are the two main guys that I like to model my game after. I think I resemble those two guys pretty well, so I watch them so that I could fine tune my game by picking at little things that they do, so I really think that I play a similar style to those two guys.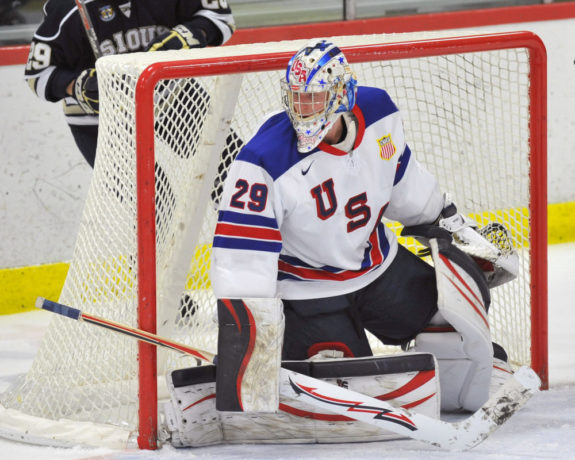 When the NHL Entry Draft rolls around this summer, there will undoubtedly be a variety of netminders available for selection. However, Edwin Minney certainly won't be just another goalie whose name is floating around in hockey circles. As a result of his hard work and dedication to constantly improving himself, Minney will likely be a premier netminder that many teams will have adequately scouted by late June. Whenever or wherever the young goalie is selected is yet to be seen, but hockey fans can definitely expect Minney's name to be called sooner rather than later at this year's festivities.
In his third year with The Hockey Writers, Toli covers all things related to the New York Islanders. Focusing on the Islanders, the NHL Draft & draft-eligible prospect goalies, and hockey history, Toli can be contacted on Facebook by searching/messaging Toli Metter and on twitter by searching @ToliMetterTHW.