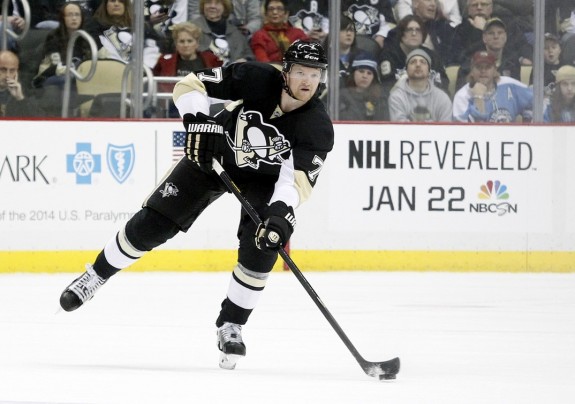 The Pittsburgh Penguins are without Paul Martin and Kris Letang for a significant period of time. The losses of Martin and Letang complicate the Penguins' roster decisions. Letang is out indefinitely after a stroke a few weeks ago. The Penguins were preparing for Letang's absence. But the team never expected Martin to suffer a hand injury in Sochi. He's presumed to miss a month and won't return before the trade deadline.
"Losing Pauley [Martin] is a big loss," Matt Niskanen said. "He was playing well over in Sochi. He was just getting his game back right before he left."
"That's an unlucky break for him and our team," said Niskanen. "But for myself and the other guys, it's kind of a common theme this season. Increased role and increased minutes, that's something that we're pretty used too unfortunately right now."
This creates a problem for the Penguins after losing their two most important defensemen. The team is built around puck-moving defensemen. Martin and Letang are the two best passers on a team that takes pride in their puck possession game. This puts a strain on one of the Penguins' biggest strengths.
"Our depth has been tested and lots of different guys have played and we've done pretty well too," Niskanen said. "That's a good sign that we have a number of people who can step in and be productive players. It's an exciting opportunity for the young players too."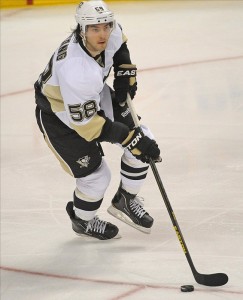 Niskanen and Olli Maatta will lead the defensive corps. Once again, this duo will play over 20 minutes a game, and they'll see plenty of power play and penalty killing time. But this leaves a void.
The remaining cast of characters aren't great puck-movers or skilled offensively:
Brooks Orpik
Deryk Engelland
Rob Scuderi
Robert Bortuzzo
Despres Trade?
The Penguins must fill vacancies left by Martin and Letang. Simon Despres – who got called up by the team on Monday – is the most similar to Martin and Letang in terms of skill.  Of the healthy defensemen, he's the most talented in the Penguins' organization. Despres helps the Penguins play the type of style that the team is accustomed to playing under Dan Bylsma.
Despres might be auditioning for a trade once he starts playing this week. He's believed to be the top trade candidate on Ray Shero's list. But Despres can help the Penguins with his puck skills given the team's lack of puck-moving defensemen at the present moment. Despite what takes place, the trade speculation will make it very tough for Despres to focus on hockey.
"My main focus when I go to the rink is just to be the best I can be on the ice and have fun," Despres said. "I'm having fun playing hockey as a career. Whatever I'm called upon as a role on this team, I'm going to be ready and do my best out there to help this team win."
Penguins' Roster Decisions
Brian Dumoulin will likely be the next player called up to the Penguins if Depres is dealt. Dumoulin was awarded power play time in his last stint with the team. He's a quality passer and has a rocket of a shot from the point. The organization expects big things from Dumoulin.
Dan Bylsma gets the difficult task of piecing together the defensemen. Does Deryk Engelland move back to the blue-line? He isn't the long term answer on defense for the playoff run. Bortuzzo has shown signs of improvement, but he's lacked consistency. Is Despres staying or is he going? This depends on the moves made by Shero.
Based on performance, contract situation, and value, no one on the Penguins' roster is rumored in trade speculation besides Despres. As it currently stands, the team has three holes to fill: first line right-wing, third or fourth line forward and skilled puck-moving defensemen to fill in for Letang and Martin. Despres can't be the only player on the trade block.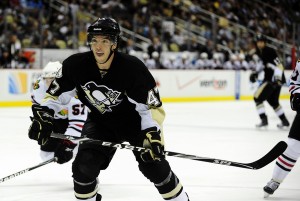 There has to be another player in consideration for a trade. Or, is Shero going to keep the roster intact since he's low on trade pieces? That would be a first since Shero's arrival. He's always made moves at the deadline. But the Penguins can't fulfill all three of their needs by trading Despres.
Given injuries and lack of trade bait, there's plenty for Shero to contemplate before the trade deadline. Another Penguins' player has to be on Shero's radar to be traded. Who that should be will come in my next article.
Justin Glock has covered the Pittsburgh Penguins for The Hockey Writers since 2011. As a lead writer, his Penguins knowledge traces back over two decades. For any requests, please feel free to contact Justin via email: JGlock10@gmail.com.