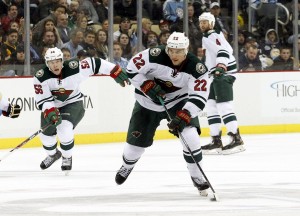 Now that the Olympic Games in Sochi have drawn to a close, the NHL will now enter into the home stretch of the season. With just five points separating the Minnesota Wild's playoff hopes from not qualifying for the playoffs, the Wild will need to bring their A-game as they exit the Olympic break.
The Wild currently have sixty-nine points which gives them a five point lead on the next closest team in the Wild Card hunt. The Dallas Stars sit in the last Wild Card spot with the Phoenix Coyotes, Vancouver Canucks, and Winnipeg Jets all within two points. Minnesota has played one more game than both Dallas and Phoenix so it is crucial that the Wild moves hot out of the gate. Any lapse in consistency could push the Wild out of playoff contention.
After returning from the Olympic break, the Wild will play their next six games against Western Conference opponents. Consequently, it will be very important that Minnesota gets on a winning streak to maintain its Wild card position. The Minnesota Wild schedule for the first week back after the Olympic break will feature matchups against three Western Canadian teams. With only a few days before the trade deadline, the outcome of this week could factor into GM Chuck Fletcher's plans. Here is a look at the first week back for the Wild as the club begins to make its playoff push.
[See Also: Minnesota Wild: 2014 NHL Trade Deadline Theme Addition by Subtraction]
Minnesota Wild vs. Edmonton Oilers: Thursday, February 27
The Edmonton Oilers own the Western Conference's worst record posting just a 20-33-7 record after sixty games this season. Edmonton has been middle of the pack offensively where the club currently ranks nineteenth in the league in scoring with one hundred and fifty-three goals. Defensively, the Oilers have been abysmal allowing one hundred and ninety-nine goals which is second-last in the league. Edmonton also is second-last in the league in goal differential at a -46 ahead of the lowly Buffalo Sabres.
Yeo said Parise, Suter and Granlund will re-join practice on Wednesday in Edmonton. #mnwild

— Minnesota Wild (@mnwild) February 24, 2014
Despite the many issues in Edmonton, the Wild cannot take this squad lightly. The Oilers actually have more offensive fire-power than the Wild this year. Minnesota currently ranks twenty-fourth in goal scoring with just one hundred and forty-five goals. This will be the second time the Wild faces off against the Oilers. The Wild won their last match against Edmonton by a 4-1 score.
The Oilers' young forward core of Taylor Hall, Jordan Eberle and Ryan Nugent-Hopkins have accounted for a good amount of the club's points this season. Hall has over a point per game this season where he's scored twenty goals and thirty-six assists in fifty-three games. Hall has had an impressive thirteen multipoint games this season and he currently ranks third in the Western Conference in scoring.
Eberle and Nugent-Hopkins have also had noteworthy seasons. Eberle has tallied nineteen goals and twenty-six assists while Nugent-Hopkins has fifteen goals and twenty-eight assists. The Wild will need to lock this tandem down in order  to get a win out of the gate.
Minnesota Wild vs. Vancouver Canucks: Friday, February 28
Minnesota will square off against the Vancouver Canucks on Friday in an important matchup for both clubs. Vancouver is currently on the outside looking in when it comes to the Wild Card race. With both clubs rested and relatively healthy after the Olympic break, this game may take on the feel of a playoff game given the club's competition for a playoff berth.
Torts: Henrik Sedin taking another personal day Tuesday, may play Wednesday against Blues. #Canucks

— Ben Kuzma (@benkuzma) February 24, 2014
The Vancouver Canucks have had a 27-24-9 record and currently sit just one point out of the last Wild Card spot. Wild forward Zach Parise and defenseman Ryan Suter will faceoff against their Team USA teammate forward Ryan Kesler in this game. Kesler currently is third on the Canucks in scoring with twenty goals and eighteen assists. Kesler has seven power play goals and five game winning goals on the season. He won the Frank J. Selke Trophy in 2011 and he is a strong competitor who rarely takes a shift off.
Henrik and Daniel Sedin both are having decent seasons and the twins are tied for the team-lead in scoring. Daniel has thirteen goals and twenty-seven assists. He recently scored his three hundredth career goal and he has four power play goals on the season. Henrik has been sidelined by injury which held him out of the Olympics but recent reports suggest that he will make his return in the near future. The star forward has scored nine goals and thirty-one assists. Henrik notched his eight hundredth career point earlier this season and is a former Hart Trophy winner in 2010.
This game is an important game for the Wild. Minnesota needs to play well out of the gate to gain some separation between its competitors in the West. The Canucks will have home ice advantage in this matchup. The Wild won their last game against the Canucks this season by a 3-2 score.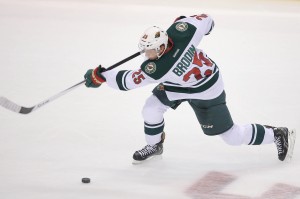 Minnesota Wild vs. Calgary Flames: Monday, March 3
The Wild will wrap up the first week back from the Olympic break with a tilt against the Calgary Flames. This will be Minnesota's third game against Calgary this season. Minnesota has posted a 1-0-1 record against the Flames this season. The Wild won by a score of 5-1 against Calgary back on November 5th but it lost in overtime back on February 1st by a score of 4-3.
Calgary is currently thirteen points out of the final Wild Card spot with an overall record of 22-29-7 this season. Despite this disappointing overall record, the Flames have played well in their last ten games where they've gone 6-3-1.
Forward Jiri Hudler currently leads the Flames in scoring with fourteen goals and twenty-nine assists in fifty-eight games played. Hudler has eleven power play points including two goals. Defenseman Mark Giordano is also having a respectable season with nine goals and nineteen assists so far this season. Giordano was named the Flames' nineteenth captain in the organization's history. He recently had a nine game point streak that came to an end in early February.
An interesting statistic about the Flames this season is their low winning percentage when the club outshoots its opponent. In this situation, the Flames have only won 28.5% of its games. Conversely, when Calgary is outshot by its opponent it wins more often – the Flames have won 45.5% of these games. Minnesota will need to play smart and find its offensive touch if they hope to beat the Flames and end their first week of games after the Olympic break on a high note.