With all the concern over Olympic injuries, many were questioning whether the NHL should send its players to Pyeongyang for the 2018 games. While that's still up for debate – and the answer is, yes, they should go – the more pressing concern is what those injuries mean for the players and their teams this season.
Here's the aftermath of the Sochi games and its impact on the teams who sent their players overseas: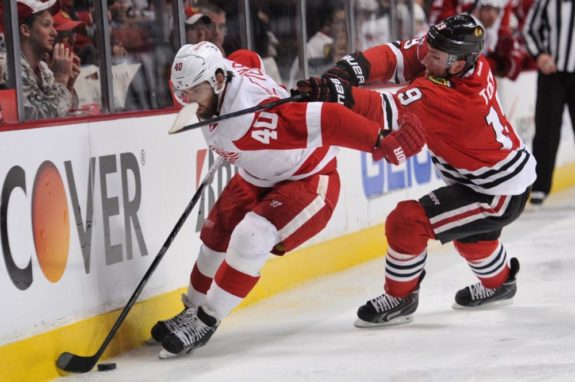 Henrik Zetterberg, Detroit Red Wings
Back Injury (Herniated Disc) – Expected to Miss 8 Weeks
In his first game of the Sochi Olympics, Zetterberg aggravated a back injury that caused him to miss 11 games earlier in the NHL season. In true Zetterberg fashion, though, he made his appearance count, scoring the game-winning goal in a 4-2 victory over the Czech Republic. Zetterberg's on-ice Olympic experience was limited to just 18:12. His recovery will be much longer.
"It's the same problems as before, with my back, only 20 times worse," Zetterberg told Swedish newspaper Aftonbladet. "I just can't play anymore here; it's impossible. I can hardly move, the pain is incredible. It's really sickening. I've been looking forward to this tournament for years and to have to leave it, I'm so frustrated."
Zetterberg went under the knife on Friday, with Red Wings assistant GM Ryan Martin calling the surgery a success. "It went very, very well," Martin told MLive.com. "They removed part of a disk that was rubbing on a nerve. It was what they thought it was. The recovery process looks very, very positive… It's a really good sign. They feel confident this procedure will help in the long term."
The Swedish center is expected to miss eight weeks, which would see him back in the lineup just in time for the first round of the Stanley Cup Playoffs.
Scoring: 16-32-48 in 45 games. Leads Detroit in goals, assists, and points despite missing 13 games.
Impact: Wings expect to have Johan Franzen (concussion) and Stephen Weiss (sports hernia) back in the lineup after the Olympic break. Obviously neither can make up for the loss of Zetterberg. Will Ken Holland feel pressured to make a move, with the Wings clinging to the last playoff spot in the Eastern Conference? That answer also depends on the health of Pavel Datsyuk, who missed time prior to the Olympics with a lower body injury but appeared to be healthy during the tournament.
Playoff Race Impact Rating: 
Mats Zuccarello, New York Rangers
Broken Hand (Non-displaced Fracture) – Expected to miss 3-4 weeks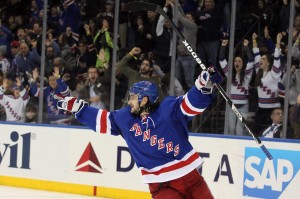 The New York Rangers will be without their diminutive leading scorer, as Mats Zuccarello suffered a Tortorella-eqsue injury blocking a shot. Norwegian team doctor Ole Fosse confirmed Zuccarello's broken hand to website TV2. "We took additional X-rays of his hand today and they showed that Mats has a small fracture," he said.
"I knew it was trouble right away," said Zuccarello. "They didn't have an X-ray at the rink, so I kind of shrugged it off and played the rest of the game, but the next day [I knew it] was bad."
Rangers' coach Alain Vigneault is still in favor of sending players to the Olympics despite the injury. "It's unfortunate what happened to Mats and hopefully it won't be that long," he told the New York Post. "Those are the risks that come with the game."
The 3-4 week time frame for @zuccarello36 is from the time of the injury last Sunday #NYR

— New York Rangers (@NYRangers) February 21, 2014
That puts his return right around the week of March 17 — well after the trade deadline.
Scoring: 15-28-43. Zuccarello leads the Rangers in points and assists and is tied for second in goals.
Impact: The Rangers have struggled to generate offense at times this season. Robbing them of their leading scorer certinaly won't help. Perhaps Derek Stepan – who traveled to Sochi but never made it into Team USA's lineup – will pick up the slack.  Maybe it's Rick Nash, coming off a gold medal win with Canada, who can strap the team to his back.  Brad Richards, finishing up his inevitable final year with the Rangers, might return to the NHL rested and ready to take the scoring reins. Someone will have to.  This injury, along with the ongoing contract negotiations with Ryan Callahan, will put even more pressure on GM Glen Sather to deal his captain, a pending free agent. With the Rangers second in the Metro,  just one point ahead of the Flyers, there's little room for error.  A handful of teams are within striking distance should New York slip.
Playoff Race Impact Rating:
John Tavares, New York Islanders
Knee Injury (MCL/Meniscus) – Out Indefinitely
Everyone knew right away that it was bad.
Extent of John Tavares' Olympic-ending knee injury won't be known til MRI/re-evaluation on Thursday but sense out of Sochi is it's not good.

— Bob McKenzie (@TSNBobMcKenzie) February 19, 2014
The NHL's third-highest scorer will miss the rest of the season after suffering a torn MCL and meniscus in his left knee.  The Islanders' top line center was hurt on a hit by Latvian defenseman Arturs Kulda, which prompted team GM Garth Snow to question future NHL participation in the Olympics:
 "Are the IIHF or IOC going to reimburse our season-ticket holders now?" Snow said. "It's a joke. They want all the benefits from NHL players in the Olympics and don't want to pay when our best player gets hurt."
Scoring: 24-42-66 in 59 games. Tavares led the Islanders in all categories and is the third-highest scorer in the NHL.
Impact: With the Isles 12 points out of a playoff spot, it's not like Tavares is costing them a postseason bid. No matter how much Garth Snow wants to complain, the team he built wasn't good enough to make the playoffs, even with Tavares. Now the club has to look at the trade deadline as a time to sell.  For the Islanders, this might be a good thing. It forces Snow's hand rather than letting him think his club still has a shot.
Playoff Race Impact Rating:
Fedor Tyutin, Columbus Blue Jackets
Ankle Injury – Expected to Miss 2-3 Weeks
Another Olympic injury: #CBJ D Fedor Tyutin will miss 2-3 weeks because of ankle sprain suffered while playing for Team Russia.

— Shawn Mitchell (@shecky218) February 22, 2014
There's no word on when the injury actually happened.  Tyutin played all five games with Team Russia, averaging just under 14 minutes per game. "It's a crucial time to not have him, but others are going to have to step up," Hartsburg said in the Columbus Dispatch. "As a group, they're going to have to be better."
Scoring: 4-20-24 in 53 games. He's second among Columbus defensemen in assists and points. Tyutin averages 21:33 per game as the Jackets' shut-down defenseman.
Impact: Tyutin sees the highest quality of competition of any CBJ defenseman and starts in the defensive zone more than any.

Player Usage Chart via hockeyabstract.com

Despite that, he still has the best plus-minus of all Columbus blueliners. He will be missed, especially in a stretch run where a large number of teams are battling for a handful of spots. Columbus trails the third-place Flyers by just three points in the Metropolicatn Division and is one point back of Detroit (who are dealing with Olympic injuries of their own) for a wild card spot. It'll be hard for the Blue Jackets to claw their way into the playoff race when their best defensive defenseman is on the shelf.

Playoff Race Impact Rating:
This could keep them out of the postseason for the fifth straight year.
Paul Martin, Pittsburgh Penguins
Hand injury – Expected to miss one month
Paul Martin definitely has hand injury, not illness. Will not play for #TeamUSA. No timetable for return to #pens

— Rob Rossi (@Real_RobRossi) February 21, 2014
For those asking, cast on Paul Martin's hand.

— Julie Stewart-Binks (@JSB_TV) February 21, 2014
Martin's injury, which happened in Team USA's quarterfinal matchup against the Czech Republic,  is the latest blueline blow to a team that's already lost defenseman Kris Letang for the season due to a stroke.  The Trib's Rob Rossi reports that the team does expect to have Martin back in the lineup for the playoffs.
Scoring:  2-10-12 in 33 games
Impact: The Pens have a comfortable lead in the Metro, and they've fought through a number of injuries throughout the season so far. The club has played only a handful of games with a healthy lineup on defense.  Martin leads all Pens blueliners in icetime (24:23), followed closely by Kris Letang (24:13). With Letang gone for the season (stroke), Martin's absence leaves the Pens with Brooks Orpik and Matt Niskanen as their top pair. They'll need their younger blueliners to step up to help absorb this loss.  Look for standout Olli Maattaa to take advantage of the opportunity. Between their solid puck possession game and their 16-point lead over the second-place Rangers, the Pens should be able to hang on to the top spot in the east. If everything goes as scheduled, Martin will join them in time for the postseason.
Playoff Race Impact Rating: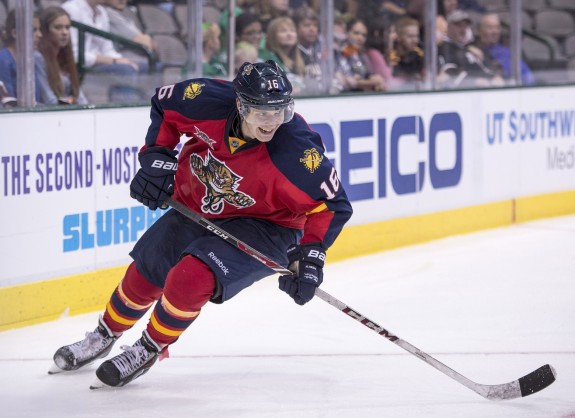 Tomas Kopecky & Aleksander Barkov, Florida Panthers
It was all bad luck and short tournaments for the Florida Panthers in Sochi.  The guy with the best Olympic run was Sean Bergenheim – the one who declined his invitation, opting to stay home.  Neither Tomas Kopecky nor Aleksander Barkov made it past the preliminary games.
Tomas Kopecky – Concussion (Out Indefinitely)
Kopecky's Olympics experience was abruptly terminated by the elbow of Slovenian defenseman Sabahudin Kovacevic.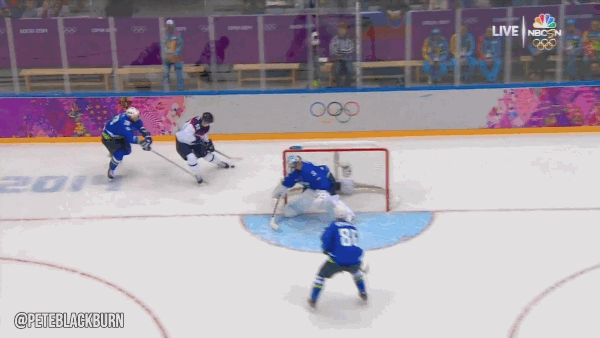 Kovacevic was suspended one game for the hit. Kopecky missed the rest of the tournament.
Tough OLY for FLA. Barkov out of tourney (knee). MRI today but expected to miss NHL time (weeks?). Kopecky (head), also expected out of OLY.

— Bob McKenzie (@TSNBobMcKenzie) February 16, 2014
Aleksander Barkov – Knee Injury (Out 4-6 Weeks)
Barkov's Olympic tournament came to an end just two games in, when he suffered a knee injury in Finland's game against Norway.
The Finnish hockey federation has confirmed that Aleksander Barkov is out of the Olympics.

— Chris Johnston (@reporterchris) February 15, 2014
#Finland announces injured Barkov is out of Olympics . Tough break for Finns and for the teenager who was living dream playing with Selanne.

— Stephen Whyno (@SWhyno) February 15, 2014
Barkov lost his balance, falling awkwardly to the ice. Finnish team doctor Harri Hakkarainen advised that surgery would not be required, and had Barkov begin rehabilitation while
Scoring:

Kopecky: 4-8-12 in 49 games
Barkov: 8-16-24 in 54 games, fifth on the club

 

Combined Impact: While these injuries may impact the Panthers on a day-to-day basis, their season is already over. Only the Buffalo Sabres are worse in the East. If anything this may give the Panthers a better chance to look at some younger players."[Bjugstad and Barkov] have performed above and beyond [this season]," Panthers GM Dale Tallon said. "I'm excited that those two guys are going to be the cornerstones of our franchise, along with Jonathan Huberdeau, Erik Gudbranson, Drew Shore and all those other kids we have coming back like Vincent Trochek, Quinton Howden and Alex Petrovic. Barkov and Bjugstad have been exemplary."
Combined Playoff Race Impact Rating:
---
Follow Josh on Twitter – @joshsmith29
---
Josh is a life-long hockey fan. He grew up as a fan of the New York Rangers, but thanks to their general mismanagement and years of mediocrity, has developed a great appreciation for every team across the league.
He's been writing about hockey on various sites since 1995. In addition to his work at The Hockey Writers, he also keeps tabs on the referees over at ScoutingTheRefs.com.